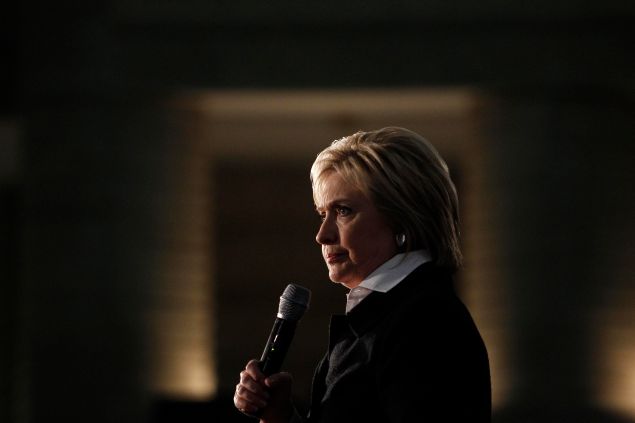 Bernie Sanders wants to make public college tuition free. His proposals have received immense criticisms, especially from Hillary Clinton—whose own proposals to make college more affordable are emblematic of her elitist thinking and how out of touch she is with everyday Americans. Mr. Sanders believes today's global economy makes a college education as necessary as a high school one. "I happen to believe that in the year 2016, when we talk about public education, it means to me that a college degree today in many respects is what a high school degree was 50 years ago," said he during the Fox News Democratic Town Hall on March 7.
During the same Town Hall, Ms. Clinton spoke vaguely about how she also wants to make college more affordable, but wouldn't go so far as Mr. Sanders. An audience member pressed Ms. Clinton to explain how she would do it, and she responded in a nervous manic: "OK. I'd be glad to tell you, absolutely, because it's different than Senator Sanders. So let me give you—if I've got time. Do I have time? Brett? OK. This is exciting! Good. Alright, here's what it is."
Ms. Clinton then went on to explain how she believes college education is a service the government can make cheaper under certain circumstances. "I call it the New College Compact because everybody is going to have to do their part," she said.
Ms. Clinton's plan helps students afford college by making sure they don't have to take out loans. "You will never have to borrow money to attend a public college or university. The money that you will need will be provided if you cannot afford to go to college. And, right now, given the costs, that covers most people except wealthy people." But, what she failed to mention—which is listed on her campaign website—is that under her plan, "students will have to do their part by contributing their earnings from working 10 hours a week."
Most full-time college students already work more than ten hours per week in order to afford groceries, rent and utilities—and Hillary Clinton wants to tack on an additional ten hours to for students to pay for college. Ms. Clinton's proposal will hurt students with low incomes.
"Families will do their part by making an affordable and realistic family contribution," explains her campaign website, seemingly oblivious to the fact that many families already contribute to their children's college education even though it is not affordable. The privileges Ms. Clinton has been afforded resonate loud and clear—her own education at Wellesley College was paid for her by her father. "Back when I went to college, my father told me, 'Here's the deal. Got enough money for your tuition and board, but anything beyond that, like buying books, you pay for yourself,'" Ms. Clinton said during a speech at Wellesley in 2007. Today, very few parents—aside from the wealthy—can afford to pay full tuition and board for their children.
Ms. Clinton's work requirement will not only disenfranchise low income students from obtaining higher education, it will distract students from their studies—making America's educational system less competitive with those in other countries where the government provides free tuition without work requirements. Ms. Clinton's will deter students from pursuing majors that have a lot of labor intensive coursework, and it is naïve to believe there is a job available for every single college student to work ten hours a week—particularly in college towns where students make up a significant portion of the population.
Hillary Clinton's college plan is the unrealistic one, and Democrats should not disservice themselves and the American people by pretending her goals for higher education are sufficient solutions for the crisis surrounding student debt and burdening America's middle class. Ms. Clinton's college plan is reminiscent of Horatio Alger "rags to riches" stories propagated to lower income individuals in the early 20th century under the myth that all one has to do is work hard to get through college. In reality, the price of going to college is far too expensive for working and middle class students to afford.