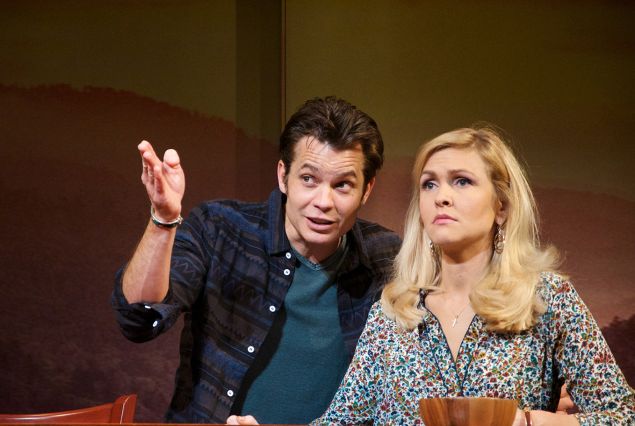 Kenneth Lonergan's new play, Hold On to Me Darling, produced by the Atlantic Stage Co., is long and talky, but it's worth a bit of patience just to see how imaginative the author of This is Our Youth can  get.  I am getting used to the welcome new trend of  90-minute plays with no interval, but I sat through this one for 2 hours and 40 minutes, and I wasn't bored.  It could be trimmed by at least half an hour with no damage to the continuity, but I guess Mr. Lonergan has earned his verbosity.
The lengthy and meandering narrative centers on an impossibly  handsome good old by from Tennessee named Strings McCrane, played by the impossibly handsome but versatile, charismatic movie hunk Timothy Olyphant.  Strings strums a little guitar, does a little acting and writes a few tunes—nothing spectacular but enough to catapult him to stardom on  the screen and in the recording studio with the rarefied status of a new, pelvis-grinding Elvis.  In the middle of filming a new movie in Kansas City, his mother dies and he rushes home to Tennessee to mourn.  All he ever wanted was to sing a song or two, but he got rich and famous instead.  Now he's got no wife, family or friends.  He feels dead inside.  A blonde comes in, like room service and gives him a massage. He beds her and transports her to Tennessee with him, determined to give up his stardom, get a job at Ernie's Feed Store, and get back  to basics.  Changing his mind is a woman's prerogative, but in  Strings' case, it's a way of life, accompanied by a new bimbo every time he needs a new shoulder to cry on.
In  the interest of brevity, he seduces both Nancy, the blonde masseuse, and his blonde cousin Essie, who lost her husband and father at the same time.  Visibly moved, Strings says it's one of the saddest stories he's ever heard.  Essie says, "Well, they were drag racing."   Amazing how a simple line like that loses impact out of context, but in typical poker-faced Lonergan style, brings down the house.  Strings marries Nancy, buys up the feed store, moves in with his brother Duke in a house described as "an ashtray with furniture in it", and harasses Jimmy, his traveling companion, personal assistant, best friend and biggest fan, played with hilarious brio by Keith Nobbs, last seen as an outrageous drag queen in The Legend of Georgia McBride.  Strings strips down to his Calvins constantly, saying "Somebody's got to take me seriously, even if I don't,"  but in  the end he's alone again.  A juggernaut of muscles is not easy to  tiptoe through the tulips, but Mr. Olyphant plays a big, strapping, macho Marlboro Man who is secretly a weak, confused and accidentally hilarious doofus with great panache.  Feeling blue and always of someone to talk to, in each scene he meets someone who is only too happy to oblige, while he remains too naive to realize all they want is something else—his money, his body, or a few minutes in the get-famous business.
Mr. Lonergan writes full-length plays with humor mined from curious character observations, not punch lines, and in Hold On to Me Darling, director Neil Pepe leaves no opportunity for wit unexplored, including a revolving set by Walt Spangler that reveals a different scene every time it turns, from houses, hotel rooms, a bar and a hardware store, to the funeral parlor where the body of Strings' mama lies in repose for an open-casket viewing.  Then, in typical Lonergan style, the play turns, too—from comedy to a surprise visit from Strings' long-lost father (played with heart-rending sensitivity and down-home relish by seasoned pro Jonathan Hogan).  The scene comes late, but tenderizes everything that precedes it.  You go  away in tears.
Far from your typical theatregoing fare, this is splendid, rollicking and thoughtful stuff.  With Kenneth Lonergan and ace production values in full focus, the time, effort and attention required offer their own rewards.