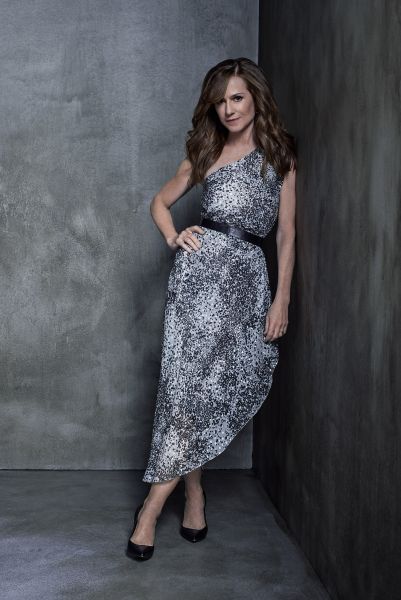 Holly Hunter is not a politician, but she plays U.S. Senator Finch in Batman v Superman: Dawn of Justice, out March 25.
In one pivotal scene, the Oscar-winner takes center stage as the chair of a congressional subcommittee grilling Henry Cavill's embattled Superman about his penchant for vigilante justice. For Ms. Hunter, it's a leap back into mainstream consciousness after more than a decade of keeping a relatively subdued profile when it comes to film projects.   
The actress, 58, is feminine but unfussy, sporting jeans and black-and-white sneakers, when we met at a Brooklyn corner cafe. Her pink muscle T revealed ropy biceps and a body so tiny on its 5-foot-2-inch frame that the shirt could have been a child's medium.
Ms. Hunter's twangy Middle Georgia accent is just one of her relatable features. She also rides the subway with her twin boys (Claude and Press, 10), watches the Oscars on television and obsesses over Donald Trump's candidacy.
Of course, she's extremely accomplished, too; she earned an Oscar for playing the mute Ada McGrath in Jane Campion's The Piano and received nominations for Thirteen, The Firm and Broadcast News. Ask three strangers and they will all name different favorite performances: some find her comic overachiever in Jim Brooks' Broadcast News hilarious and heartbreaking, and love her tart collaboration with the Coen Brothers in O Brother, Where Art Thou? (About co-star George Clooney, she said: "such a goofy guy, such a goof.") Others cherish her classic comic role opposite Nicolas Cage in the Coens' Raising Arizona.
Katherine Dieckmann, the filmmaker (Motherhood) and Columbia University professor who is in post-production on Ms. Hunter's upcoming Southern drama Strange Weather, told the Observer: "The performance that impacted me beyond measure was her beautiful, fearless work on The Piano, which I return to again and again."
Ms. Dieckmann, a no-bullshit Vassar alum and former critic, said: "Holly is uncompromising and honest, with both herself and others. But for all her intensity, she is also a quick wit and funny as hell. One of her lesser-known skills is that she can back up a pick-up truck really fast and with laser-like precision."
Over scrambled eggs and sourdough toast, Ms. Hunter was less eager to discuss her four-decade career than what was on her mind that morning: the "wicked fun" of Donald Trump. Having recently read Maureen Dowd's column about the Republican front-runner entitled "Chickens, Home to Roost," Ms. Hunter admitted she was following the whole absurd spectacle with some amusement. "Well, who's not?" she asked.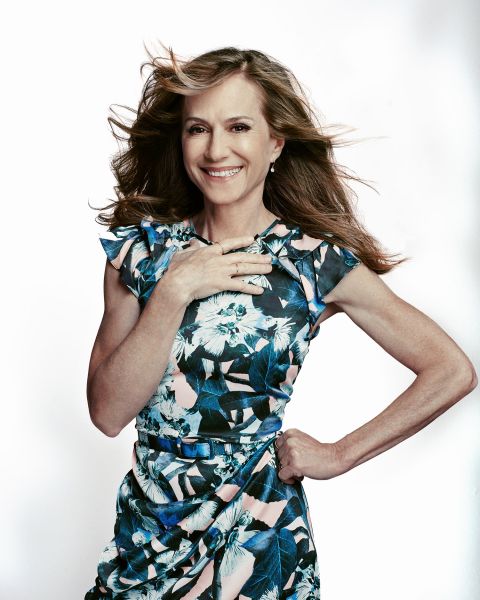 "I'm not a great Maureen Dowd fan," Ms. Hunter said of The New York Times Op-Ed columnist, "because I really find her poisonous, on the record. She's an intelligent writer and her thing on Trump the other day was right on that he's wicked fun and he's wicked. He's wicked fun because you get to see him really ripping down this Republican infrastructure of all these guys who are like—they're really hypocrites and Trump is like the apex of the triangle of hypocrisy. Dowd's points are really good because people only talk about him as being really frightening and scary and fascistic—and he's all those things. However, he's also fun. Sometimes when one of his errant bullets strikes into the heart of the lead Republican establishment it's pretty fun." 
It may be a stretch to leap in a single bound from contemporary politics to Ms. Hunter's role as Senator Finch in the tent-pole Batman v Superman. In that comic-book movie, Ben Affleck's Caped Crusader launches a vendetta against Henry Cavill's Man of Steel. When the latter faces a senate subcommittee, Finch delivers the third degree. Real life intrudes, with Vermont Sen. Patrick Leahy—a Batman fanboy with previous film credits—playing himself.
"It was fun to hang out with somebody who's got the inside track," said Ms. Hunter of the senator. "We shot over a couple of days. It was a long sequence so we had plenty of time to hang out. He can tell you the dirt but I want to protect Patrick. Not that there's anything to protect—he's so ethical. The thing about him that I found so incredible was his lack of cynicism. He's a very hopeful human being. That's got to be impossible to sustain in Washington for an entire career. He just doesn't feel poisoned at all."
In this election year, when it's possible we'll elect a woman to the White House for the first time, it was meaningful to Ms. Hunter to play a female legislator. "There are ways that women absorb situations and I think women are different kinds of listeners. They're different in terms of how they parse out problem solving. It's possible there's a female kind of impartiality that can happen where it's not so much about the ego. Whereas I think men are socialized to lead a little more with the ego and have a solution, you know, let's fix it…men must fix and women listen to the end of a sentence." Ms. Hunter said she had fun exploring the "perspective of this woman dealing in a super world, an evil, Lex Luthor kind of universe."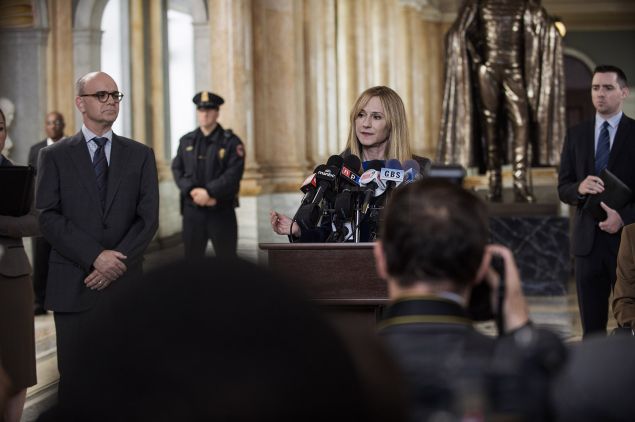 Like countless Oscar winners before her, from Anthony Hopkins to Sally Field to Jeremy Irons, Ms. Hunter embraced a supporting role in a mammoth comic-book franchise—and the fat paychecks these parts represent. In her case, she stood small in relation to the big and brawny stars, Messrs. Affleck and Cavill. ("You don't have to worry about Superman being buff. I mean Cavill is buff. And with Ben, his shoulders are like this," she held her tiny hands wide. "I'm not kidding. I mean if I'm in a picture with Ben I don't even exist.") But despite taking a small gig in a big franchise, Ms. Hunter's heart remains in the movies where she can lead—like Ms. Dieckmann's forthcoming Strange Weather. Plus, small, profitable roles in big-budget films allow her to take on the smaller films that are her passion.
"The cool thing about those small-budget movies is that there's a tremendous amount of freedom the filmmakers have since there's less money at stake," she said, citing David Cronenberg's controversial Crash, about people who take sexual pleasure in car crashes, as a smaller film she was happy to contribute star power to. "It's always lovely to help a small-budget film that way."
"I cast Holly," said Ms. Dieckmann, "because she was the perfect fit for my character: an unorthodox Southern woman in her 50s who is actively engaging with the process of sorting herself out in the wake of a personal tragedy. Holly brought every quality I could have possibly needed to the table, from emotional gravitas to a buoyant sense of humor and play. She holds everyone to a very high standard while shooting, and elevated the commitment of everyone around her, both cast and crew. I definitely have never learned more from any other actor."
Zack Snyder, who directed Batman v. Superman, echoed Ms. Dieckmann's sentiment about high standards. "If the moment is real, she will do literally anything you ask," he said. "It's cool in a movie where I have to make a guy fly, then someone walks on set and is like 'I want this thing to be real.' "
After so many years honing her craft, the dearth of lead roles can be frustrating. "The opportunities are certainly few and far between. I do not take this for granted," said Ms. Hunter, as she gazed out the window at a large Midwestern tribe exploring Brooklyn. "My career started off with such a bang, you know, working with Jim Brooks and Joel and Ethan [Coen] and Spielberg in the '80s—working with these people who were born to direct…And carrying movies, playing leads and then as the years have gone on and I see the writing on the wall."
In the past 15 or so years, Ms. Hunter's played a lot of moms: her biggest movie hit was as the voice of Helen Parr/Elastigirl in the animated smash The Incredibles, the mother in Catherine Hardwicke's breakout Thirteen, and the fed-up matriarch to George Clooney's charming wastrel in the Coens' O Brother, Where Art Thou? Meanwhile, television roles have expanded to meet the supply of talent: "It's not like television is now for women who have been put out to pasture. Television is for everybody," said Ms. Hunter, who starred in her first television series, the cult TNT crime drama Saving Grace, for three seasons, from 2007 to 2010. She received Golden Globe, Emmy and SAG Best Actress nominations for her role.
"Feature films are a harder, harder world and, at the same time, you and I both know that there is an incredible, unique power to watching a story that takes place over a period of an hour and a half or two hours," she said. "I don't know what it is, I don't know why: it feels more private than television."
In her private time, Ms. Hunter is an avid reader. "Reading fiction and intimately experiencing a life that's not yours makes people expansive. If…you read a novel and the lead character is a Pakistani, you begin to experience life, its conflicts and challenges, through that person. There's a real empathic experience, a commonality that you begin to experience through fiction. You can do the same thing in movies, understanding that the world is a small place even though there's an incredible, natural prejudice against what is unknown."
"This goes right back to Trump and the political carnival that's playing out in front of our eyes," Ms. Hunter concluded. "Racism and prejudice is something that is not unnatural to us. It's a human reaction, but it's a reaction to the world that should be eradicated. That is our civilized nature, our duty to ourselves and others, to annihilate bias. It's important to acknowledge it exists but that's what fiction, going to look at paintings, sculpture, movies, plays, that's what it does for me, it exercises the best in us, the best muscle in us to relate to people who seem different."