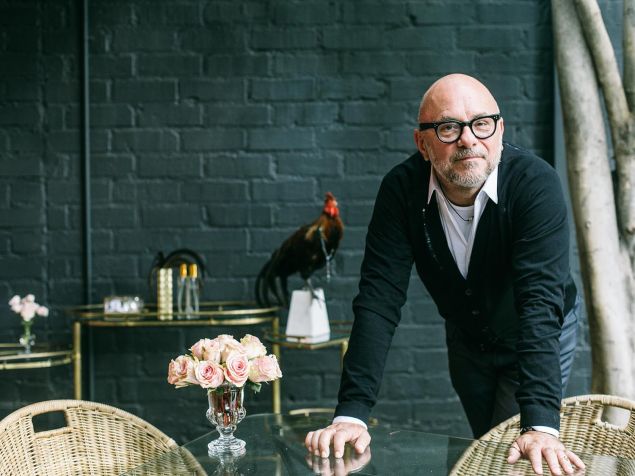 "I have a naughty sense of humor," taunted Eric Buterbaugh, florist to the stars and inventor of the scented cock. Seriously.
Mr. Buterbaugh hated the look of home scent diffusers, the ones that disperse fragrance through little reeds, stuck in a vat of essential oils. So he created a fragrance that would be affixed to the feathers of a taxidermy rooster. Et voilà, the world's first scented rooster was created.
Fragrant fowl are scattered throughout Eric Buterbaugh Florals, a Los Angeles perfumery tucked off the bustling Beverly Boulevard. The lush courtyard space—accented with mid-century details, including a bubbling vintage 1953 waterfall and a zigzag of low benches—leads to a compact shop. Finished with brushed gold fixtures and a trio of dusty pink velvet chairs, the room is also stocked with heavy crystal decanters, each one filled with a colorful perfumed concoction. 
Lavish floral arrangements by Mr. Buterbaugh have been a fixture among the A-list for 18 years, since he first set up shop as the resident florist at the Four Seasons Los Angeles. He still maintains a shop there, where his team arranges roses for Gwyneth Paltrow and fills vases for Demi Moore. The West Coast branches of Dior and Tom Ford also unwaveringly turn to the Oklahoma-born creative for fresh masterpieces.
In-demand blossoms that make up today's tropical bouquets or luscious table décor are almost entirely devoid of scent, a feature that is lost when flowers are grown commercially. This could be an issue for someone who has a lifelong obsession with scent, as Mr. Buterbaugh does. "When I was a kid, I would not take a shower, I wanted a bubble bath, to smell good. I had a lot of fragrances, I'd use all my pocket money for that," the famed florist recalled.
***
Couture-caliber scents from Eric Buterbaugh Florals are the brainchild of Mr. Buterbaugh and Fabrice Croisé, a global branding expert with over two decades of experience with brands such as Lancôme and Coty. The duo tapped respected perfumery Firmenich to develop the range of scents, using only the most acclaimed noses on the planet. "We sent them my favorite flower scents with the goal to create beautiful scents," said Mr. Buterbaugh. "We gave them no financial restrictions, so they used whatever pure, beautiful products they want."
While flowers are the epicenter of this operation, the final creations from Mr. Croisé and Mr. Buterbaugh aren't of the overpowering, heavy sort. Rather, they're pure, completely unisex and attributed to the nose that made them. Sultry, a rose-based concoction with pepper and passion fruit top notes, was created by Ilias Ermenidis. And Virgin, crafted to sweet perfection by Pierre Negrin, is a Lily of the Valley scent with a soft musk plus notes of orange flower water with bergamot.
"There are no labels on our bottles, because labels take away from the purity. They are the first part of the bottle to age, always," explained Mr. Croisé of the timeless, thick glass bottles that house each scent. They were inspired by liquor decanters and have a simple, clean design, all the better to entice both genders.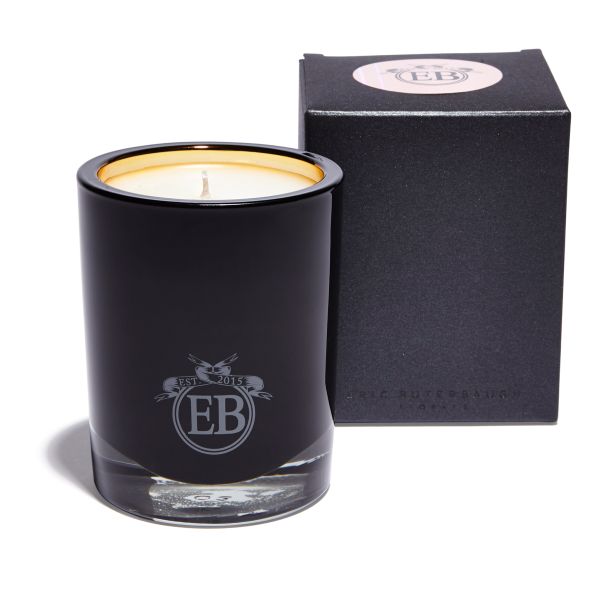 In addition to the seven fragrances, the brand also offers five candles. Enticing in their unapologetic luxury, these home accessories are best sellers for the brand, especially the Rose scent. Mr. Buterbaugh is a self-proclaimed "candle whore" and prides himself on the fact that these creations are particularly slow burning. Each candle is hand poured in Los Angeles, directly into a sumptuous black glass vessel that is lined in gold, for the ultimate touch of opulence.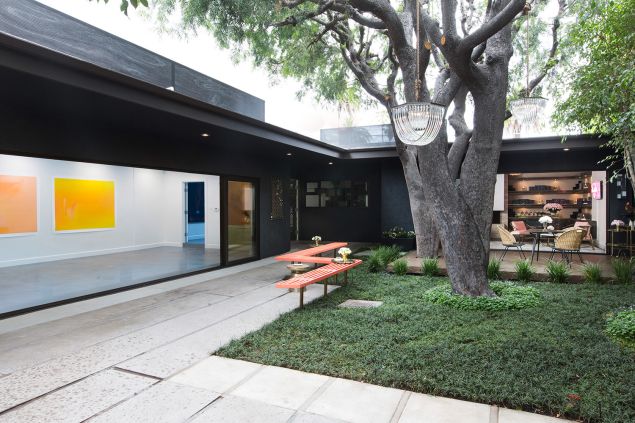 Should one be in the market for a celebrity sighting, in addition to a new scent, head straight to Mr. Buterbaugh's fragrant space. "I have a lot of famous friends and they come here to hang out, especially on the weekend," he hinted.