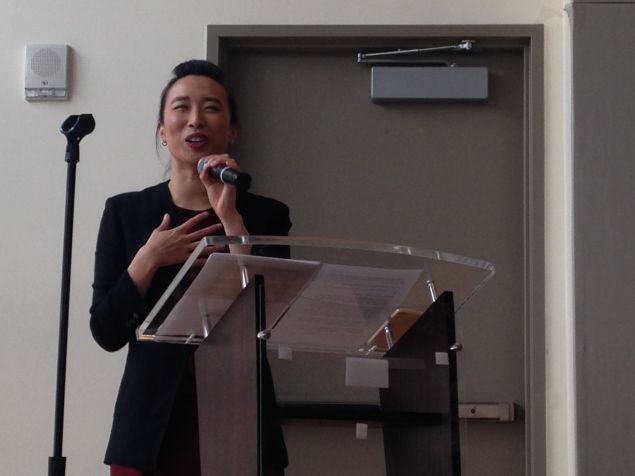 The influential Hotel and Motel Trades Council today endorsed Yuh-Line Niou to take over the Lower Manhattan seat of disgraced former Assembly Speaker Sheldon Silver.
The union, which represents some 35,000 workers, becomes the latest liberal interest to support the Working Families Party candidate in her bid to overcome Democratic candidate Alice Cancel in the April 19 special election. HTC is a key part in the organized labor alliance that makes up the WFP.
"For all working people and especially for families living on the Lower East Side and Downtown, Yuh-Line is the progressive, independent leader we need standing up for us in Albany," said HTC political director Jason Ortiz.
Ms. Niou also has the backing of WFP-aligned groups like building workers union 32BJ SEIU, the United Federation of Teachers, former city comptroller John Liu, current Comptroller Scott Stringer and Make the Road Political Action Committee, an immigration activist organization. She also has the backing of her employer, Queens Assemblyman Ron Kim, and of Brooklyn Assemblyman Nick Perry, chairman of the Black, Puerto Rican, Hispanic and Asian Legislative Caucus.
Such high-power endorsements indicate the Assembly Democratic power structure and local forces are supporting the WFP candidate over the contender on the Democratic line. This is likely because Ms. Cancel, a longtime district leader, was the pick of Mr. Silver's old allies in the district's Democratic county committee—which nominated Ms. Cancel over Ms. Niou and several other candidates at a meeting in February.
Ms. Niou still faces an uphill battle against Ms. Cancel due to strong party loyalties in the district, which spans the Lower East Side, Chinatown and the Financial District. Ms. Niou, a two-year resident of the district and a six-year resident of New York State, made sure to refer to herself as "a lifelong Democrat" in her statement thanking HTC.
"I'm honored to have earned their support and I look forward to working with them to continue growing our economy and creating good jobs, protecting affordable housing and making sure every worker has a fair shot at the American Dream," Ms. Niou said.
Ms. Cancel has the endorsement of Manhattan Councilwoman Rosie Mendez, whose district overlaps with Mr. Silver's old turf. Mr. Silver, once among the most powerful men in the state, had to forfeit his seat after his conviction on corruption charges last November.
Whoever triumphs in the special election in April, however, will certainly face a primary challenge in the fall: district leaders Paul Newell and Jenifer Rajkumar, and local community board chairwoman Gigi Li, all told the Observer they intend to seek the seat in September.
Chinatown businessman Lester Chang is running on the Republican line in the April special, though he faces an even more difficult fight than Ms. Niou.