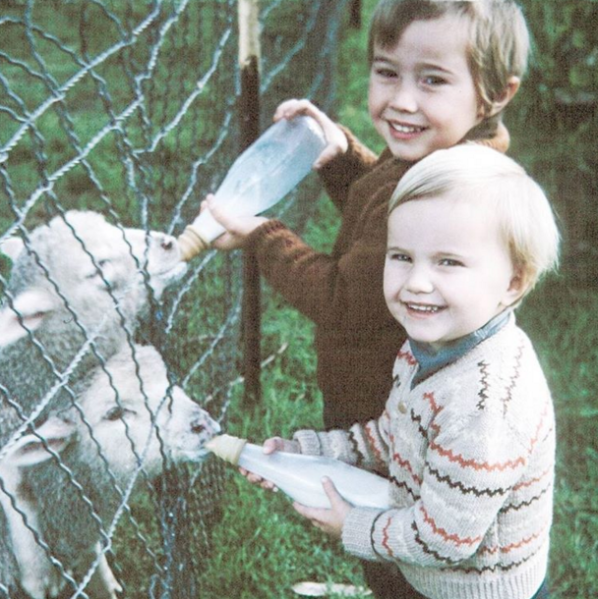 Kirsten Carriol grew up on her grandparent's sheep farm and her father was a DNA professor; the eclectic combination led her to use lanolin, the natural substance found in freshly shorn sheep's wool, to create a skincare line. Now, Lano, the Australian cult favorite, is launching in the states with Net-A-Porter.
The collection is completely natural (98 to 100 percent, even higher than Goop) and medical-grade. The lanolin is just as moisturizing as one would hope, with that wet sheep smell. The Banana Balm Lip Sheen moisturizes like Aquaphor but leaves a natural glimmer. The Lanolin Golden Dry Skin Salve promises to be "super intense," and it delivers, a waxy substance best used on extra dry skin, including cuticles and even lips for an emergency moisture session. The Everywhere Multi-Cream is best for recovering thirsty winter skin in time for spring.
There's already a growing list of celebrity fans, including Sienna Miller, Erin Heatherton, Rosie Huntington Whiteley and Drew Barrymore, who personally called the office a few months ago to request the products. The Observer chatted with Ms. Carriol to find out how growing up a DNA scientist's daughter influenced her beauty brand.
Tell us what happened when you first realized lanolin could be used for beauty products. My family background is farming, so I grew up with lanolin. My father is a DNA scientist, so he taught me when I was little that the molecular structure of lanolin is almost identical to human skin oils…but I forgot about it when I left my hometown in South Australia, traveled the world and worked in beauty PR in Sydney. My lightbulb moment was in 2003, when it hit me that nothing I had come across since I left South Australia had worked on my skin like the lanolin I grew up with.
What did the six year process of perfecting the lanolin formula entail? Two years were spent finding a cosmetics lab that would formulate the level of lanolin I wanted to use, as no one had used it at that level before, and still don't. The quality of lanolin we use is one of the most expensive ingredients in skincare. We take it through a super stringent chemical-free cleaning and refining process which makes it ultra medical grade in quality. Lanolin in its organic form is packed full of chemical pesticides from the farming process, or even from exhaust fumes from the truck that drive past the farm–it's super absorbent so it picks up everything around it. So you need to ensure it's cleansed of all of that, leaving it super pure, creamy and silky. Finding that process took another two years, then two years to poke, prod, change, tweak and wear my products every single day to make sure they were completely perfect.
What did growing up as the daughter of a DNA professor teach you about creating beauty products? To be honest, my father is about simple and natural, not innovation. He taught me that for a product to be truly effective you need the effective ingredient to be at the highest possible level. Not at 3 percent or 5 percent, which is what most brands do. Ours are at 50 percent to 100 percent. He also studied agriculture, and taught me that nature has hugely powerful ingredients, and also many dangerous ones; there's no need to search through the invention books of cosmetics chemists for ingredients, when nature has handed us a selection of perfect ingredients already.