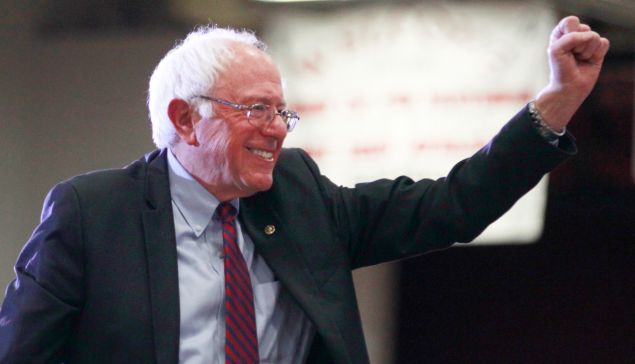 Senator Bernie Sanders is one of the most productive members of Congress. Although his insistence on being an Independent induced criticism from both Republicans and Democrats—and few thought he would last long without bowing to one political party—Mr. Sanders has defied naysayers with a career spanning nearly three decades.
Dubbed the 'amendment king,'  Mr. Sanders passed more amendments than any other member of Congress during his 16 years in the House of Representatives—despite Republicans holding a majority between 1994 and 2006. He kicked off his political career with an amendment to start a National Program of Cancer registries, which is now maintained by all 50 states. In 2001, he successfully passed an amendment to the general appropriations bill which banned the importation of goods made with child labor, and passed an amendment to increase funding by $100 million for community health centers.
"During this time, Sanders took on powerful adversaries, including Lockheed Martin, Westinghouse, the Export-Import Bank, and the Bush Administration," wrote Matt Taibbi in a 2005 Rolling Stone article. "And by using the basic tools of democracy-floor votes on clearly posed questions, with the aid of painstakingly built coalitions of allies from both sides of the aisle-he, a lone Independent, beat them all."
When Mr. Sanders was elected to the Senate in 2006, he continued pushing amendments through legislation, including securing $10 million in additional funds for the Army National Guard, providing financial assistance for childcare to people in the armed forces, exposing corruption in the military industrial complex, support in treating autism in the military's healthcare system and ensuring bailout funds weren't used to displace American workers.
Throughout his career, Mr. Sanders stood in opposition to many egregious legislative blunders now retrospectively viewed as mistakes. He voted against the disastrous trade deal, NAFTA, in 1993 and was one of the earliest voices of opposition against the TPP—which doubles down on many of NAFTA's fallacies. Mr. Sanders was one of 67 legislators who voted against the Defense of Marriage Act in 1996 and against the "Don't Ask, Don't Tell" military policy in 1993. He also voted against the Iraq War and the Patriot Act, and helped secure billions in funding under the Affordable Care Act for community health services.
Despite Mr. Sanders' self-avowed Democratic Socialism—putting him on the far left of most in the Democratic Party—he has earned the respect of his colleagues in Congress. Amid years of partisan politics where each party has obstructed the other from passing meaningful legislation, Mr. Sanders worked across the aisle with his conservative counterparts—with Ron Paul to audit the Federal Reserve for the first time in 2010 and with John McCain in 2014 to co-write the bill to reform the Veterans Affairs Administration. When his colleagues voted in line with the rest of their party, Mr. Bernie Sanders wasn't afraid to stray from the pack for his principles. He has earned a reputation for honesty and integrity unmatched in comparison to his opponent in the Democratic primaries. Hillary Clinton, well-known for flip flopping for political expediency, courts corporations and wealthy donors.
Despite Mr. Sanders' impeccable record in Congress, The New York Times recently ran an article initially praising his ability to work with both parties to get amendments added to legislation and passed—but later edited it without any footnotes or addendums explaining why the changes were made. The Times has been infamously harsh on Mr. Sanders in favor of Ms. Clinton, possibly because the top shareholder of the company, billionaire Carlos Slim, is a major donor to the Clinton Foundation. Despite the controversy, The New York Times has continued running overtly pro-Clinton articles. Meanwhile, Mr. Sanders carries on, drawing record crowds in campaign rallies as his message grows through grassroots organization—much like his progressive reforms have sprouted into large pieces of legislation.