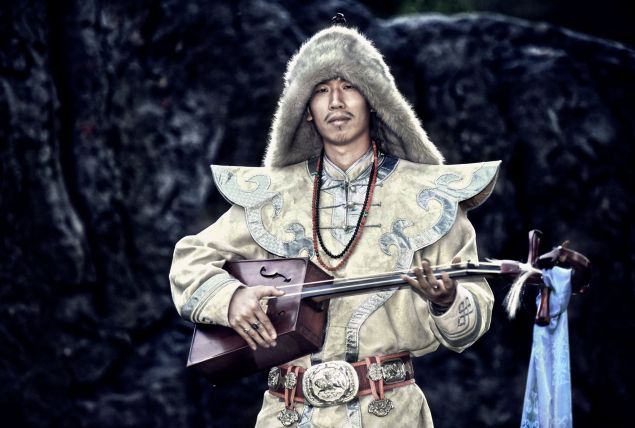 The joke is tried, but true: How do you get to Carnegie Hall? Practice, practice, practice!
It's likely, however, that at least one musician has never heard the hoary funny. Nature Ganganbaigal had been in New York less than two years from his native China when his band Tengger Cavalry sold out Carnegie Hall's Weill Recital Hall late last year—a Mongolian folk-metal lineup, no less.
So, how did he get there?
In accented but ardent English, singer, multi-instrumentalist Ganganbaigal perhaps unwittingly offers up the actual answer to the joke: Practice. "It was a good chance to push everybody in the band: 'We're going to play Carnegie Hall, so work hard, we don't want to embarrass ourselves.' It worked. The band really practiced."
This particular gig showcased traditional unplugged Mongolian folk rather than the band's headbanging side. Ganganbaigal is a shredding electric guitarist who loves metal bands like Arch Enemy and Testament. But for the Weill he was on the more pastoral horsehead fiddle while throat singing, a style he's worked on for seven years. In throat singing—or overtone singing—the vocalist manipulates resonances of the air leaving the lungs for a result that sounds like more than one pitch at the same time. The surreal and lovely guttural vibrations also work well in metal songs, as the front man notes.
[vimeo 144254298 w=500 h=281]
Unbelievably, Tengger Cavalry (Tengger is the sky god of the Mongolian grassland) is not the only Mongolian folk-metal band around, but they are one of the first. The American lineup of the band features musicians of multi-cultural backgrounds: Ukrainian drummer Yuri Liak; Uzbek bassist Alex Abayev; and on the ethnic fiddle, Robert McLaughlin, who is also a shaman and studied Tuva throat singing and language. It was important to Ganganbaigal to find like-minded players: "You have to click on music, personality and culture, or at least accept the culture."
Ganganbaigal came to New York in August of 2013, knowing no one, to pursue a master's degree at NYU. He graduated last May with a degree in film scoring, and those influences are apparent in Tengger Cavalry's cinematic, epic sound. "There is no major called heavy metal composition, so I figured I'd I might do some film music," he says with one of his frequent chuckles. "It's a good way to knock on the door to get in the American music scene. The portfolio I submitted to NYU was a Mongolian battle scene I really liked, with Mongolian horses, so I scored that."
He's an avid soundtrack listener, citing Hans Zimmer, Steve Jablonsky (Transformers) and Ramin Djawadi (Pacific Rim) as favorite composers. From Irish flute, to Australian digeridoo to the pentatonic metal scales, Ganganbaigal truly composes world music. "I like extreme stuff. Both sides. When I write film music, when a director asks me what kind of music I write, I say both epic/battle…and animal and cartoon. I like heavy metal—Metallica, Children of Bodom—and folk music. Bluegrass, Middle East folk. I'm a big fan of jazz." Oh, and he also recorded an award-winning New Age album in 2014.
[youtube https://www.youtube.com/watch?v=BfghfQMAPTg&w=560&h=315]
Tengger Cavalry's latest release is eclectic, heavy, creative and fascinating, and boasts the uber metal-sounding name of Blood Sacrifice Shaman. The title track itself is about the historic ritual process of sacrificing animal blood to a god. "It relates to blood, but it's not blood, like people kill each other," he clarifies, smiling but earnest. "The purpose of the music is to lift you up. It's very easy going down, saying 'fuck everybody.' I like Slipknot by the way," he interrupts. "When I'm angry I listen to them a lot. But my preference is to lift me up and lift everybody up, 'O.K., fuck you, I'm going to do better than this.'"
He's happy in the United States, having just received two very American rites of passage: he got his first tattoo (a realistic wolf on his right upper arm)—and a coveted green card. His application for "extraordinary ability" was approved with the title "Mongolian Folk Heavy Metal Musician."
Now living on Roosevelt Island, he hopes New York will remain his home. That said, he'll continue his eclectic and prolific forays into many kinds of world music, though when it comes to his lyrics, he doesn't feel a "historical responsibility." Noting that he's not a "pure blood" national Mongolian—he was raised in China—he says the issue of identity is intriguing to him, and he plans to explore that lyrically on the band's next album.
"In China, they all tell you, 'Oh, you're Chinese,' but when you are in this country it gives you more time to think who you are and who you want to be. Who likes me, who doesn't. I'd like to put that into my music." Personal, yes, but probably no love songs. "I don't have a girlfriend. I'm not a love song person; I can write a love song to a horse," says the avid horseman. "Easily. But to a girl," he concludes, "that's a little harder."