By now it's obvious that the smash Broadway musical Hamilton has turned into one of the buzziest cultural events in years. From a notoriously hard-to-come-by ticket to the cast performing at the White House last week, and an endless list of raves and all-star Hamil-fans, the show is a tsunami unlike any other.
Hamilton's massive wave has changed the fortunes of everything it's associated with, like when Phillipa Soo, the actress who plays Alexander's wife Elizabeth, is singing about keeping her husband's legacy alive during the final verses of closing song "Who Lives, Who Dies, Who Tells Your Story." Soo croons, "Oh, can I tell you what I'm proudest of?" and an angelic chorus sings back, "The orphanage." Elizabeth then notes, in memory of Alexander who himself was once an orphan, that she established "The first private orphanage in New York City."
'Graham Windham has been an important organization for a long time, but there's nothing like Lin-Manuel [Miranda] telling the story of your founder.'
It serves as an instant audience tear-jerker tagged at the end of the two hour and 45 minute musical, but little did writer and star Lin-Manuel Miranda know when he wrote those lyrics that not only was Eliza's work with children still alive—it's currently thriving in the form of Graham Windham, the same New York children's charity that Elizabeth founded. Celebrating its 210th birthday this year, the sleepy charity has catapulted itself into people's minds and hearts across the nation thanks to the the phenomenal success of Hamilton, and all by a confluence of organic synergy.
"It was incredible to see," explains Graham Windham president and CEO Jess Dannhauser, whose office connected with Miranda over Twitter during the show's initial off-Broadway run to say that, yes, Elizabeth's legacy is indeed still alive. "Graham Windham has been an important organization for a long time, but there's nothing like Lin-Manuel [Miranda] telling the story of your founder. He's a remarkable man surrounded by a remarkable cast and crew."
"It has reinvigorated the whole office," Harry Berberian, senior advisor for communications and external affairs at the charity, told the Observer. "The entire staff knows about our connection to history now. It has been invaluable."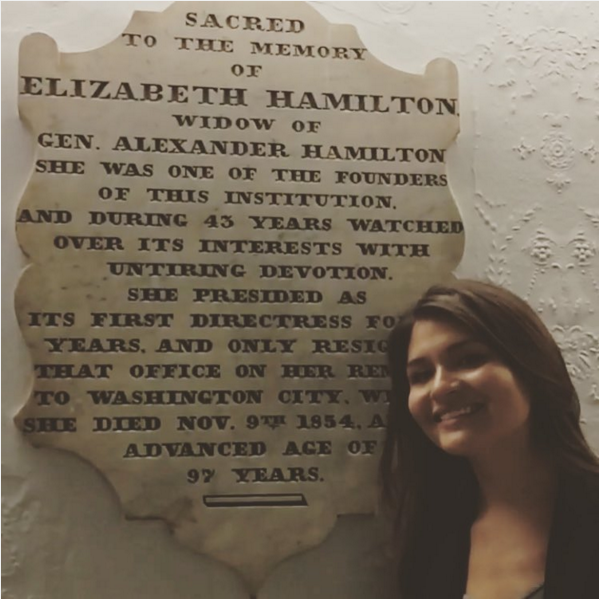 The runaway success of Hamilton has consequently changed the fortunes of Graham Windham by almost every measure. Not only have donations increased, but events that were canned in recent years due to lack of interest are now back to life and flush with new energy.
"It's usually not easy for us to get people into a room," explains Mr. Berberian. "The work we do is just not as flashy as other charities and in the past. The last time we had any public attention was in the 1980s when folks like Arthur Ashe and Jim Henson were giving to us."
Soo herself calls the synergy between Graham Windham and Hamilton "heaven-sent," explaining that she was, "so surprised. I had been doing research for months, trying to find a way in to approaching Eliza. They are an amazing organization. They focus on giving every child that goes through their program a multitude of opportunities."
'I feel so honored that I get to carry out Eliza's legacy at the place where it all started.'—Phillipa Soo
Hamilton tells the story of our forgotten founding father fighting for his "shot" (to borrow a phrase from a song early in Act One), and Graham Windham shares that same mission. Serving 4,500 kids and their families every year, the organization aims to help young people who have struggled through significant challenges in life, whether growing up without parents or in poverty.
"Our job is to help kids and their families bring success and opportunities they otherwise wouldn't have," explains Mr. Dannhauser. "Our kids are exceedingly capable and we never want them to be defined by their early life challenge. We don't lower expectations; we want them to excell at them."
The charity realizes its mission using a battery of programs: whether it's one that aims to help kids in foster care, or prevention programs that zero in on high-risk communities around New York. Of course all of this costs money and while the organization receives government funds, it's never enough to fully bring that vision to life. Enter, the attention from Hamilton.
"We set up a Twitter page and when we used to send out messages about things we need, we didn't really get a lot of responses," says Mr. Berberian. "We'd get maybe 38 impressions per tweet, which means 38 total people saw it online." Compare that to the night of the Grammys, which saw a highly anticipated performance by Hamilton's company. "That night we had 200,000 views on our webpage and 89 new donations. It sounds like a small amount, but it's huge for us."
Along with the influx of donations, the staff at Graham Windham is also getting offers from companies wanting to help the charity in any way they can. The most notable was from Blue State Digital, the same tech agency that helped a young senator named Barack Obama get elected president in both 2008 and 2012, who proposed to help the charity for free. In addition, Soo herself started The Eliza Project, which involves her spearheading an arts program with Graham Windham's kids.
"I feel so honored that I get to carry out Eliza's legacy at the place where it all started," Soo told the Observer of her real life counterpart who became the charity's first directress, her tenure starting just two years after Alexander was killed during that famous duel at the hands of Aaron Burr. "I have learned so much from working with the students."
Mr. Berberian and his staff have learned much throughout this process as well. "At this moment in time right now when everyone's eyes are on this musical, we're lucky enough to be a part of it."
Adds Soo, while quoting the show once again: "It has been such a fortuitous moment where we can say that the art we are creating is bringing us closer to our community and vice-versa. It's true, 'How lucky we are to be alive right now.' I'm so glad to be a part of it."
To donate or inquire about helping with Graham Windham's mission, click here.
***
READ THIS: These 20 Heroes Under 40 Give Millennials a Good Name