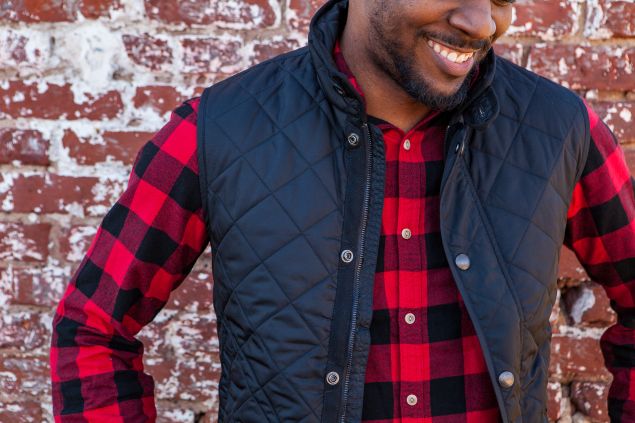 Online shopping is easy, fun and convenient, and it's a major industry that's only expected to get bigger. It's predicted that in 2017, online shopping retail sales for the year will be $370 billion. It's booming, but the clothing and fashion e-commerce industry in particular has a major problem: accuracy with fit and sizing.
With the exception of initiatives like Try, the company that mails clothes to your home for you to try on for free, the fitting room experience we're all used to doesn't exist when it comes to online shopping. It's nearly impossible to order clothes that fit correctly from an online stock image, and it's a problem hurting both consumers and clothing companies. The industry average for returns is around 40 percent, but a new company has virtually solved the problem by introducing technology that brings that rate down to 0.6 percent.
Fittery is a technology company that's partnered with top fashion brand like J. Crew, Express, American Eagle, Ralph Lauren and dozens more to help customers order the right size every time. When you fill out the company's size profile, it uses algorithms to instantly match you to the size that's the right fit for you.
The whole process is simple and takes less than a minute. On the Fittery website, you enter your height and weight and answer eight other questions about your size, shape and fit preferences, such as "What is the typical waist size of your pants?" and "How do you like shirts to fit?" The system then compares those answers against thousands of profiles to accurately calculate your measurements and offer your ideal size for specific articles of clothing. The FitMatch technology even offers a fit rating of one through five. It's that simple.
Fittery co-founders Greg Villines and Catherine Iger have a combined 28 years of experience creating innovative shopping products for e-commerce and shopping marketplaces. Previously, they worked for other companies like HomeDepot.com, UPS, Intercontinental Hotels Group and Coke, but they decided to start Fittery out of necessity.
"The original idea stemmed from problems we had both experienced shopping for clothes online," Mr. Villines told the Observer. "I'd order clothes and get frustrated because it didn't fit like I hoped.  It was always confusing when an Extra Slim Fit shirt would be baggy, or a pair of jeans were too long, even though I ordered my 'sizes.' Every brand—and even different cuts from the same brand—is sized completely differently, making it incredibly hard for shoppers to find clothes that will make them look their best."
Fittery got off the ground late last year and already the company has more than 40 major brand partners including Brooks Brothers, UNIQLO and Club Monaco. More and more are signing up, and the founders have other plans for expansion as well.
"We initially launched with men's button-up shirts and our immediate next steps are to quickly expand to more categories for men, while also extending into womenswear. Everyone deserves a smarter way to shop," Mr. Villines said.
Currently, after you're shown the product with the right fit, you're taken to the brands website for checkout. Mr. Villines said they're also looking to introduce a universal shopping cart that allows customers to check out through Fittery.com from multiple retailers. Additionally, they want to advance the way clothes fit entirely.
"Our mission is to solve the fit problem holistically. Beyond the marketplace, we want to help brands make better clothing product that actually fits real people by giving them insight into what real bodies look like," Mr. Villines said. "We also want to help brands and clothing shoppers connect on a personal level around fit, since fit is the number one driver of brand loyalty.  So we'll be introducing products that facilitate that connection."