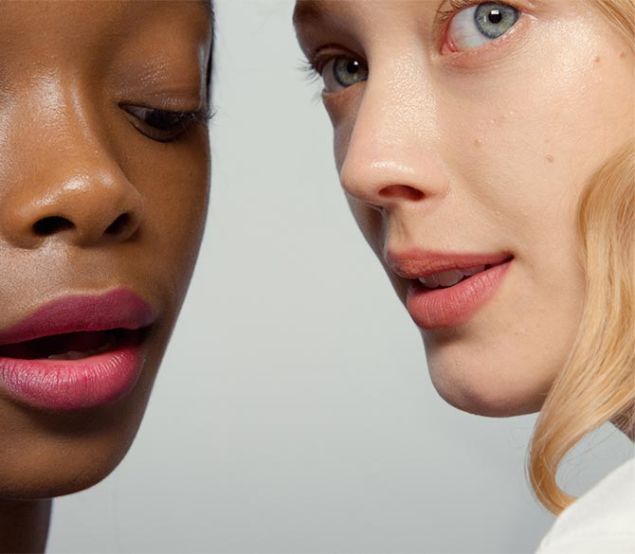 In just a few short months, weekends on the beach and long afternoons spent basking in the summer sun will become a norm. But in the meantime, we're still bundling against the elements, in terms of both spring clothing and spring skin care. Early April is the perfect time to transition into a beauty and hair regime that is prepped to take on excess UV rays–and the inevitable damage that comes from both.
Here are our five picks for reinventing your routine and preventing the signs of aging, from a duo of nourishing creams to a foundation that lives up to it's magical claims.
1. Clarins Multi-Active Day and Multi-Active Night Creams
If you don't have two separate creams for day and night, it's really time to step it up. Marie-Hélène Lair, Clarins' International Scientific Communication Director, explained: "During the day, skin is exposed to damaging UV rays, pollution, and environmental stresses. Day creams are primarily focused on protection and support. Nighttime is when skin repairs, restores and regenerates. Night creams are focused on moisture, comfort and recovery." Clarins introduced two new formulas for this very reason.
The pretty pink Multi-Active Day cream protects against those damaging irritants, while smoothing skin with Myrothamnus extract and offering the anti-aging properties of Encapsulated Teasel. The evening version of the cream, housed in a blue jar, depends on Organic California poppy extract to diminish the effects of sleep deprivation, which leads to a low synthesis of melatonin. Once you get into the habit of applying each respective formula after waking up and before going to bed, you'll be rewarded with glowing, plumped up skin.
2. Living Proof Perfect Hair Day Fresh Cut Split End Mender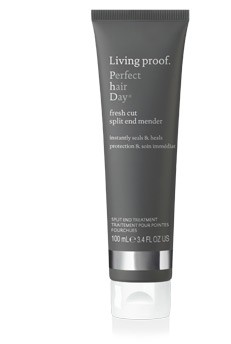 I'm the type of person who procrastinates getting a haircut for months, all the while hoping my split ends aren't too noticeable. Which is why I was overjoyed to discover Living Proof's Perfect Hair Day Fresh Cut Split End Mender, as I feel less guilty about not visiting the salon.
Instant-zip technology is what makes this product work. Unlike other anti-split end formulas, which use a resin base and leave strands feeling sticky, Living Proof uses ionic forces from charged capsules to close up hair follicles. Finished off with mango butter, this product creates sleek, tamed ends with a deliciously fresh scent.
I rub the fresh-scented formula to the ends of my hair when it's damp, although it's also light enough to be used on dry hair. Following application, hair instantly feels softer and leaves you with a polished look. And yes, split ends are considerably less noticeable.
3. Glossier Stretch Concealer
Did you stay up too late drinking wine last night? Or did you binge on Chinese takeout and use way too much soy sauce? Lucky for you, Glossier has introduced their first makeup range, which includes a little concealer pot that's perfect for hiding unsightly under-eye circles.
Available in five shades, the buildable formula is easily applied with the pat of a finger. It quickly settles into skin and stays in place for most of the day. A morning application will keep you covered, but you may want to dab on a bit more concealer before leaving your desk for the day. This product is also ideal for when you just want spot coverage for a day dedicated to outdoor activities. Whether that includes Citi Biking or drinking rosé is totally up to you.
4. Charlotte Tilbury Magic Foundation
The newest Charlotte Tilbury foundation really does live up to its magic title. When the formula comes out of the bottle, it seems extremely thick, but once swiped on the skin, it feels super light. Despite it's airy feel, the SPF 15 formula still provides some serious coverage and even minimizes the appearance of pores. This is the item you need to perfect your selfies.
Charlotte Tilbury, makeup artist to the stars, worked for five years to perfect the Magic Foundation. The effective ingredients are Laricyl, a concentrated mushroom extract that firms skin, Hyaluronic Filling Spheres, which diminishes the appearances of wrinkles, and Supercharged Vitamin C, to give you a perfect glow.
5. SK-II R.N.A. Power Radical New Age Essence and R.N.A. Power Radical New Age Cream
SK-II products tend to come with a hefty price tag, but it's one of those beauty brands that's well worth the splurge, as the effects of their face masks and creams are easily noticeable. The same goes for their new R.N.A. Power range, which serves to treat the 10 signs of aging, which according to the company include: "loss of firmness, dryness, fine lines and wrinkles, sallowness, lack of resilience, visible pores, sagging skin, lack of radiance, roughness and loss of tightened facial contours."
Using one dropper of the Essence, followed by just a pearl-sized dash of the New Age Cream each morning has left my skin feeling much brighter and bouncier. I noticed results after just three applications and even though the cream is rich, it's still light enough to be mixed with a few drops of Vitamin C (or whatever the essential oil du jour is).
Should you need any further convincing to try out this new routine, we'll let Cate Blanchett's makeup artist, Jeanine Lobell, convince you. After all, we can all agree that the 46-year-old actress has flawless skin. "The new R.N.A. Power line instantly refreshed and hydrated Cate's skin, creating a beautiful, dewy glow. Having a good base for makeup application is the key to a beautiful final makeup look."