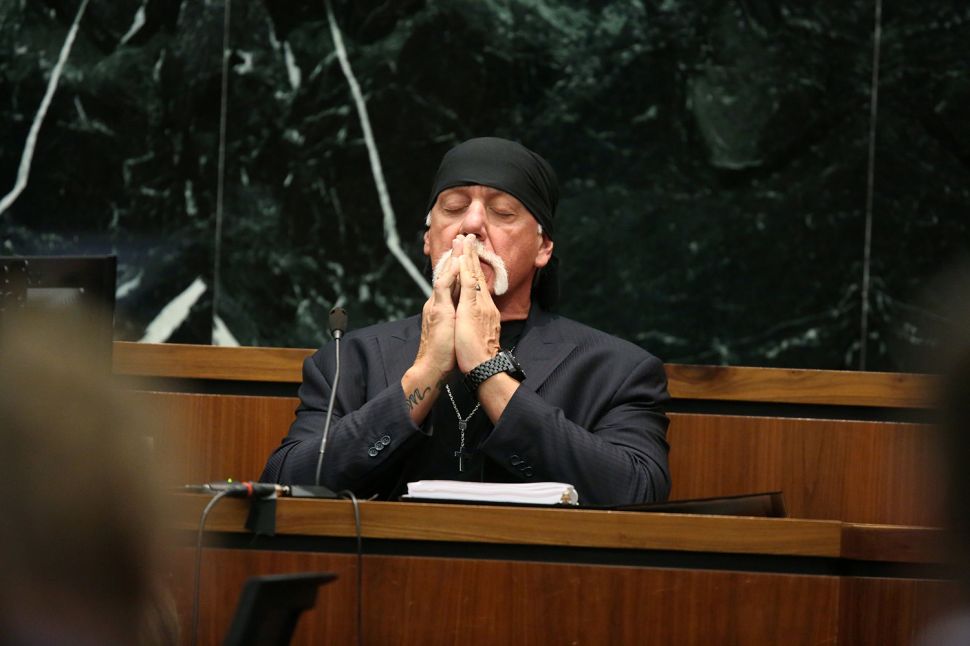 Hulk Hogan pinned a lot of opponents during his career, but the pro wrestler's latest high-profile match is with the New York-based blog Gawker. It's a long way from the height of Hulkamania.
Nick Denton launched Gawker, a blog chronicling the inner workings of Manhattan media culture with a snarky tone and an irreverent sensibility, out of his Soho loft in 2002. Almost 14 years later, the survival of what has become a full-fledged media company will be determined by a St. Petersburg jury in a case as trashy as it is profound, pitting privacy against free speech, public persona against private, the East Coast elitists against Florida shock jocks—all over a grainy sex tape of a middle-aged former heavyweight champion.
Mr. Hogan, who goes by his given name of Terry Gene Bollea in court, sued Gawker for $100 million after the website posted an edited video in 2012 of the wrestler having sex with the (now former) wife of his (now former) best friend, a local radio shock jock who legally changed his name to Bubba the Love Sponge Clem. Mr. Hogan claims that the distribution of the tape, which he says was made by Mr. Clem without his knowledge, violated his privacy and caused undue emotional distress. Gawker is arguing that, as a public figure who had talked openly about his sex life, Mr. Hogan was fair game, and that its posting of the tape, which had been written about by other outlets and discussed by Mr. Hogan himself—but not shown prior to Gawker's publication—was newsworthy and protected under the First Amendment.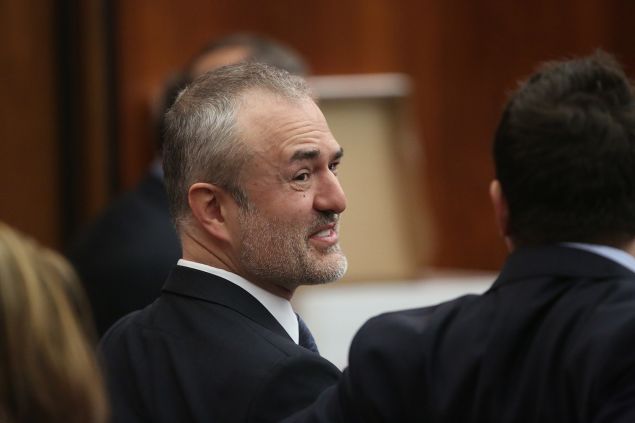 During the first week of the trial, in front of a female judge and a mostly female jury, lawyers for Mr. Hogan sought to differentiate Terry Bollea, the man, from Hulk Hogan, the character.
"Terry Bollea doesn't have a 10-inch penis," Mr. Hogan said during his testimony, after an audio clip was played from Bubba's show, where the former BFFs joked about how the Hulkster was exceptionally well-endowed. "Hulk Hogan does."
Mr. Hogan, who was allowed to wear his trademark bandana in court as long as it was a solid color, looked somber in all black—save for a large silver cross and silver horseshoe mustache. Although both Mr. Bollea and Mr. Hogan are always seen in a bandana, Mr. Hogan explained that as the latter, it is part of his character. As Terry Bollea, he said, he wears it because he has self-confidence issues due to having a large head and hair loss.
In a tone that bordered on the forlorn, Mr. Hogan told the courtroom that he had a hard time making friends but felt close to Mr. Clem, who he repeatedly called his best friend. He testified that he thought it was weird when the shock jock started joking about how his wife, Heather, with whom he had an open relationship, wanted to have sex with the Hulk. Then, going through a bad divorce, Mr. Hogan "gave in to temptation." Later, it would turn out that Mr. Clem had filmed the encounter.
Mr. Clem, who allegedly settled with Mr. Hogan for $5,000 and is reportedly planning to take the Fifth to avoid testifying, contends that the tape was stolen from his office, where he had taken it for safekeeping, by a rival radio host who leaked it to Gawker because he wanted to take over Mr. Clem's morning radio spot on 102.5 The Bone.
"Bubba said he's guilty of being freaky, but he would never do that to Hulk," a Bubba fan named Brian Catton told me.
Since the trial began, Mr. Clem has been discussing it regularly on his morning show, and he has a website where he posts evidence to show that the tape was stolen from him by his rivals who want to "ruin my life and Terry's life as well," Mr. Clem told me in direct message on Twitter.
And Mr. Hogan's life has certainly been affected—if not, as Mr. Hogan claims in his lawsuit, by the publication of the sex tape itself, then more recently, from racist comments he made on separate tape, which were published last summer by The National Enquirer. Mr. Hogan was fired from the WWE after that story broke.
As part of his effort to distinguish between himself and his character, Mr. Hogan demystified both reality television and wrestling, explaining that neither is exactly spontaneous or real. Ironically, demystifying celebrity is one of Gawker's goals, according to Mr. Denton.
"You know, we have a very distorted view of celebrities, of their importance as role models," Mr. Denton said during a video deposition from 2013, in what sounded like one of the many interviews he has given to media outlets over the years, rather than responses given under oath. "I think they are held up to ridiculous standards, both of looks and morality. You know, they're people, just like us." In a less friendly cross-examination during Mr. Denton's testimony, the Gawker owner was asked to read the explicit description of the sex tape aloud to the court.
A.J. Daulerio is the former editor of Gawker and is named in the suit as the author of the post. He likewise claimed that his intent in posting the video and his accompanying commentary was to show that celebrity sex is no more exciting than any other sex.
Shown in a video deposition taken in 2013, Mr. Daulerio was almost unrecognizable from the clean-shaven man dressed in a spiffy suit who sat next to Mr. Denton during the trial. In the video, Mr. Daulerio was asked if there was any situation where he would deem a celebrity sex tape not newsworthy.
"If they were a child," he responded.
"Under what age?" Mr. Hogan's lawyer asked.
"Four," Mr. Daulerio replied, defiantly.
Gawker's publicity team later sought to clarify that Mr. Daulerio was being flippant, and he did have a sarcastic tone. But the soundbite was damaging. It was a line that may work at a media party, but does not go over well in a courtroom. When Mr. Daulerio testified Monday, lawyers for Gawker further attempted to clarify the former editor's misguided attempt at humor; the line from the deposition was brought up repeatedly by Mr. Hogan's side during cross examination.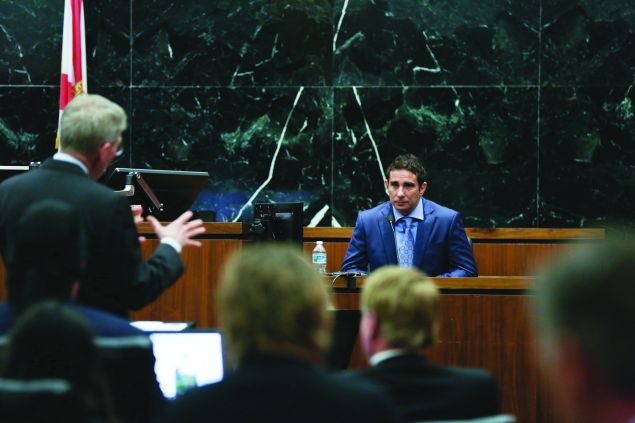 It was perhaps ironic that the future of a blog that was, at one time, the epitome of New York media gossip is being sorted out in a courtroom in the Gulf Coast city of St. Petersburg, a decidedly slow-paced city with a population of a quarter million, where a bustling strip of trendy new restaurants filled with vacationers drinking fruity cocktails is mere blocks from down-and-out public parks and where the future of digital media seems a distant concern.
But what is actually at stake here, in what could become a landmark case, is a debate about the First Amendment—whether, as Gawker contends, publications have the right to publish anything deemed newsworthy or whether, as Mr. Hogan contends, even public figures should have an expectation of privacy. If the jurors find in Mr. Hogan's favor—and Gawker has said that that is a not-unexpected outcome—the company will appeal. No matter the ultimate verdict, a single blog post has already cost the company, which reported net revenue of $45 million in 2014, substantial legal fees. Earlier this year, Mr. Denton sold part of the company to outside investors for the first time, claiming the decision was, at least in part, motivated by the looming lawsuit.
The trial also comes at a time when changing definitions of celebrity, media and technology are upending notions of public and private. The gulf between those notions played out when Gawker staffers were asked, under oath, about workplace chats they had engaged in several years ago. As most people manage to forget, anything in writing can be admissible in court, and that includes every text, tweet or Facebook comment.
But despite the stakes of the public trial, there was a conspicuous lack of local interest in its proceedings during the first week—no crowds of autograph seekers or throngs of reporters, although the Twitter hashtag #hulkvsgawk continues to generate a stream of updates from those onsite or watching from their desks. (Even the lottery system established for media in the courtroom fell by the wayside.) Gawker, not surprisingly, does not merit the same attention in the Sunshine State that it does in New York. But even Mr. Hogan, once arguably the world's most famous wrestler, was not a big draw.
"Gawker is a big 'who cares' around here," said Rick Edmonds, who is an analyst of the media business at the Poynter Institute in St. Petersburg. "And there may be a little bit of Hulk Hogan fatigue as well."