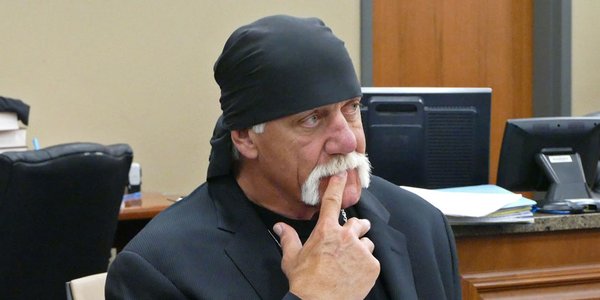 ST. PETERSBURG, FL—Hulk Hogan and Gawker attorneys finally faced off in a Florida courtroom this morning.
The wrestler, whose real name is Terry Bollea, is suing the New York-based website for $100 million dollars for a 2012 post that showed an edited version of a video, featuring Mr. Hogan having sex with the former wife of his former friend, a radio shock jock named Bubba the Love Sponge Clem. The sex tape was allegedly filmed without Mr. Hogan's knowledge.
The civil trial, which was postponed from last summer, is being held in the Florida city of St. Petersburg, home of Mr. Hogan. Neither side seemed to disagree that the case is tawdry. But opening arguments made each side's intentions clear.
"Keep an open mind," Judge Pamela Campbell instructed the majority female jury. "You must pay close attention, however you must avoid forming any final opinion."
In contrast to his portrayal of Gawker, Mr. Hogan's attorney portrayed his client as a hometown boy made good, who, like everyone, has struggled with jobs, working odd jobs like construction.
Gawker argues that publishing the tape is protected by the First Amendment, and that Mr. Hogan is a public figure, who had publicly spoken about his sex life, rendering the tape newsworthy.
According to Mr. Hogan's attorney, Shane Vogt, it is about a man who happens to be a celebrity, whose privacy was invaded during what his lawyer described as "the most intimate of human acts" by a gossip website that stood to profit from easy pageviews. Mr. Vogt, who spoke in a low voice made more difficult to hear because of the technical problems with the sound system, repeatedly invoked the words "naked" and "exposed."
Mr. Hogan, in all black, including his signature bandanna, sat through the opening arguments, seeming to nod his head ever so slightly as his attorney introduced the case.
To introduce Gawker to the Florida jury, Mr. Vogt showed a clip of an NBC segment on Gawker and owner Nick Denton from 2012.
Mr. Vogt read sections from Gawker memos, interviews, and internal staff chats held over the messaging service Campfire. He cited Gawker's internal page views and other metrics as evidence that the site benefited monetarily from publishing an excerpt of the tape, and he showed other stories where Gawker and other Gawker sites censored sex tapes to show that it wasn't standard practice.
It "doesn't matter how big they are. Doesn't matter how strong they are," Mr. Vogt said, people who "sit behind a computer in an office in New York" have "incredible power" thanks to the Internet.
"This is what bullying has become in the 21st century," he said.
In contrast to his portrayal of Gawker, Mr. Hogan's attorney portrayed his client as a hometown boy made good, who, like everyone, struggled, working odd jobs like construction, and crisscrossing the state to make some money from wrestling before eventually getting the oddest job of all: staring on a reality show.
"He's known professionally as Hulk Hogan but he is Terry Bollea, the man," Mr. Vogt stressed.
The friendship between the shock jock, who legally changed his name to Bubba the Love Sponge, and Mr. Hogan was portrayed as an especially close one. When Mr. Hogan's marriage fell apart, he gave in to "temptation" and, after being propositioned for years by his friend and his wife, who had an open marriage, he had sex with Bubba's then-wife Heather Clem. But he was ultimately betrayed by his friend.
"That was his choice," Mr. Vogt said, of Mr. Hogan having sex with his friend's wife. "What wasn't his choice was that it was being recorded."
Michael Berry, an attorney for Gawker, began his opening statements by invoking his kids, who, at eight and 12, wanted to know what the trial was about.
"To my son, I said, the case is about a famous wrestler, a man I looked up to as a kid," Mr. Berry said. "To my daughter, I told her it was about privacy. Like all fathers who have pre-teens today…" at that, Mr. Hogan's lawyer, Mr. Vogt, asked to approach the bench. Later in his opening statement, another reference by Mr. Berry to his kids evoked a similar reaction.
In an opening argument that was both briefer and louder than Mr. Vogt's, Mr. Berry highlighted appearances and mentions that Hulk Hogan had made of the sex tape and his own private life, in a likely bid to establish that the tape was already a matter of public interest.
Mr. Berry then summarized the text of Mr. Daulerio's post, in what seemed to lay out a strategy to show that it was not just excerpts from a sex tape, but rather commentary on the culture of sex tapes and public fascination with celebrity.
"There were only nine seconds of sex, rest of it was conversation," Mr. Berry said. He also pointed out that, since the post was tagged "NSFW" (Not Safe for Work), no ads ran next to the sex tape.
"Why does Gawker post excerpts from a sex tape it doesn't make money from?" Mr. Berry asked, as a segue to introduce Gawker founder Nick Denton, whose mother, a Hungarian Jew who fled from the Nazis and therefore understood the consequences of having speech suppressed, was cited as an inspiration for Mr. Denton's devotion to publishing the truth.
"The evidence will show," Mr. Berry said before the lunch recess, that Mr. Denton and the writers at Gawker believe that in telling the truth, images are key."