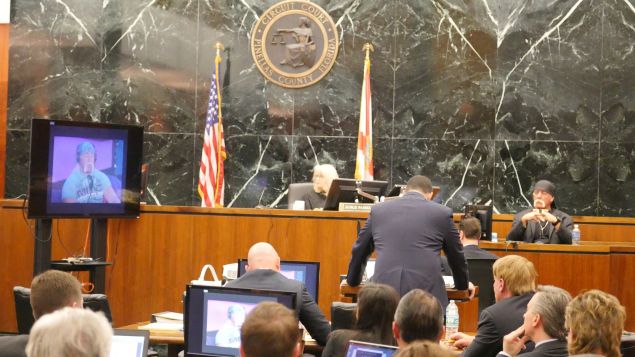 ST. PETERSBURG, FL—Gawker attorney Michael Sullivan went after Hulk Hogan today during a lengthy cross-examination, showing clips of past radio and television appearances in an effort to establish that Mr. Hogan had previously spoken publicly about his own sex life.
The trial began yesterday in a St. Petersburg courtroom. Mr. Hogan is suing Gawker for $100 million for publishing excerpts of a tape that showed the former pro wrestler having sex with the then-wife of his then-best friend, a Florida shock jock who goes by the name Bubba the Love Sponge Clem.
In testimony yesterday, Mr. Hogan laid out the biopic-like story of how a local Florida boy named Terry Bollea became the pro wrestling star Hulk Hogan. Mr. Hogan contended that Hulk Hogan, the wrestler and reality TV star, is a character he plays, separate from Terry Bollea, the man he actually is.
"Terry Bollea is a normal person," he said. "Wrestling is his job."
"It gives you artistic liberty when you are Hulk Hogan, to be in character," he said later during cross-examination. "In that mode, you can be a character and say things like 'I fell off the top of the Empire State Building, but I'm so powerful I got back up.'"
The idea of Hulk and Terry as two separate people also informed Mr. Hogan's opinion of the sex tape:
The wrestler also revealed why he wears his trademark bandanna all the time (he was even allowed to wear one in court, provided it was a solid color): because when he's playing Hulk it is part of his costume and when he's Terry Bollea it helps with "confidence issues."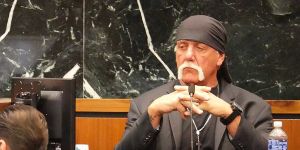 This wasn't the only forlorn note Mr. Hogan struck during his testimony. He spoke about the dissolution of his marriage to his wife, Linda, which he said brought him to such an emotional low point that he succumbed to temptation and had sex with his best friend Bubba's wife Heather.
The Clems, who have since separated, had an open marriage and repeatedly joked about a liaison between Heather and Hulk, something which he thought was weird but eventually gave in to. Mr. Hogan also talked about his now-former best friend Bubba, whose betrayal—filming his friend having sex with his wife—was a significant blow.
During cross-examination today, Mr. Sullivan showed a clip from an episode of his VH1 reality show, Hogan Knows Best, where Mr. Hogan and his wife seek marital counseling. But, as Mr. Hogan explained, reality television is not exactly real: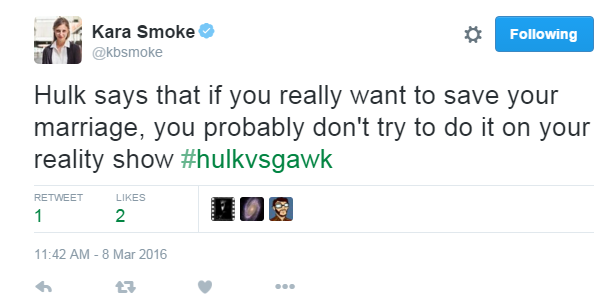 Mr. Sullivan then showed clips from TMZ and Howard Stern, during which Mr. Hogan spoke about the presence of the sex tape, which had been reported but not posted on TMZ prior to Gawker's post: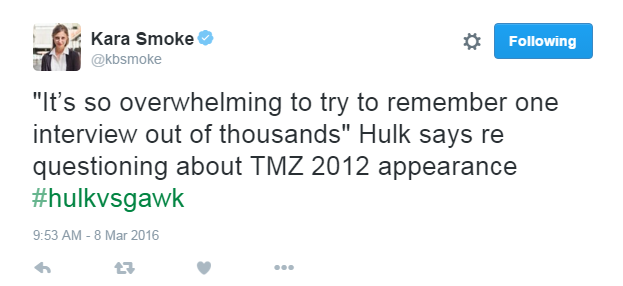 At one point during the testimony Mr. Sullivan also played an audio clip of Bubba's radio show, during which he and Mr. Hogan spoke about the size of his penis. But Mr. Hogan again made a distinction between himself and the character he so frequently plays.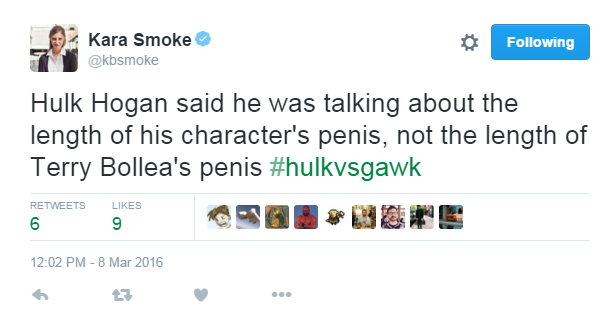 Mr. Hogan then further clarified things for Mr. Sullivan.
"Terry Bollea doesn't have a 10 inch penis," Mr. Hogan said. "Hulk Hogan does."