One of New York's wealthiest congregations had turned out in droves for the funeral of one of their own, who had exited a bit earlier than anticipated. Boldfaced names entered the chapel, a sea of black Chanel, signature Van Cleef necklaces and Jackie O sunglasses. During the eulogy—given by the deceased's daughter and fraught with emotion—many prominent businessmen in the audience appeared to be openly conversing on their cellphones, amidst an audible sprinkling of ring tones and some "shushing" from the older members of the audience. The coup de grâce was delivered by, of course, the cleric leading the service, when his phone went off during closing prayers. Quelle horreur!
This event brought to mind a favorite quote of my father's: "Beware of possessions lest you become possessed by them." I always loved the sentiment—don't overvalue things. But these days it applies just as easily to our fetishization of mobile devices, a condition I now refer to as i-ddiction. Possession does not discriminate: any age, race or social class can be a victim of this seemingly incurable and altogether annoying disease.
Indeed, poor mobile manners are now so commonplace that I decided to create a taxonomy of the different species of transgressors, rendering them easily identifiable (and, hopefully, at least somewhat avoidable).
The Cell-Fish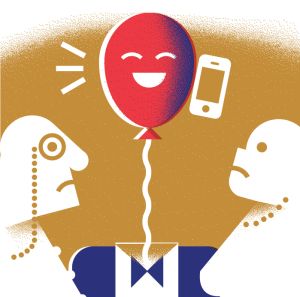 Dana and I were enjoying the sautéed mushrooms in garlic and mixed salad appetizer at Nicola's with another couple (who had been pressing us for plans). The high-powered husband, henceforth known as Mr. G-Arbitrage, answered a call during the appetizer course and excused himself, which is appropriate. That said, if you've ever been ditched at a table during one portion of a meal and the person returns in the middle of the next course, you have experienced the sports-widow version of a cellphone dinner disaster. (Unless it's an ill relative, an AWOL child or an angry client, leaving someone at the table for 20 minutes or more is incredibly rude.) The offender in question not only took more than one call, but then proceeded to table-hop for another 15 minutes before finally gracing us with his presence. And to add insult to injury Mr. G-Arbitrage didn't offer to pick up the check. Repeated requests for another dinner date have been unceremoniously denied.
The Full-Throated Warbler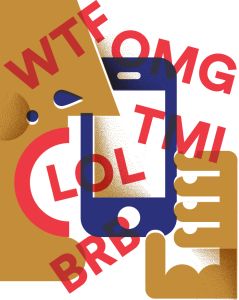 It was New Year's break and the adults-only pool at a well-known resort beckoned as an oasis of calm and quiet during the packed holiday week. I looked forward to the glorious sun and nabbed a solitary and in-demand lounge chair, ordered a white wine and dove into a new book in much-anticipated solitude.
Just as I settled in, I heard a ring tone, followed by a booming nasal voice. The braying belonged to a well-preserved woman in a cowboy hat who sat on a nearby lounge, flaunting her implants and treating nearby guests to a 30-minute description of her previous evening's sexual exploits. I have witnessed this type of behavior in restaurants as well—a lone diner answering the phone and engaging in full-throated conversation at the expense of the others. Better to do everyone a favor and treat a phone call the way one should treat an unruly child: take it outside.
The Poseur
My first visit to the Beverly Hills Hotel, aged 13. Sven was in residence as head of the pool and cabanas. Since cellphones did not exist, movie stars were either paged or had themselves paged poolside, which was always considered a valid PR tactic: Back in the day, peopletook notice when the speaker announced: "Ms. Cyd Charisse…telephone call."
Today, one receives such affirmation directly rather than through the switchboard. I was having a business lunch at Morimoto with a well-regarded real estate tycoon and our conversation was interrupted every five minutes by his buzzing phone. He just smiled andshrugged, with a half-crazed glint in his eye that said, I'm just too important, I guess.
"What, you don't get calls?" he eyed me suspiciously, noting my lack of a cellphone and temporarily disregarding his tuna roll, no wasabi.
"I don't take calls over lunch," I responded. "It's bad for digestion. I turn my phone off and keep it tucked out of view."
"You do? How can they reach you?" His eyes widened.
"They can't."
"What happens if it's an emergency?" He couldn't comprehend my action.
"My assistant Carol would call the restaurant. I think it's rude to my lunch guests," I said gingerly.
"Maybe I should do the same."
"Something tells me you like the attention," I said.
"Maybe I do." He took his phone and turned his head to take in the rear view of a passing supermodel. He suddenly snapped her behind with the camera.
"I didn't realize you were paparazzi," I remarked.
"I have a private cellphone photo file of supermodel ass," he said, smiling.
Now that is a man with some compensation issues.
The Voiceless Throng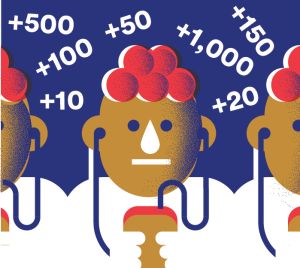 I joined Retired Sports Star for dinner at BLT Steak, one of my favorite uptown haunts, and spied a family of four sitting at an adjacent table. At first it looked like a normal family dinner, with parents and children checking their cellphones, heads bobbing. Oddly, by the time my lemon-rosemary chicken was presented avec the clever onion pyramid, I noticed that the family had uttered not a single word to each other, except to call the waiter with a snap of the fingers. To them, family dinner meant simply sitting in the same physical space (in a digital bubble) with no interaction beyond that.
The subject of children's cellphone protocol arose the next day with the Aviation King at Cipriani.
"Look, I think we are all guilty of wanting some adult conversation, and when the kids whip our their cellphones, at least they're not fighting. I call it the teen pacifier," he began.
"So you allow your kids to have cellphones at the table?"
"I'm a bit guilty. And you?"
"I let the children have the cellphone until the food comes and they have to put it away or they are collected. I think they have to get used to talking and having conversation. When I was their age I used to call my friends on the phone but now of course it's all texting," I said.
"The art of conversation is a thing of the past," he agreed.
The Oversharer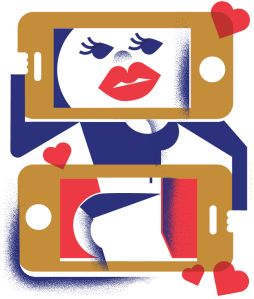 There is a scene in the Hollywood classic Sunset Boulevard in which Norma Desmond, played by real-life silent film star Gloria Swanson, reviews her close-up: "I am big. It's the pictures that got small," she states.
Obviously, this movie was made long before the introduction of the selfie stick. Now, it seems, everyone is ready for their close-up, Mr. DeMille—and they can't stop at just one.
I, of course, use my Instagram sparingly, and while I understand the need for managing one's social media profile, I have noted that older, late-entry Instagrammers do nothing to further their cause—for instance, who would actually be interested in a group photo in the men's room? I–nnoying!
Additionally, while I am not an ageist, seeing someone's liposuction bandages or Botox needles inserted into their skin folds aren't exactly sexy. At least scrap bookers discreetly keep their obsessions under the cover of a book, while oversharers simply put it all out there for the world to see.
Then there are those who keep their narcissism more veiled, but still all too accessible. I had not seen Gone-treprenuer since his well-publicized divorce (the wife got $400 million after discovering the mistress' $20 million apartment in London). Since he lives in the Islands, Gone-trepreneur and I had a lot of catching up to do.
"So let me show you the kids." He produced updated photos of his teenage boys.
"They all got so big!" I marveled, and reciprocated.
"So how are you enjoying single life?" I asked.
"Here," he said, reaching for his iPhone. "Let me show you. This is Donna [not real name], she models for [well-known lingerie company]." He proceeded to show me photos of her on the runway. Then came the half-naked photos of her in bed.
"She has the best legs, no?"
"Yes, she's quite stunning." I nodded in agreement.
"You should see her in this pose. She gets waxed like a baby."
"That's intense," I said, not knowing how to respond to visual TMI.
"Oh, and this is my L.A. girlfriend." He showed me a picture of two naked women in bed.
"Which one is your girlfriend?"
"The one on the left. She has friends."
"Clearly she's very popular. And talented," I marveled.
It didn't stop there, as he scrolled to an X-rated photo.
"Is that YOU?" I gasped at all the interacting body parts.
"Oh, that. Yeah, I guess I shouldn't show that one around," he said proudly.
I didn't get the feeling that he'd be deleting it anytime soon.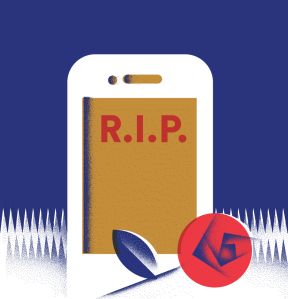 The Cellphone Killers
The scene was the stately club that doesn't like press mentions and where dinner is always a bit of a formal affair (coat and tie required). There is something cozy about cocktails in front of the monumental carved fireplace before ordering a nice bottle of Bordeaux in the dining room, replete with extravagant nude canvases. I was having dinner with the les deux heritiers, both refined and sophisticated gentlemen who were boyhood friends in private school and Palm Beach.
"Yes, cellphone crimes are on the rise," the first gentleman declared. "In fact, I was just visiting a relative in the ICU and they specifically do not allow cellphone calls. It could upset the heart machines. They even have those signs on the walls with the cellphones crossed out in red."
"And?" I enquired as I had the waiter pour another glass of the St.-Emilion.
"People still do it. It's incredible. They're crying and on the cellphones," he said, combing his fingers through his blonde forelock.
"Perhaps they want to speed up the inheritance process," I said. "You know what I always say: 'Where there is a will, there is a relative.' "
"You're not wrong. However, I think people just don't care," Gentleman No. 2 added. "I see the same thing on airplanes. They ask you to turn off your devices and that's when people really start texting. It's this 'it's not me' belief."
"So you think that even in the ICU where people are hanging on by a thread and someone knows they could disturb someone's health they would take a call?"
"There was a family and they were administering the last rites to the father and the daughter was calling the Starwood card to see how many points she had. It was amazing."
"And I imagine the both of you would never do that?" I chuckled, toying with the Caesar salad.
"Of course not! I only have a Black Card."
Cabo San Lucas still retains its natural charms, despite tremendous development: the whales still surface offshore, in the Sea of Cortez. We were firmly ensconced in the divine Palmilla One and Only, whose sparkling renovation belied the previous year's hurricane. Best Man and Second Wife were also on vacation in town with their three children, and we joined them with our own trio for dinner at the fabulous Flora Farms.
"O.K. everyone," Best Man said to the table of 10. "Let's all create the brick."
"The brick?" I asked.
"Yes," he said, placing his cellphone in the center of the table and then Second Wife placed hers on top. "We all put our cellphones on top of each other's in the center of the table and it creates a brick."
"Oh, I see. That's a clever idea." I placed my cellphone on top of my daughter's. Ten cellphones create quite a large brick and once we had built the brick, we got back to some old-fashioned family conversation. After the appetizer course, the kids grabbed their phones and ran off to watch some video and text and then came back to the table, recreating the brick as the main course was served.
"I love the brick idea," I said. "We can have family conversation and then a break for some adult time in between courses."
As the kids returned and sat down and were served the main course, my usually shy daughter raised her glass and stood.
"I have a toast. I want to thank my parents for this wonderful vacation," she said in a clear, steady voice, "and I also love being with our best friends. It's so special."
I looked at her with new eyes and suddenly I realized that children really do see and digest parental behavior. All the years of pulling away cellphones during mealtime, and techniques like the brick, had paid off. My children had learned, despite the pull of modern technology, how to bridge the communication gap the old-fashioned way—by talking.