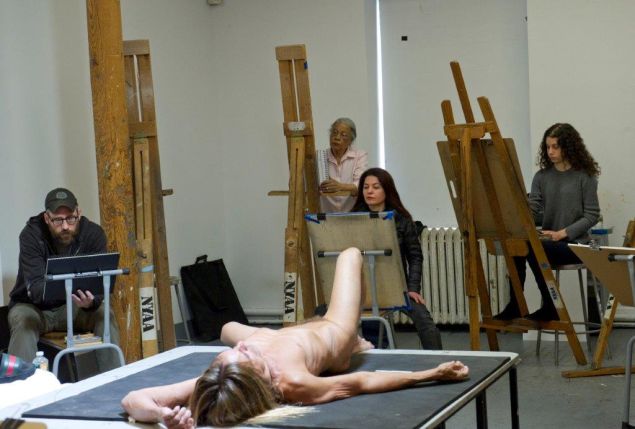 Punk star Iggy Pop disrobed at the New York Academy of Art for students, as part of an art project by Jeremy Deller. Mr. Deller's exhibition, called "Iggy Pop Life Class," will take student portraits of the nude rocker and show them at the Brooklyn Museum this fall.
Google has opened an art show in San Francisco featuring works made by its engineers using computer algorithms and put them on the auction block—some even for over $8000.
Bonhams has fired eight staff from its Hong Kong location, including its deputy chairman for Asia, Magnus Renfrew. According to the house's global director of communications, Lucinda Bredin, the firings were the results of "reorganizing operations."
José Antonio Lasheras, director of Spain's Altamira National Museum and Research Centre has died at 60. Lasheras, who had been director since 1991, was responsible for spearheading the creation of the "Neocave" project, a life-size painstaking reproduction of the Altamira caves.
Novelist Bret Easton Ellis and Los Angeles artist Alex Israel have teamed up for a collaborative exhibition of works at Gagosian Beverly Hills. The works combine sardonic phrases written by Mr. Ellis with images selected by Mr. Israel. Mr. Ellis told The Guardian, "I started writing sentences I thought were evocative, an extension of the characters I usually write about. They were dark at first, but Alex's sensibility would merge with mine and they changed."
The Denver Art Museum has returned a 10th-century sandstone sculpture, Torso of Rama, to Cambondia, after it was brought to their attention that the work was stolen. The museum bought the piece in 1968 from Doris Weiner Gallery in New York, but claimed to have known knowledge of the looting at the time of purchase.
Lexington, Kentucky now has an art hotel. The 21c Museum Hotel Lexington opened its doors yesterday, marking the fifth edition of the art hotel chain.