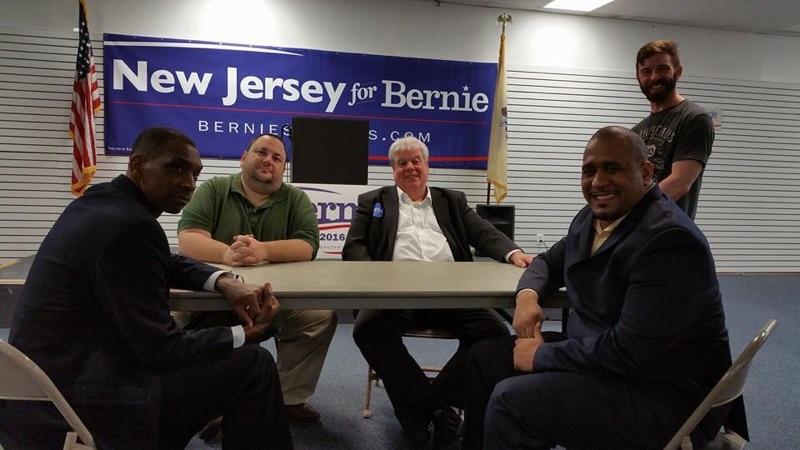 Count former Paterson Mayor Jeff Jones among those New Jerseyans feeling the Bern tonight.
Initially cautious about banding together with the Democratic presidential candidate from Vermont, Jones threw in with Sanders after conferring with Sanders New Jersey backers Bertin Lefkovic and Barry Brendel.
His alliance with the progressive Vermonter mirrors the effort South Jerseyan Alex Law is undertaking as part of his own June 7th bid to oust incumbent U.S. Rep. Donald Norcross (D-1).
Jones's campaign comes with a history.
Bounced out of office in 2014, the former mayor and former at-large councilman is trying to regain a seat in politics with his Democratic Primary challenge of longtime nemesis U.S. Rep. Bill Pascrell (D-9).
The two men have a sincere dislike for each other.
From the mayor's chair in Paterson, Jones infamously backed the Bergen-based U.S. Rep. Steve Rothman in a brutal 2012 shootout that Paterson native son Pascrell won.
Two years later, Jones found himself limping in for a fourth place finish as he vainly sought reelection. But that was a muddied field, littered with both collateral bodies and other main characters. This time the Marne Corps veteran is taking a fixed-bayonet frontal charge right up Pascrell's beach.
The congressman's allies don't regard the act is anything other than the very ill-advised, irritating misfire of a vain and deluded contender, who, Sanders or not, will get swept aside by a fully functioning party machine that has long stood with Pascrell.
Pascrell, of course, is a longstanding backer of establishment Democratic candidate for president Hillary Clinton, the former secretary of state.
In talks tonight with Sanders allies, Jones was still working through the details of whether he'll run a full slate of insurgent ticket mates.