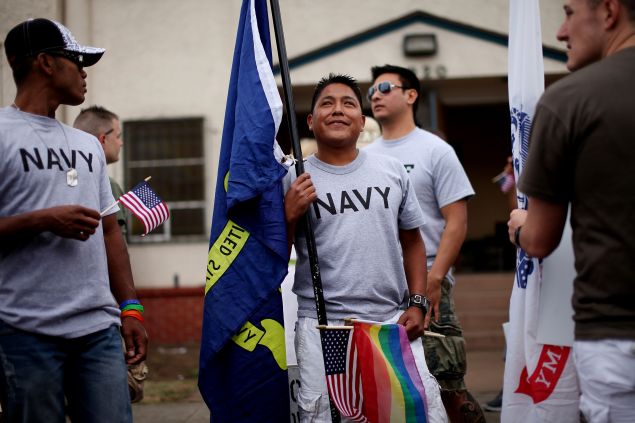 In the face of what they call Congressional inaction, a coalition of New York City activists, aid groups and elected officials are pushing for reform on the rights of gay veterans.
For many of the nation's discharged LGBT service members, activating benefits normally earned through service isn't an option. Before the repeal of Don't Ask Don't Tell in 2011, an estimated 114,000 military personnel were discharged as a result of their sexual orientation.
"Gays in the military have been hit by the discrimination, by being closeted, [and] by the AIDS epidemic," Don MacIver, 69, a gay man, retired Green Beret, and Vietnam War Veteran told the Observer. "They get out of the military and they just want to forget they even had a military experience."
Mr. MacIver, who resides in New York, spent his military career closeted and received two honorable discharges, following active duty and reserve service.
Back in November, New York State Sen. Brad Hoylman (D-27) introduced a bill called the "Restoration of Honor Act," that would restore honorable status to discharged gay veterans. The bill identifies 53 state benefits from which they are excluded and a spokesman for the senator estimated that between the high hundreds and low thousands of those veterans live in the state of New York.
"We shouldn't compound this historic injustice by continuing to deprive these brave men and women of the benefits they've rightfully earned," Sen. Hoylman said in a statement.
Similar bills remain pending in the U.S. Senate and House of Representatives, where they were introduced in July and August of last year.
In a written submission for a December hearing at the New York City Council's Committee on Veterans, Dr. Amanda Spray, of the Military Family Clinic at NYU Langone Medical Center, described the psychological damage done to LGBT discharged veterans as "incalculable."
"For many, serving in the military is to be welcomed as a family member; For those in the LGBT Community to be told they have not served honorably is to have that family turn their backs on them. The implications of these feelings ripple throughout their lifetimes." she wrote.
Catherine Thurston of Services & Advocacy for GLBT Elders (SAGE) based in New York City told the Observer that older LGBT veterans who were entitled to full benefits often choose not to seek them.
"For many older military people, they were in the military in a pre-Don't Ask Don't Tell environment, when it was unthinkable to be out, and they were completely closeted," she said. "They're not going to the VA. There's this perception that [the discrimination] is going to happen again."
Latina Vega, who runs SAGEVets, a program SAGE began specifically to help veterans, is a gay veteran herself.  She called the pending state and federal legislation a necessary step but cautioned against expecting a total reversal of thought.
"Because of the history there, this isn't something that's finished overnight," Ms. Vega said.
The Mayor's Office of Veterans' Affairs and the State Division of Veterans' Affairs did not return requests for comment.
For Council Majority Leader Jimmy Van Bramer (D-26), who passed resolutions in mid-January calling on the State and Federal governments to pass their respective bills, this issue is personal. His husband was discharged from the Navy while stationed in Spain in the 90s. 
Though the Don't Ask Don't Tell policy, from 1993 to 2011, ostensibly eased the burden on gay veterans, many were still discharged if their sexual identity was even suspected. Though they were more likely to receive honorable discharges, the humiliation of being discharged for their homosexuality remained.
"The most painful experience of his life was when he was removed from the US Navy simply on the accusation that he was a gay man," Mr. Van Bramer told the Observer. "The very same thing that happened to him happened to many others before Don't Ask Don't Tell, and they, for no crime, no violation, received less-than-honorable discharges."
He added that, though the bills would help the discharged veterans, "we will never make it right."
In the early 90s, Mr. MacIver was diagnosed with HIV and went on experimental triple-combination drugs, initially provided by NYU Langone.
Once the drugs had been cleared for patient use, they were paid for by the Department of Veterans Affairs. The V.A. still pays for his drugs, just like it paid for his triple bypass surgery.
Asked where he would be without his V.A. benefits, Mr. MacIver chuckled. "Where would I be? I'd be dead. I would have died a long time ago."