Debris, noise, unpleasant odors, obstacles, lack of water, restricted or no use of elevator, lead and silica particles in incessant dust, life-threatening hazards: this is what construction looks like inside occupied buildings. Residential construction is a current fact of life in New York City, and for some, it's not a matter of walking by or around, but living through. 
"My neighbor saw the workers fleeing the building," Upper West Side resident Leslie Pearson told the Observer. "Her gas meter, the prewar, old-fashioned kind, was spinning round and round. So we called Con Edison and they figured out someone had accidentally cut the gas line. But no one knocked on any doors. They just fled."
Renovation of Ms. Pearson's building, with tenants like herself living inside, began two and a half years ago.
"The goal of every landlord in New York City is to remove their rent-regulated tenants so they can renovate and sell the units," said Adam Leitman Bailey, an attorney with experience alternately representing tenants (rent-controlled, rent-regulated and free market), landlords and developers. Evicting rent-regulated tenants is generally the first step in a building conversion, he said, noting, "many want to leave anyway."
Many, perhaps, but certainly not all. Famously, some tenants stayed in their homes at the Chelsea Hotel (222 West 23rd Street) when construction started in 2011. And uptown is loaded with the same homebody sentiment (see 11 East 68th Street, 101 West 78th Street, 200 East 94th Street and more) as condo conversions sweep Manhattan.
In the last four or five years there's been an incredible uptick in living-through-construction, as more and more landlords renovate and combine smaller apartments into larger ones, said tenants'-rights attorney Samuel Himmelstein. "If I'm seeing an uptick, that's the tip of the iceberg," said Mr. Himmelstein.
He notes key differences between today and the past: Years ago you didn't have this many vacant apartments at once. When everyone was stabilized, people didn't move. And the sheer size of the renovation projects dwarf the earlier ones.
"There's a lot of money in real estate right now. Landlords are trying to maximize rental income in various ways: condominium conversions, renovating and combining apartments, adding stories. You can't market un-renovated apartments," said Mr. Himmelstein.
Years ago you didn't have this many vacant apartments at once. When everyone was stabilized, people didn't move. And the sheer size of the renovation projects dwarf the earlier ones.
"When a builder and developer can build higher and wider they can make more money by delivering more units on the market," concurred Mr. Bailey. "We are just finishing one of the greatest building and rebuilding booms of our time. The number [of city Department of Building permits] must be startling compared with 15 years ago."
(According to the DOB, it is: the 2000 total was 83,754; the 2015 total, 155,156.)
Developer Paul Boardman, general partner at P2B Ventures, in partnership with SJP Properties, is orchestrating a project at 711 West End Avenue, where a 10-story luxury building will be constructed on top of an existing, seven-story occupied one. "In construction there's an impact on the people all around, even if you just add adjustment to a sidewalk. That's why preparation and safety are the two most important things," he said.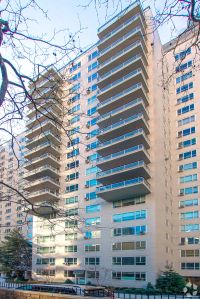 Mr. Boardman is 14 months into the project, including some 20 hours of meetings with tenants, and 30 years into a career that has previously included construction in occupied buildings. The biggest concerns, he said, are always "what will happen when?" and "how does this come together?" Finding a way to communicate through every possible channel is paramount.
"Construction is really inconvenient. You spill paint. You pop a leak. But you can feel good about [the progress] along the way, one step closer to the goal," Mr. Boardman said. There are plans to celebrate milestones throughout. "We'll have a foundation party, and a structural steel party. The vast majority of tenants are very excited and understand the benefits to the long-term living situation." That means upgraded lobby, hallways, elevators and recreational spaces for all.
Construction, expected to start this spring, will be coordinated around exam and testing schedules at nearby P.S. 75 (735 West End Avenue). And the building created a website to keep tenants up to date on the construction at the suggestion of tenant Liel Leibovitz, who recognized it's not easy to coordinate schedules for regular meetings between all concerned parties.
"The notion of having something like a garden is worth everything to me," said Mr. Leibovitz, a writer who has lived in the building for 14 years and now has two kids under the age of 5. "No amount of noise and dust in the world could make that not worthwhile."
Not all of his neighbors are in agreement, but for Mr. Leibovitz (and many others) this is a long game. "I'm looking forward to raising my children in a building that's considerably nicer, that will improve the quality of my life and their lives."
Lists of the overall plan, step by step, have been slid under apartment doors and hung in the laundry room. "It was really detailed. You're not left in the dark," said Mr. Leibovitz. He organized the meetings between tenants and developers, including the one in which renderings were presented and the absence of a "poor door" was revealed. The integration of all tenants, current and new, was a relief. The new building will be separate—one building straddling another—but equal.
Ideally this optimism will endure, bolstered by continuing communication and follow-through that assuages the true primary concern.
'There was no protective sheeting over the front doors of tenants. They were taking out debris in hefty bags in both passenger and freight elevators. I've had to get a workman to move a ladder in the stairwell (it's a walkup) so I could enter. I'm sure they did not follow any safety protocols for tenants, or workers. Why weren't they wearing face masks?'
Indeed, issues the lawyers and tenants who spoke to the Observer related include extraordinary noise and dirt, vibrations and seemingly ceaseless streams of workers working Saturdays (illegal without a variance), working at midnight (ditto) and creating security issues (open doors; identification).
Ms. Pearson, a social worker and family therapist who has lived in her building for nearly 30 years, has this advice for developers: don't ever buy a building with people in it. It's a headache for everyone. She told us of months without gas, and leaks in her apartment when the workers above ran water without buckets underneath. "There was no protective sheeting over the front doors of tenants. They were taking out debris in hefty bags in both passenger and freight elevators. I've had to get a workman to move a ladder in the stairwell (it's a walkup) so I could enter. I'm sure they did not follow any safety protocols for tenants, or workers. Why weren't they wearing face masks?"
Some say situations like these are not-so-veiled attempts to force a move-out by making life unpleasant.
To that point, said a spokesperson for NYS Homes and Community Renewal: If a tenant believes and can provide substantial proof that the renovations are illegal and part of a purposeful pattern to harass them and force them into moving out, they should report the illegal construction to the DOB via 311 and report the harassment to the governor's Tenant Protection Unit.
In any case, the lawyers said, forming a tenant association is the only way to react. Ms. Pearson, who organized the tenants in her building, stresses she is not being harassed and has no vendetta, agreed: Developers have infrastructure, landlords have infrastructure, if you're not really organized or don't have the stamina, they will win. And, she added, "don't be unreasonable."
"Individuals have rights, but not power," concurred Mr. Himmelstein.
But even with power, negotiation can be long and difficult. Mr. Bailey was among the lawyers and firms hired by the tenants' association at Manhattan House (200 East 66th Street) throughout the building's lengthy conversion to luxury condos.
"They didn't treat the tenants badly, but they weren't thinking of them first in the process," said Mr. Bailey. These days he's working with developers, guiding them to do "little things that make tenants happy."
Often those things are free. Having a point of contact is No. 1, he said. "Remember, they [tenants] are worried." Communication is paramount: here's what we're doing; here's the schedule; here's how we're keeping you safe; here's contact information. Mr. Bailey recommends his clients host breakfasts with tenants to keep them informed. "It's not an adversarial process. Every good developer does better when they have a good protocol."
And operate within the law. "You're entitled to a habitable apartment," said Mr. Himmelstein, referring to the Warranty of Habitability Law, the Housing Maintenance Code and other laws that guarantee tenants certain essential services and protections: safe, well-maintained, livable.
Ideally landlords and developers take a few basic steps before work begins. First, said Mr. Himmelstein, hiring an environmentalist to determine what kind of condition exists (asbestos? lead-based paint?) and how to minimize threat to residents. Next is the creation of construction protocol: notices to tenants, cleanup procedures, HEPA filters, and so forth. Then comes the establishment of economic compensation: rent abatements covering the time of construction, perhaps.
Once upon a time construction and conversions were less contentious. "Years ago everybody did the right thing," recalled Ms. Lesser, relaying the fantastic story of Ian Schrager's treatment of a couple who'd resided at The Royalton New York before it was converted. (This is more than 25 years ago, of course.) Mr. Schrager moved the pair to a three-bedroom on the Upper West Side and provided hotel services, sending staff up to change their sheets and replace toilet paper. The couple was supposed to go back, but their apartment did not exist when construction was complete, so Mr. Schrager continued paying rent until the husband died and the wife was moved to a nursing home in Connecticut—and Mr. Schrager paid the rent-amount toward the costs there as well, until her death. (Mr. Schrager did not respond to a request for comment.)
"He had no obligation to do that," said tenant attorney Beatrice Lesser. "You may still see things like that now, but everyone is afraid. Everybody has an angle, everybody wants to get rich, including lawyers who get a percentage of a buyout."
Indeed, litigation is not unheard of.
"Would I be surprised if there were lawsuits about construction? No," said Ms. Pearson, noting the disparity in pipes (some new; some not replaced) in her building. "When you have a series of different contractors and changing project managers, there's a betting man's chance there will be future problems."
A future that's revealing itself now, said Ms. Lesser and her peers. "I wouldn't move into anything new. Give it five, six years or more. It's terrible."
Caveat emptor.