The hours-long line for excessive, Instagram-worthy Black Tap milkshakes makes tourists and locals look like they're waiting for a favorite ride at Disney World; it has replaced the cronut and rainbow bagels as the latest social media savvy treat. If you, for some reason, don't have two hours of your day to devote to a decadent milkshake, you can try the sweets on top at Little Cupcake Bakeshop.
Little Cupcake Bakeshop partnered with Black Tap on their popular Red Velvet Shake. Owner Sal Lobuglio uses sustainable, local ingredients with no shortening and no preservatives, making it the best you can possibly feel about eating sweets (as long as you disregard the calories).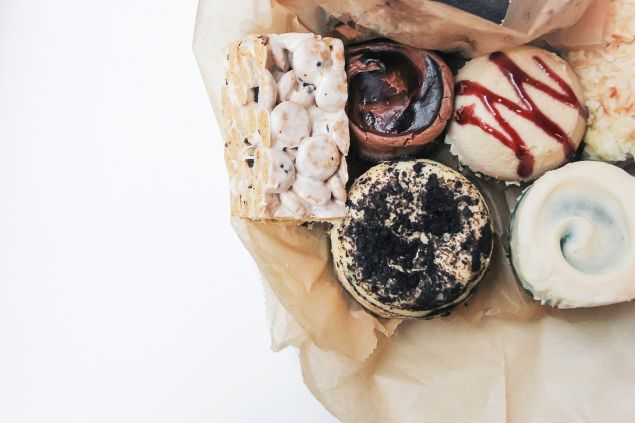 Their infamous chocolate cake is so dense, heavy and rich you know you can't have too much without regretting it the next day…but that doesn't make it any easier to put down the fork. Other springtime offerings include a Blue Velvet Cupcake made with locally sourced blueberries and cream cheese icing that's a play on the red velvet topping the Black Tap milkshake, a Cookie Crisp cereal bar with marshmallows that recalls childhood treats and seems almost healthy and a Meyer Lemon Bar that could take the palce  breakfast.
If your personal motto is "Let them eat cake," this is a more expedient and equally delicious way to indulge than at Black Tap. While old school cupcakes might have fallen out of favor with the rise of Instagram-ready indulgences, it's hard to go wrong with chocolate or cheesecake; plus, not having to wait hours for the pleasure somehow makes them taste even better.