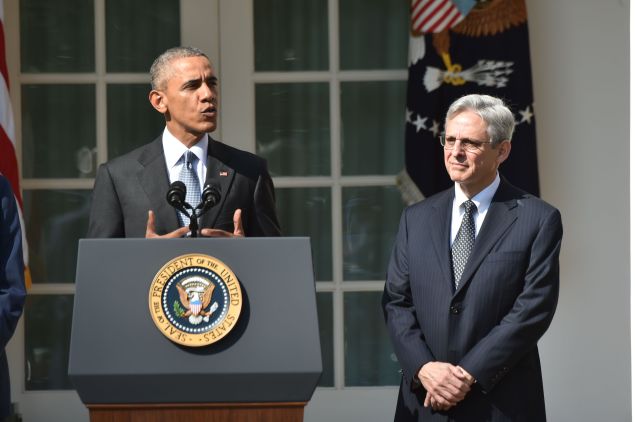 Step aside, NBA draft—Obama's pick is the only one that matters this year. In law firms, the Judiciary Fantasy League is huge. The prevailing wisdom whittled the choices down to two, Sri Srinivasan and Merrick Garland—maybe on a slightly gender biased basis because the President's last two picks, Sonia Sotomayor and Elena Kagan, were women. Could be it be an outside horse, namely Ted Cruz just to make the Democrats' problems disappear?
The nominee is Merrick Garland, the chief judge of the D.C. Circuit U.S. Court of Appeals, having been appointed by Bill Clinton in 1997 but on a split vote then of 76 to 23 (32 of which were Republicans supporting his nomination and 7 of whom still serve in the Senate). Proclaimed to be "A fine man" by Senator Orrin Hatch, Mr. Garland is former special assistant to the U.S. Attorney General, private practitioner and Deputy Assistant Attorney General for the DoJ. The list goes on—he even oversaw the criminal prosecution of the 1995 Oklahoma City bombing. Mr. Garland has certainly served his time.
At 63, Mr. Garland is slightly older than Mr. Srinivasan. Having been passed over for a previous nomination, the Harvard-Harvard educated judge brings a level of gravitas and years on the bench over some of the other potentials. Mr. Garland has the benefit of being viewed as a moderate and is deeply clever, but will not be seen as a brave enough choice in liberal quarters. According to SCOTUSblog, "Judge Garland rarely votes in favor of criminal defendants' appeals of their convictions." A philosemite like myself obviously leans toward the Jewish Mr. Garland, but who wishes to prejudicial to a judge, even if the discrimination is positive?
Some quarters might be disappointed that the President did not appoint the third African American judge in history. There are many eminently qualified for the taking—such as Paul Watford of the 9th U.S. Circuit Court of Appeals, who previously clerked for Ruth Bader Ginsburg and the choice would have reunited them.
Should a triumfeminate have been considered, Loretta Lynch, the U.S. Attorney General, would have been top of anybody's list. A former U.S. attorney for the EDNY, Ms. Lynch has earned her stripes in prosecuting terrorism and fraud. My preferred choice is for a lawyer that has actually served on the front lines, but maybe the President chose a judge likely to be approved.