Isaac Mizrahi: An Unruly History, which opens on Friday, March 18 at the Jewish Museum, is the first time a museum has dedicated an exhibition to the work of Isaac Mizrahi. The show's guest curator, Chee Pearlman, believes "it was time. [There hasn't been] a show [or] a book [examining] this body of work."
Isaac Mizrahi was born in Brooklyn in 1961 and grew up in the tight-knit Syrian Jewish community. His religious background pushed Mr. Mizrahi into design: not because of it, but in spite of it. "I went to a yeshiva that was Orthodox and it was a kind of persecution for me," explains Mr. Mizrahi. "The fashion, and puppets and theater and all of that was [a form of] escapism." And so he pursued fashion design, later attending Parsons. He entered the New York City fashion scene in the late 1980s, at a time when fashion had become subdued and tasteful.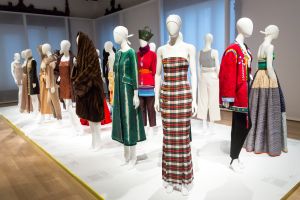 Isaac's witty, provocative designs and outrageous personality put him on the fashion map. But he made his name with. He was a pioneer of contemporary style modes we take for granted: a willingness to break the rules and embracing a mash-up of high-and-low fashion. His work was so modern and forward-thinking, that many of the clothes on display at the exhibition look as if they could have walked off the spring and fall 2016 runways and onto the elevated platforms at the Museum.
For a designer so effervescent and irreverent, the exhibition is decidedly sedate, with tall, intricately carved ceilings and long, winding hallways that exude a sense of refinement. But beneath this elegance lies a touch of mirth: mannequins who would otherwise go bareheaded don a simple white bandana – a tongue-in-cheek reference to the designer's trademark use of bandanas to cover his own luxurious locks.
Perhaps the exhibition's clean design ethos was inspired by Mizrahi's love of Mark Rothko's Minimalist paintings, whose simple compositions belie their vivid, emotional impact (a hand-painted green coat from his fall 2004 collection on display was inspired by Rothko's work). And so the exhibition doesn't scream, it whispers. You can take in the cacophony of color and inventive witticisms without the distraction of extra frou-frou. The clothes and sketches and fabric swatches and video compilations speak for themselves.
When you walk into the exhibition, you face this giant wall of fabric swatches – collected by Mizrahi since the late 1980s – organized by color, creating a graduated rainbow effect. You then make a left and enter a room dedicated to Isaac's boisterous use of color. In the center of the room is a raised platform with dozens of designs including a fall 2004 colorblock gown of orange, fuchsia and red. Mr. Mizrahi's quirky use of fabrics is also on view here, seen in a teal and purple striped down parka paired with a lavender taffeta ballgown-skirt from his fall 1994 collection.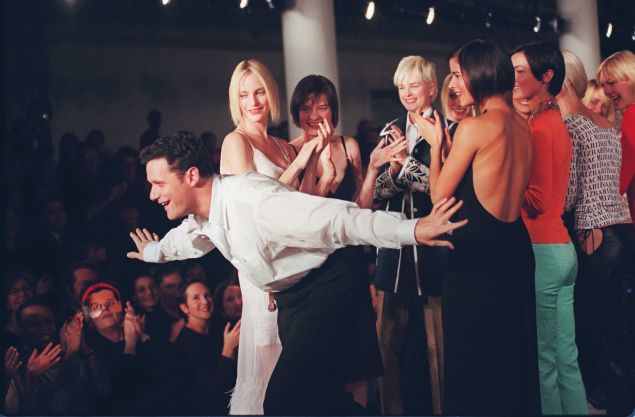 Next is a tiny room, almost like a small foyer, with walls on either side covered in Mr. Mizrahi's sketches, going back as far as 1980. In the center, a narrow vitrine holds sketches from his fall 1992 show, with detailed instructions of what each model will wear and in what order they will walk, set up like a storyboard for a film. It foreshadows what's to come: the next room is dedicated to Mr. Mizrahi's work in theater, filled with costumes from his various theatrical projects. A mock scaffolding lays atop the museum's beaux-arts crown molding to create a staircase, where a sunglass-bedecked mannequin at the top, as Queen of the Night, from Mozart's The Magic Flute, wears a star-studded midnight blue gown with a train that fills the entire display platform: one of the show's highlights.
The next room is dedicated to Mizrahi's frequent use of wide-ranging cultural references. A camouflage halter dress is a direct reference to Operation Desert Storm and the Persian Gulf War. But a beaded shearling coat from his fall 1991 "Tee Pee" collection has a happier point of inspiration: kitschy, western-style Americana.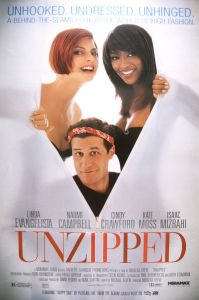 A hallway of candid, behind the scenes photos then leads into a room filled with his quirky, unconventional accessories, like his steampunk-esque spring-heeled stilettos. The show ends with an empty room modeled after a movie theater, with three screens filled with snippets of Mizrahi's career: his appearance on reality shows like RuPaul's Drag Race, Jeopardy and Project Runway; his theater cabaret LES MIZrahi; his documentary Unzipped; his many film and television cameos and interviews; and, of course, models stalking down the runway in his designs.
The liberal use of humor throughout the barrage of snappy clips is a fitting end to an exhibition on a man who made fashion fun as it can get. Ms. Chee agrees: "who else can infuse humor in their work and not take themselves so damn seriously?"
Isaac Mizrahi: An Unruly History will be on view from March 18 until August 7, 2016
The Jewish Museum is open Friday-Tuesday from 11 am-5:45 p.m., and Thursday from 11 a.m. – 8 p.m. It is closed on Wednesdays and is located at:
1109 5th Ave at 92nd Street, New York, NY 10128