Back in January of this year, the Council of Fashion Designers of America decided it was time to take a step back and look at how effective the current model of New York Fashion Week was. And it was long overdue: Insiders had been grumbling that the shows lost focus of their main goal (presenting new clothing) and had become a circus of sorts, morphing into a tasteless marketing scheme. After all, who could forget when Cathy Horyn decided to liken the bi-annual week of runway shows and presentations to a low-brow trade show in an article she titled "When Fashion Week Was Made of Simpler Cloth." That rant, which was published in 2013, began a larger discussion on the importance of what designers were doing with their time slots in September and February.
So the Council decided to take matters into their own hands and hired The Boston Consulting Group to figure out what needed to be fixed in the fashion system. Today, they have published the results.
Over the past six weeks, 50 fashion insiders were formally quizzed about the current state of NYFW. Included in that sample were seven luxury designers, 13 contemporary designers, eight retailers (spanning wholesale and online), nine members of the press, six influencers and three other players, including an event vendor and a finance corporation. Additionally, four international brands and organizations were polled.
According to the CFDA, their answers pointed to a singular answer: now is the time for change. Most notably, the concept of what they call "in-season relevancy" is the most poignant.
The modern consumer is confused by bikinis arriving on racks in mid-February and winter coats arriving at the height of summer. Which is why it's no coincidence that designers such as Rebecca Minkoff, Tommy Hilfiger and Burberry are rolling out "see now, buy now" collections.
One fix that the CFDA suggests is for brands to continue presenting forthcoming collections, but only for press to review and buyers to purchase. They should keep their industry-facing runway shows or presentations limited to this intimate crowd. For the consumer, they recommend introducing bi-annual consumer-focused events that occur as the clothing is available for purchase. Designer Stacey Bendet of Alice + Olivia already has this plan in action; later this spring she will host a runway show for her customers to attend at Neiman Marcus in Los Angeles. The clothing on the runway will be immediately available for purchase in-store, along with with some exclusive items that can only be scooped up from her website. She also intends to keep showing her collection to the press at NYFW.
The projected result from these changes is possibly the most interesting part of this study. Brands will be able to sell more clothing at full-price, for logical reasons. Think about it, there is actually a demand for a swimsuits in the middle of July and puffer coats at the start of December. Further, fast fashion brands such as Zara and Forever 21 will have a lesser chance of being able to knock off designer's creations.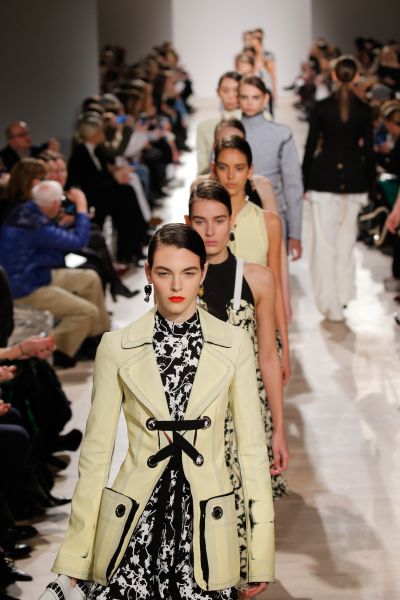 Many other ideas were offered in the study, including the idea of designers bolstering main collections with smaller, instantly shoppable capsule collections. The CFDA finishes off by pointing out that all of these are merely well-researched suggestions. "Ultimately, it is up to the brands to decide what works best for them, and the CFDA will support designers as they experiment and define what is right for their collections," they wrote.
So while there won't be a major overhaul of the shows in the immediate future, expect to see small changes taking place as the next Fashion Week draws closer. In an industry that embraces new trends, ideas and concepts each season, it will prove to be an interesting ride as a small revolution overtakes the current model.