It might just be a battered old chair, but does it have magical powers? This is the chair that supported J.K. Rowling during her endless hours crafting the first two books of the beloved Harry Potter franchise—Harry Potter and the Sorcerer's Stone and Harry Potter and the Chamber of Secrets—and it will be up for auction next month at Heritage Auctions.
The chair was first given to Rowling for free in a mismatched set of four in 1995; it was later adopted as her primary writing chair. Shortly after the publication of her fourth book, Harry Potter and the Goblet of Fire, Rowling donated the chair to a charitable auction called Chair-ish a Child, selling for $29,117. Now, after the publication of the entire series and accompanying movies, the chair that started it all will be returning to the auction block with an opening bid of $45,000, according to a report from the Guardian.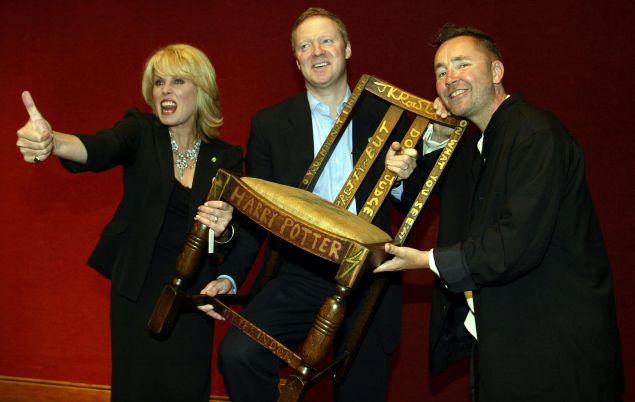 The originally unmarked chair has found a second life as J.K. Rowling's artistic creation. Before going to auction its first time around, Rowling signed the chair in gold paint and added the script, "You may not / find me pretty / but don't judge / on what you see" as well as "I wrote Harry Potter while sitting on this chair" painted on the panels surrounding the seat cushion. The chair is illuminated with wizardly details including a gold star after her signature, a pair of lightening bolts and "Gryffindor" painted on the chair's bottom stretcher.
The chair is also accompanied by a letter from Rowling with the letterhead, "By Owl Post." It reads: "Dear new-owner-of-my-chair / I was given four mismatched dining room chairs in 1995 and this was the comfiest one, which is why it / ended up stationed permanently in front of my typewriter, supporting me while I typed out 'Harry Potter and the Philosopher's Stone' and 'Harry / Potter and the Chamber of Secrets'. / My nostalgic side is quite sad to see it go, but my back isn't. / J. K. Rowling."
[youtube https://www.youtube.com/watch?v=TrIRo6QXtdQ]
Rowling's chair is not the only piece of Harry Potter memorabilia to fetch extraordinary prices at auction. Heritage also sold a Deathly Hollows 2 cast-signed poster for $13,145 in 2011, while Harry's elder wand that was used by Daniel Radcliffe in the movies for the Deathly Hollows films, went for $10,100 at Premiere Props, California in 2013. The British version of the first book, Harry Potter and the Philosopher's Stone, that went for a whopping $227,421 at Sotheby's London in 2013.
Rowling's chair is not just another piece of Harry Potter memorabilia, but also a piece of historical, pop-cultural and literary art. "It lives now as a powerful, tangible symbol of her determination and incredible imagination," says James Gannon, Director of Rare Books at Heritage. "She started in this chair as an impoverished woman and mother with a dream and rose from it as a giant of modern fiction."
Heritage Auctions will auction off J.K. Rowling's chair in New York City on April 6, 2016