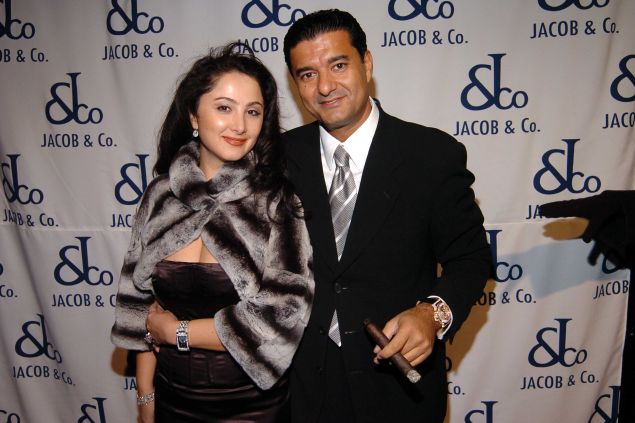 Just adding a bit more sparkle to the already very glittery skyline.
Jacob the Jeweler (real name: Jacob Arabov), and his wife, Angela, have purchased a two-bedroom, 3.5-bathroom condo at Harry Macklowe's 432 Park Avenue.
Mr. Arabov founded Jacob & Co. in 1986, after which the brand gained recognition when Notorious B.I.G. took a liking to the diamond-covered pieces.
He's obviously done quite well for himself in the years since, as the couple paid $16.68 million for the 3,576-square-foot abode—Douglas Elliman is handling sales at the building—and which has a private elevator landing, library, and 12'6-foot ceilings. There's no word yet on if he plans to adorn his new home with diamond-encrusted décor, but we're holding out hope (call us if you do, Mr. Arabov).
It seems safe to assume that Mr. Arabov's new condo will be a bit more comfortable than the jail cell he called home from 2008 until 2010 due to charges related to falsifying records and lying to investigators—the charges related to money laundering were dropped.
Anyway, Mr. Arabov's celebrity client base didn't seem to mind much—Victoria Beckham, 50 Cent, Gisele Bundchen, and Jay-Z and Beyoncé number among his clientele. Oh, and you can also add Rudy Giuliani into the mix of Jacob & Co. enthusiasts, as well.
All in all, it's not so surprising that the man known for his over-the-top, diamond-encrusted jewelry has selected one of the most over-the-top towers in the city to call home.
The 96-story building has 30,000 square feet of amenities, which includes a lounge, outdoor garden, private restaurant, 75-foot indoor swimming pool, and, lest one despair of leaving one's apartment altogether, there's also in-suite dining and room service. And of course, a fitness center complete with a spa, sauna, steam and massage rooms—we hear counting carats for a living can be as hard as, well, a diamond.