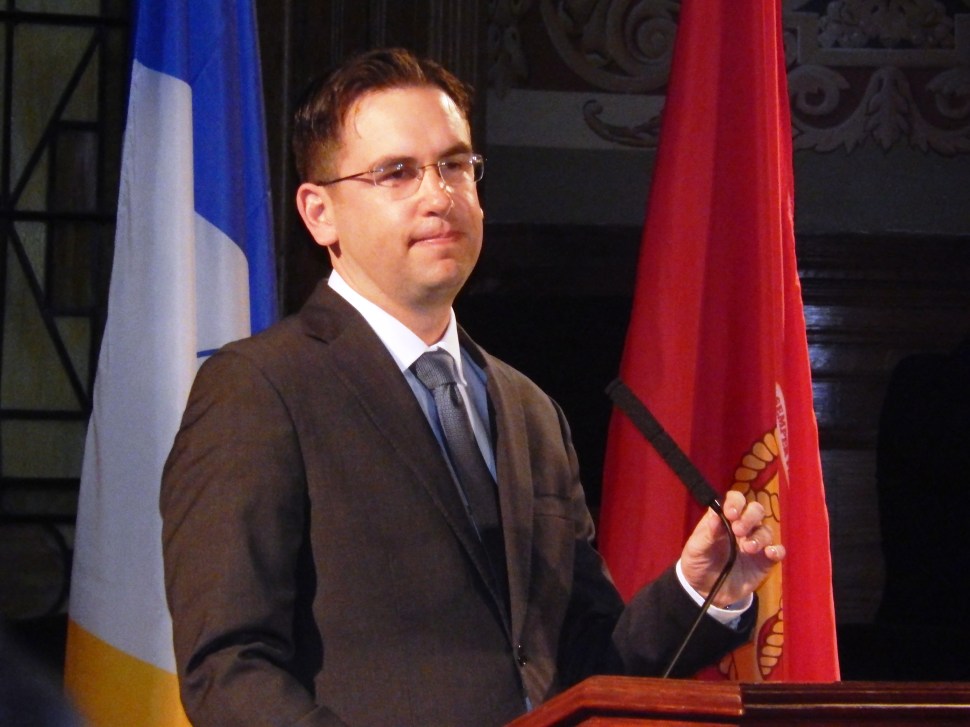 JERSEY CITY – The most despised man in the South Jersey political establishment settled on his North Jersey perch tonight in the role of placid local shogun with his boots planted firmly on the ground, nursing no apparent nefarious larger or grander gangster designs amid all those extraneous external dogfight collisions of an unfolding statewide gubernatorial contest slated for 2017.
There's the Mayor Steven Fulop who moves around New Jersey looking like a fiendishly possessed reanimated Jim McGreevey. And then there's the man who took the podium tonight for his annual state of the city address, Indiana Jones professorial glasses in place, intoning a speech wholly dedicated to those specifically Jersey City dimensions of public safety.
"If we work together, crime will not stand a chance," said Fulop, drowned amid applause in city council chambers.
Inevitably, there were echoes of statewide Democratic Primary incantations. State Senator Ronald L. Rice (D-28), chairman of the Legislative Black Caucus, has long made Fulop his favorite political pinata, routinely bashing at the mayor over past perceived transgressions. But this week Rice made Senate President Steve Sweeney (D-3) – Fulop's 2017 rival – public enemy number one, deriding the senate prez's plans for a state takeover of Atlantic City; the essence, Rice says, of plantation politics.
For his part, Fulop could calmly fight back with local materials.
It was Sweeney's turn to crash and burn.
"When we took office, we had only one African American above the entry level of patrolman [on the police force]," the mayor noted. "We started to actively recruit police officers from diverse backgrounds, and now we are a national model of police diversity as a result. We are proud to report that 70% of the new officers [150] since 2013 are minorities."
The political classes beyond the city see the frenetically campaigning Fulop. But here tonight he could showcase an impressive nuts and bolts local narrative among allies soothed by a Terence Blanchard soundtrack.  Unparalleled growth in the city. Added 3,500 jobs. Reduced unemployment to 4.1%, a 20-year low.
Naysayers sprinkled the crowd. Bill Matsikoudis, corporation counsel for the Jerry Healy Administration, groaned in despair as a movie marking Jersey City's strides forward in the Fulop era played on an overhead screen.
"Jersey City is a great place to live," said Matsikoudis, "and it has enjoyed steady development for more than twenty years, but the best thing that can be said about the Fulop Mayoralty to date is that it has managed not to totally derail Jersey City's steady growth."
He wasn't the only one unhappy with the mayor's remarks.
"He didn't talk about trees,"one woman, a local environmental activist, fumed.
But people mostly liked the speech, which clocked in at 24 minutes, a mercifully concise exercise at an event heavy on Hudson theatrics that spoke for themselves.
If Fulop runs for governor in 2017, he will usher in the next era and the vying candidacies of at least three people in the room tonight.
Solid. sonorous, Council President Rolando Lavarro test drove the podium as an executive launch pad in a build up to Fulop that was arguably longer than the speech delivered by the mayor.
Lavarro is said to be in the running to succeed Fulop.
Then there's Assemblyman Raj Mukherji (D-33), who took a quick bow when Lavarro introduced him.
A former deputy mayor in the Healy Administration, Mukherji made the transition to the Fulop epoch by dint of sheer guile, usefulness, and a Marine Corps background he shares with the mayor.
Mukherji wants to run for mayor, it is said.
Then there's Freeholder Bill O'Dea.
The walking resolution of an un-fought civil war, Hudson County Executive Tom DeGise was spared a challenge by O'Dea when Fulop talked the old political rodeo hand out of running against the establishment in the immediate aftermath of Fulop derailing Healy back in 2013.
But the permanently unreconstructed rebel O'Dea may not rest until he sees at least one run at the barricades, and that for him that could be the 2017 mayoral contest.
O'Dea stood like a pillar of untapped political rage in one corner of the massive room.
He's said to want mayor if Fulop goes.
But all of that was underbelly back drama tonight as Fulop dominated, driving a local narrative.
He gets up at 5 a.m. every day, he said.
"Nothing pains me more than hearing of [the death of a resident in the overnight]," he said. "I hold myself responsible for any life lost. As a Marine, I take oaths seriously. We have taken aggressive steps to combat crime to make Jersey City the safest urban area in New Jersey."
Fulop in his speech repeatedly refused to rest.
"Mark Twain said there are lies, damn lies and statistics. The sobering reality is that so many young people have access to guns. Every single urban mayor in the country understands this."
But he insisted on seeing tangible changes as he walks the streets.
"We are winning the fight on crime here in Jersey City," he said. "Tonight, we are renewing our commitment to this fight and the root causes of criminal behavior."
There were reminders of statewide strategic intent.
Marlboro Mayor Jon Hornik sat in the room, as did Belmar Mayor Matt Doherty, a candidate for freeholder this year.
"Monmouth is important statewide," explained Augie Torres, the veteran political insider from the Jersey Journal.
Fort Lee Mayor Mark Sokolich was in the room.
"How was the traffic getting here?" cracked Lovarro, a reference to "Time for some traffic in Fort Lee."
Democratic State Party Vice Chair Lizette Delgado Polanco attended the speech and in the barfly gathering across the street later, Newark Mayor Ras Baraka surfaced, as did 32BJ's Kevin Brown and Julie Diaz.
Speaker Vincent Prieto (D-32) had a special place of homage at the event. He's chairman of the Hudson County Democratic Organization (HCDO), and other players in the audience included Assemblyman Nick Chiravallotti (D-31), Assemblywoman Angela McKnight (D-31), and Weehawken Mayor Richard Turner.
For the full state of the city, hit the link below…