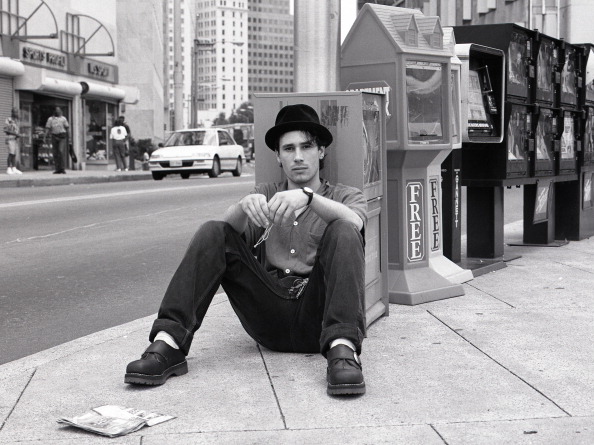 Every young musician who pines to get signed has a demo tape, a head shot and, if they're extra-industrious, a marketing plan.
Jeff Buckley had none of those things when Columbia Records handed him a hefty contract back in the early-'90s.
"He didn't even have a guitar," said Steve Berkowitz, who inked the legend. "The Telecaster he played was borrowed."
He did, however, possess one thing few have: Genius.
Fresh proof arrives Friday with the Columbia/Legacy release of You and I, a collection of never-before-issued recordings cut just months after Buckley was signed, in the fall of 1992. Many collections of Buckley rarities and outtakes have surfaced since the legend's untimely death, which occurred nearly 20 years ago in a drowning accident by the Memphis shore of the Mississippi River. But the 10 tracks here, recorded in February of '93, allow fans to follow Buckley as he takes his first explorative foray into the studio as a solo artist. The songs, which feature just Buckley and his guitar, were designed as a kind of after-the-fact demo, an audio sketch-pad so the artist could figure out what kind of record he wanted to make, and what sort of artist he wanted to be.
"Jeff didn't have a band yet, and he hadn't written more than couple of songs," Mr. Berkowitz said.
"I remember thinking, 'How are you going to make a record with this guy?' " adds the sessions' engineer, Steve Addabbo. "He's all over the place."
The tracks on You and I do have one focus: They're mainly covers. But the ones Buckley chose bridge a great divide, from Bob Dylan ("Just Like A Woman") to Led Zeppelin ("Night Flight") to Louis Jordan ("Don't Let the Sun Catch You Crying") to Sly and the Family Stone ("Everyday People"). The sessions also featured a nascent take on what would become the title track of the only album Buckley released during his 30-year life: "Grace."
Mr. Berkowitz said the atmosphere in Mr. Abbaddo's studio on 21st Street was initially tense. "I thought, 'How do we get Jeff to open up and become that guy we first saw in the East Village?' "
After all, Buckley's live shows had inspired the signing. His gigs at hole-in-the-wall, downtown venues like Sin-é stood out for the beauty of both his face and his voice. "Jeff just played some gigs and people started getting in line," Mr. Berkowitz said. "It was everyone from homeless people to record company presidents."
Mr. Berkowitz became friendly with Buckley, bonding over their broad musical tastes, he said. One day, the singer told him that another company had offered him a million-dollar advance. Mr. Berkowitz argued, "If they want to give you that much money, then clearly they have an idea of what you should be doing. I find that interesting, since you're not sure what you should be doing yet."
Columbia, on the other hand, promised to give Buckley artistic freedom, which sealed the deal. First, however, the singer wanted to make sure he wasn't being signed because of his father, the late Tim Buckley, an equally outsize talent who died of a heroin overdose in 1975 at an even younger age than Jeff (28).
Like his dad, Buckley countered the prevailing styles of his day.
"The music doesn't scream '90s alternative-rock," said David Browne, author of the dual biography of Jeff and Tim Buckley, Dream Brother. "It sounds timeless."
Mr. Browne points out that at the time, some listeners found Buckley's approach—unbridled emotion—hard to take.
"He attracted a lot of women to those Sin-é shows. But I would hear from guys, 'This is so corny,' " said Mr. Browne. "He was expressing that swooning romance and vulnerability in a period when rock was turning ironic and quote-unquote 'grungy.' "
Yet the songs on You and I prove Buckley could sound both gushingly open and bracingly tough. Like one of his idols, Nina Simone, he bridged masculine and feminine qualities with ease. Like another one of his idols, the Pakistani devotional singer Nusrat Fateh Ali Khan, he had a quaver that could communicate transcendence.
Buckley's solo take on "Everyday People," heard on the new release, has hard-bodied funk to it, while the version of "Calling You" (from Bagdad Cafe) couldn't be more haunting or hurt. In all the tracks, Buckley bends the melodies to his will, invoking the blithe malleability of a jazz singer. Mr. Berkowitz remembers taking a club crawl with Buckley in the early-'90s to three different venues. In each, the singer performed "Strange Fruit" in a different way, first in a major key, then a minor key, and finally, with open D tuning.
Buckley's ability to morph so serenely, and to command both his voice and guitar, explains why Mr. Abbaddo says the original recordings needed no sweetening. "All we had to do was open the jar and let the genie out," he said.
The sessions that yielded You and I lasted six hours, stretched over three days.