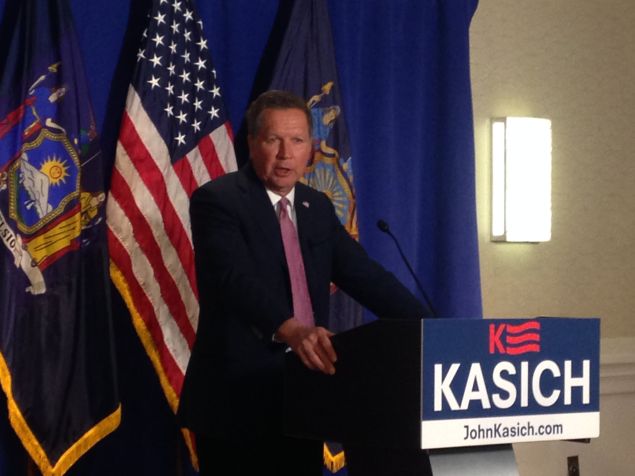 Ohio Gov. John Kasich ripped into comments Donald Trump's made yesterday on nuclear weapons, torture and abortion in a speech in Midtown this morning, just blocks from the belligerent billionaire's eponymous towers.
Mr. Kasich's denunciation at the Times Square Sheraton Hotel came after Mr. Trump suggested creating penalties for women who undergo abortions, dismantling the North Atlantic Treaty Organization, withdrawing the United States from the anti-torture Geneva Convention and possibly deploying nuclear weapons in the Middle East and in Europe. The Republican front-runner backed away from nearly all of these statements shortly after making them, but his third-place primary opponent cited both the comments and his later hedging as proof of his unfitness for office
"It appears as though when he does these events, and people press him, he becomes unmoored, then has to spend a lot of time trying to figure out how correct all the mistakes that he made," he said. "As commander-in-chief, leader of the free world, you don't get do-overs. You have to be able to get it right the first time."
The Ohio governor is hoping to prevent Mr. Trump from winning enough of the vote in New York's April 19 primary, and capturing all 95 of the Empire State's delegates to July's Republican convention in Cleveland. New York's delegates are broken up between 81 assigned to the state's 27 congressional districts—three to each—11 at-large delegates and three who are national party leaders.
If a candidate hits 50 percent of the vote in any district they get all three of its delegates. A candidate who gets more than half the vote statewide takes all of the at-large delegates.
Whoever wins the state primary, no matter their percentage total, gets all three of the national delegates. The latest surveys show Mr. Trump with 56 percent of the vote, Mr. Cruz with 20 and Mr. Kasich with 19 percent statewide.
Not enough delegates are still up for grabs in the remaining state primaries for Mr. Kasich to secure the nomination before the conclave—but he has said he believes that he can stop Mr. Trump from getting the 1,237 necessary to clinch the GOP ballot line.
In that case, many delegates would be able to abandon the candidate they pledged to support, and the governor hopes they will flock to him.
"Donald Trump is clearly not prepared to be president of the United States, commander-in-chief, leader of the free world," Mr. Kasich insisted today. "It takes cooperation, it takes restraint, it takes judgment, it takes experience. Not wild-eyed suggestions, and, and basically moving from one suggestion and the need to explain what you really meant when you realize the suggestion you made confused people or enraged people, that is not the way of the president of the United States."
The ex-congressman and Buckeye State leader seemed particularly disturbed at Mr. Trump's allusions to unleashing America's atomic arsenal.
"To be so casually talking about the use of nuclear weapons, it just shows that he's really not prepared to be president of the United States," he said. "You wonder about his hand, or his thumb, getting any close to the critical button presidents are in charge of."
Mr. Kasich also took time to rail against the Queens-born developer's "terrible, atrocious" comments about Fox News anchor Megyn Kelly and his "absolutely absurd" proposal to build a wall along the U.S. southern border and force Mexico to pay for it. He also lashed out against Mr. Trump's call for the U.S. to round up and deport all 11 million undocumented immigrants living on its soil.
"Go around and try to pick people up in their neighborhoods and leave kids screaming and crying on the porch while we haul them away in the back of a police cruiser?" Mr. Kasich, the only Republican candidate to support a possible pathway to citizenship, said disdainfully.
Mr. Kasich also claimed Mr. Trump's proposal to outlaw abortion and create "some form of punishment" for women who undergo it—a proposal the mogul quickly backed away from after making it yesterday—"put women in a very difficult position." The statement places the Ohio governor in an odd position himself, since he signed a law banning all abortions of viable fetuses after the 20 week mark in his native state.
The trailing candidate continued to hedge on whether he would endorse Mr. Trump should the magnate become the GOP nominee.
"If he were the nominee, I would have to determine at that point how I felt. It's, it's pulling so many people apart," he said. "At this point, because of the nature of this election, it's going to matter what my wife and daughters think. And so I've got to make sure that I can represent them appropriately. And all of those considerations have to be made, including of course the people of the great state of Ohio."
Despite Mr. Kasich's comparatively poor showing in his own party's primary, polls indicate he would perform better than Mr. Trump or Texas Sen. Ted Cruz against presumptive Democratic nominee Hillary Clinton in a general election. He argued that, given his own working class roots, he could capture some of the blue collar outrage that has powered his New York rival's White House run.
"I am with the Trump people. They just don't know me. So what they hear is they see Coke, Pepsi and Kasich. They're shopping. And they go, well, you know, 'I kind of like the Kasich brand, but I don't know much about it, so I might as well go with Coke or Pepsi," he said. "I think at some point people will hear it. If they don't? Well, I know I will have tried my best."
Mr. Trump did not immediately respond to requests for comment.
Updated to detail the workings of New York's delegate awarding process.
Disclosure: Donald Trump is the father-in-law of Jared Kushner, the publisher of Observer Media.