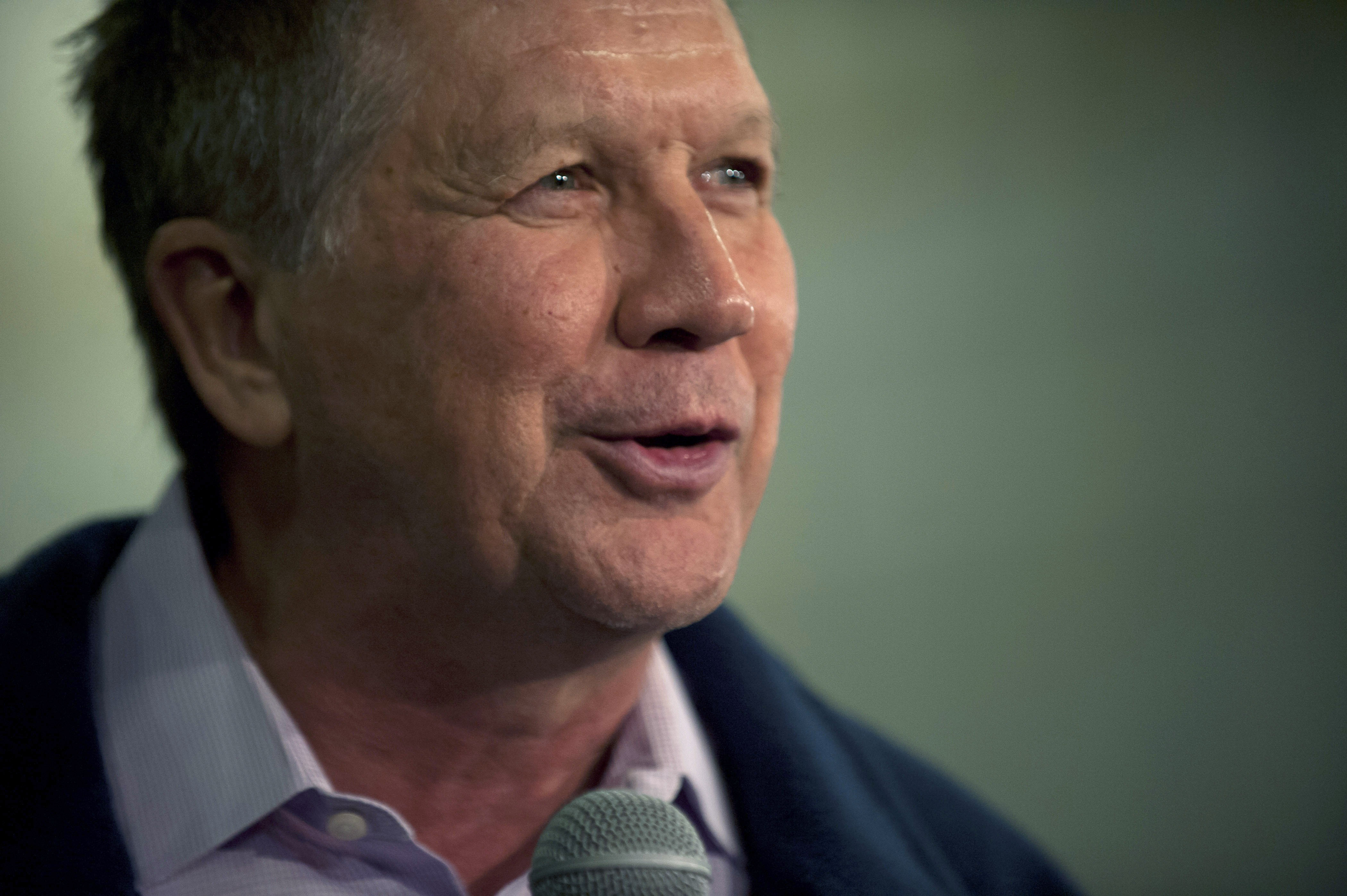 The Buckeye State showered all 66 of its delegates on its sitting governor, John Kasich, tonight—granting the candidate a crucial victory over Donald Trump, and an outside chance at stopping the real estate mogul from cleanly clinching the nomination.
Mr. Kasich currently leads Mr. Trump by more than 26,000 votes, and he celebrated his victory at a rally in the town of Berea.
"I have to thank the people of the great state of Ohio. I love you," he told the crowd, which chanted his name, as he recited his successes as governor. "We are leaving no one behind."
In keeping with the positive, upbeat tone that has characterized his struggling campaign, Mr. Kasich traversed Ohio in recent weeks highlighting the hundreds of thousands of jobs created during his five year tenure as governor. He also recalled his work as chairman of the House Budget Committee during the 1990s, particularly his efforts to help pass welfare reform and the Balanced Budget Act of 1997.
Yesterday, he stumped in the state with 2012 nominee-turned-Trump-critic-in-chief Mitt Romney—which struck some as an odd choice, given that Mr. Romney's loss in Ohio sealed his defeat o President Barack Obama four years ago.
Mr. Trump, by contrast, went on the offensive. The billionaire ripped his rival at rallies and in TV ads for embracing the Obamacare Medicaid expansion as governor. He also tore into Mr. Kasich's congressional record, noting the then-representative had voted in favor of the North American Free Trade Agreement—a deal that caused the loss of thousands of manufacturing jobs that once anchored Ohio's economy.
Apparently hoping to induce a brokered GOP convention that would deny Mr. Trump the nomination, Florida Sen. Marco Rubio urged his supporters to vote for Mr. Kasich in Ohio. Mr. Kasich declined to return the favor in the Sunshine State, seeming to dismiss the idea of a mainstream anti-Trump alliance—and possibly also the Rubio-Kasich presidential ticket that pundits and politicos have batted around for months.
Ohio was crucial for Mr. Kasich because it is his home state and the first state he has taken in this year's primary. It was also essential for the establishment Republicans' efforts to obstruct Mr. Trump's path to victory, given that it is a winner-take-all state with a rich trove of delegates.
In his victory speech, the candidate vowed to forge on with his bid, even though the primary arithmetic makes it all but impossible for him to garner the support necessary to overcome Mr. Trump's vast advantage in delegates. He also jabbed at the front-runner's racially tinged vows to build a wall along the Mexican border and to declare a moratorium on Muslim immigration.
"We are going to go all the way to Cleveland and secure the nomination," he said. "I will not take the low road to the highest office in the land.
In order to secure the 1,237 delegates necessary to avoid a brokered convention, Mr. Trump must take 60 percent of them in each of the remaining primary states. Should the real estate mogul fail to hit that total, it might be possible to muster enough delegates to nominate a different candidate—and doubtless Mr. Kasich hopes it would be him.
The governor's home state win complicates Texas Sen. Ted Cruz's efforts to present himself as the only viable alternative to Mr. Trump. The hard-line conservative currently has 393 delegates to Mr. Trump's 619 and Mr. Kasich's 136, but is deeply unpopular with other politicians and with party leaders.
Updated to include comment from Mr. Kasich.
Disclosure: Donald Trump is the father-in-law of Jared Kushner, the publisher of Observer Media.