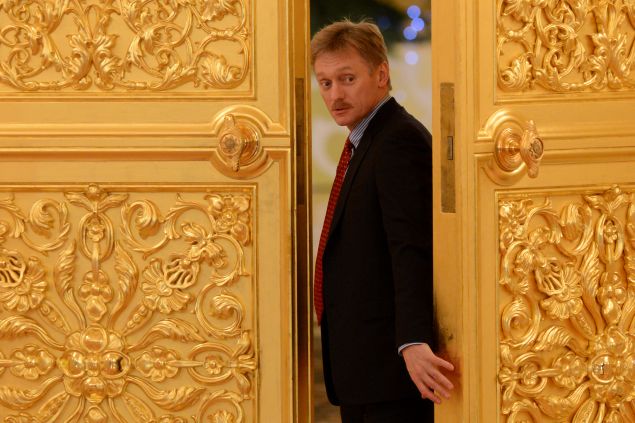 On Monday, Vladimir Putin's Press Secretary, Dmitry Peskov, warned the Russian public that coordinated media attacks to slander his boss were on the way.
"Another sensationalist box-stuffing with claims of 'objectivity' is being prepared for the coming days," Mr. Peskov announced. "We have received some very unkind requests that were prepared in an interrogation-type manner from an organization calling itself the International Consortium of Investigative Journalists—consisting of journalists from various media outlets, but also other organizations and [intelligence] services. In the coming days, they will publish their opuses in Germany, the USA, the United Kingdom, France, Switzerland, Russia and several other countries."
According to RIA Novosti, Mr. Peskov believes "non-government organizations, government agencies, special services of foreign countries and some media have joined [forces] in their campaign for the elections to the Russian Parliament even before it begins—trying to rock the boat."
"We are not talking about objective journalism, but rather an orchestrated attack—cooking and introducing information. We don't like this."
Mr. Putin's press secretary noted there was no doubt as to "the coordination of this information," but refrained from speculating on who may be coordinating the pending attacks, noting that Moscow won't get involved in revealing the suspects.
"Of course, as you can guess, we are talking about personal attacks on Mr. Putin—family information, his childhood friends, business acquaintances like Yury Kovalchuk, Arkady Rotenberg and others. These include offshore companies and a large number of businessmen Mr. Putin has never heard of. All the attacks have taken place repeatedly, in different variations, before. In spite of this, the next round is coming."
Mr. Peskov gave examples of some of the questions Mr. Putin was asked by the International Consortium of Investigative Journalists.
One was about Mr. Putin's "accumulated wealth"—the interrogators wanted to know whether the figure of $40 billion was accurate.
"Is it true Mr. Putin owns huge mansions, mega-yachts and other assets?" was another annoying question.
"Is it true that in his youth Mr. Putin drank alcohol, sang songs and fought on the streets of Leningrad?"
"Did Mr. Putin help legalize the transfer of shares for such-and-such companies—I don't want to bore you with the legal details—a long list of offshore companies was given," Mr. Peskov added. "And, judging by the way the questions were presented, the claim is likely to follow that Mr. Putin has some kind of interest in these companies."
'They say Russia has a bad image in the world. But do you know who also has a bad image? The United States.'
This isn't the first time Western media outlets have asked about Mr. Putin's private life and assets. According to RIA Novosti, earlier interviews have questioned Mr. Putin's involvement with the U.S.-based activities of the Gunvor Group—co-founded by Russian oligarch Gennady Timchenko. Did Mr. Putin directly or indirectly invest money into Gunvor? Did Mr. Putin work directly or indirectly with Gunvor? Did Mr. Timchenko help the Russian president financially? Did Mr. Putin and Mr. Timchenko discuss business and private matters in the 1990s? Did Mr. Putin, as a member of the St. Petersburg administration, approve a loan of 23 billion rubles for Mr. Timchenko's construction corporation "Twentieth Trust"? Did Mr. Putin protect Mr. Timchenko's corporations from the criminal gangs of St. Petersburg?
The only answer for all of the above was "no,"  Mr. Peskov insisted.
This is the second time this year the Kremlin has warned of campaigns to slander Mr. Putin. In January, Moscow angrily reacted to a statement by Adam Szubin of the U.S. Treasury Department whch called the Russian president "the personification of corruption"—a fact that, according to Mr. Szubin, has been "known to the U.S. government for many, many years."
"We've seen him supporting his allies with state assets, and marginalizing those who he doesn't view as friends." Mr. Szurbin said in an interview with the BBC. "He directs state contracts to those he believes will serve him, and excludes those who don't. To me, that is corruption."
White House spokesman Josh Earnest didn't try to distance himself or the administration from Mr. Szubin's harsh accusations, stating that the Treasury 's position reflects the views of the American government.
Then and now, Mr. Peskov believes the above "attacks" have something to do with the 2018 presidential elections in Russia.
"In the United States, they do not even know whether Mr. Putin is going to run in the next election," Mr. Peskov explained, and noted they have started anti-Putin campaigns anyway.
Mr. Peskov called the statements of his White House counterparts "outrageous and offensive," and "unacceptable from the point of view of the general practice of international relations, as well as in terms of the bilateral Russian-American relations."
Just last week, Mr. Putin's press secretary said that Western media has declared war on Russia. "They say Russia has a bad image in the world," he told viewers of the Russian TV program Right to Know. "But do you know who also has a bad image in the world? The United States. Now we find ourselves in war with the trendsetters of the information age."