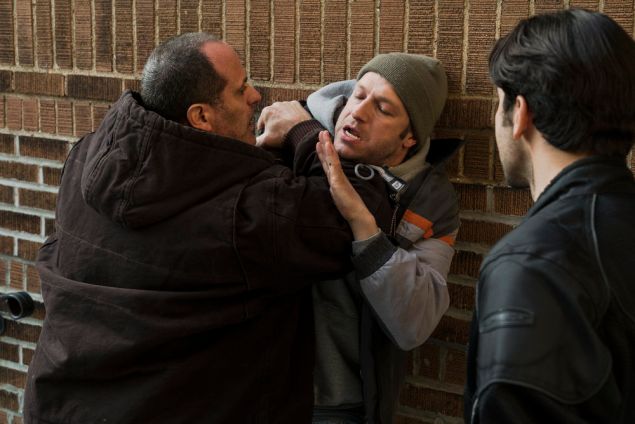 As it is with any new co-worker, the squad members in the 16th precinct were a bit skeptical of the true abilities of Detective Sonny Carisi when he arrived a mere two years. At first, the less-than-polished detective clearly didn't know what he didn't know, but that didn't stop him from brashly plowing his way through everything – evidence, suspects, even victims. During his tenure, under the guidance of Lieutenant Benson, and Detectives Tutuola and Rollins as well, Carisi has obviously evolved.
While still a bit green about certain procedures, he's earned the respect of his colleagues through not only his tenacity for justice, but for often offering verbalizing a unique take on the underlying human element involved in many of these otherwise unfathomable cases.
In this episode, Carisi stretches in his role as a defender of the innocent and it has an interesting, and most likely, lasting, effect on him. After a masked assailant attacks a young woman named Sophie, having matched the perp's M.O. to two other rapes in the area, the detectives descend on a local homeless shelter that houses paroled sex offenders. Among the residents is Carisi, who's doing a stint undercover in the shelter to determine if one of its residents is committing these crimes.
As Carisi feeds information to the squad, he continues to learn more about the men housed in the program, even going as far as participating in group therapy during which he says that he was imprisoned for having child pornography on his computer. One of the residents is Richie Caskey, who seems to truly be working hard to complete his parole so he can move back in with his wife and resume his pre-prison life. Carisi learns that Caskey was convicted of raping a waitress while he was extremely drunk at a bachelor party.
Unfortunately, Caskey always seems to be missing from the shelter when the crimes are committed, causing Carisi to waver between believing Caskey's innocence and his accepting his possible guilt.
When Sophie's father attempts to beat Carisi with a baseball bat outside of the shelter, it's Caskey who steps in to defend Carisi, further complicating Carisi's feelings toward the man.
Carisi is aware that Caskey has a lawyer, Tom Zimmerman, who's trying to get his client's sex offender status reduced so the man can return home to the woman who stood by him through his incarceration.
When the group therapist is murdered, Carisi points to another shelter resident, a man named Loomis.
A search of Loomis' room turns up some keys, which lead to a storage locker. Some evidence is found in the locker that ties Loomis to a few other rapes but not the most current assaults.
As more evidence against Caskey comes to light, Carisi is torn about what to believe and how to resolve his conflicted feelings about Caskey. Finally, Carisi reveals his true motives and identity to Caskey and brings the suspect in to question him.
While Caskey and Zimmerman are in the squad room, they cross paths with one of the victims who makes a startling statement about the identity of her attacker.
In interrogation, Benson and Carisi inform Caskey and Zimmerman that they have enough evidence to get a search warrant for Caskey's apartment. Zimmerman offers to be there during the search.
When the detectives conduct the search, they find a bag containing items of jewelry that belonged to several of the victims
Back in interrogation, Benson and Carisi tell the men what they found and that they're making an arrest – but, surprise, they're not arresting Caskey, they're arresting Zimmerman.
Thanks to the victim who identified Zimmerman as her attacker, the detective's knew that if given the chance Zimmerman would plant evidence in Caskey's apartment and they could catch him on video doing so. After enlisting Caskey's wife to help, they set up Zimmerman.
As Carisi walks Caskey out of the squad room, Caskey praises his wife and laments that he's ruined her life because they can't travel and have decided not to have kids because of his conviction.
Carisi tells Caskey that he shouldn't have doubted him, to which Caskey responds, "I'm a convicted rapist, my whole life people will doubt me." This statement clearly weighs heavily on Carisi.
After indictments are handed down in court against Loomis and Zimmerman, Carisi lets down his guard a bit and shows just how much the case has upset him. Seeing his distress, a concerned Rollins invites him over for dinner and to spend some time with her baby daughter, hoping to cheer him up a bit.
While the main plot here consisted of one of SVU's great standalone plots, with plenty of twists and turns, there were some really nice touches within the narrative about the personal feelings and thoughts of the members of the 16th precinct.
First, it was clever to have the residents of the shelter refer to Carisi as the 'new guy' as that's an awesome callback to how everyone in the squad (and in the fandom) called him that for quite a long time. And, Carisi himself has mentioned a few times that he wonders when he'll outgrow the moniker.
Carisi's wavering faith in Caskey, in the system, and in his own ability to handle the effects of this work on his psyche, were extremely will played out – in action, in dialogue, and emotion. While he may have seemed to lack a true sense of self-awareness when he first started in the SVU, Carisi certainly has become extremely conscious of the toll his chosen career path has on his life.
Rollins concern for Carisi is evident right off the bat when she remarks that he looks like hell and mentions that she thinks Benson should pull him out because "people get killed in those places." (Followed nicely by a scene of Carisi on the wrong end of baseball bat.)
Benson also has a revelatory moment with Rollins as the latter admits that she's glad the former is back in charge. The women agree that they need to let the past be the past and move forward in trusting each other. Unfortunately, I think a lot of people might be wondering, 'after all they've been through – are these two really capable of that?'
As that relationship teeters along, Benson does seem to have gained great confidence in Carisi as evidenced by the fact that she let him dictate his undercover moves and really take the lead in this investigation. These two have come quite a long way from their first case together when Carisi annoyed Benson more than anything. But, let's remember she was also annoyed with Amaro and Rollins when they first started as well and look how close she ended up being with Amaro. Maybe this is Benson's M.O. – have disdain for someone until it's proven that she should feel otherwise.
And how about that Fin? After he offers to smack Carisi around a bit to bolster the authenticity of his shelter identity, Benson says, 'would you like to take his place?' It looks a little like Fin is once again kinda not steppin' up and letting others do the heavy lifting. He might want to rethink some of his actions with regard to his job, if as he states the job is his life. Ahh, but is it, really?
Fortunately, the wise Benson tells him that he shouldn't think that way and she encourages him to find some balance. In a truly well-written, acted, and directed small scene that says so much about these characters, Fin's assessment and responses to Bensons assertion that he actually get a life are truly in character for Fin, making this scene, well, quite delightful – a rarity on the dark drama.
It's a shame that Carisi and Rollins weren't there to hear Benson's little speech about balance as well. While it's important to be immersed in their jobs to be successful, both have shown that at times they can be a little too intense in the pursuit of getting what they want.
Benson's advice seems to have had a positive effect on Fin as at the end of the episode he confesses to her that he's having dinner with his son who's setting him up with someone.
But, wasn't Fin also flirting with the gal at the storage locker place a bit early in the episode? Was that 'playa' Fin and now he's looking to be 'relationship' Fin? Maybe there will be a Fin love triangle in the future. We can only hope.
Speaking of storage lockers, I have to say it again — storage lockers!!!! I joke with the people in my office that you should never date anyone with a storage locker because on every show there always ends up being some crazy shit in there (also see every episode of Forensic Files) but I'm starting to think it shouldn't be a joke but more of a true rule. Like opening questions of the opposite sex should be, 'what do you do? What kind of music do you like, do you have a storage locker anywhere in this country…or any other country? Yes, you do have a storage locker? Next!!!'
And one other observation – what's with victims and suspects always crossing paths in that squad room? Yes, we're aware that for this story to work that needed to happen, but it just seems to happen a bit too often, so there really needed to be another way to get to that story beat. Just a little something to think about going forward.
In the end, this episode reaffirmed a few things that we all know and uncovered a few that we didn't – Yes, Olivia is the heart of the SVU and Fin will always be the sarcastic, practical one while Rollins is the passionate, if sometimes misguided, entity. We don't know enough about Dodds, Jr. to make any kind of clear assessment yet, but I think we can agree that Carisi is fast emerging as the strong conscience of this department, heavily weighing the morality of every situation and vocalizing his emotions to get an effect.
This matchless mixture of methods and personalities make for a team who not only get the job done but who, through observation and reaction, always provide an interesting assessment of crime, and life, and generally the overall human condition.
It's a safe bet that that they'll be no backlash in saying that this is pretty good for a show that many people may write off as just a procedural drama, right?
If we've learned anything from this episode, it's that no one should ever write anything off because of what's observed at the surface level. There's always an underlying story. Get to that and then you can decide how you feel.