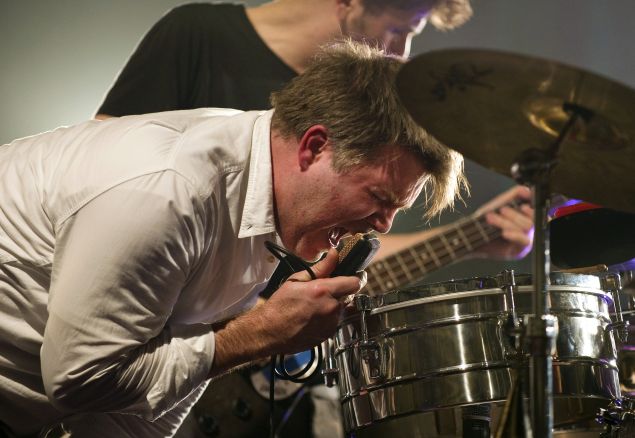 "That's how it starts," begins LCD Soundsystem's classic, buoyant ode to togetherness, "All My Friends." It's a line that has been quoted a lot this week following the sudden announcement and performance of LCD's first shows since breaking up in 2011, ahead of countless summer headlining festival dates (like Goldenvoice's Coachella and inaugural NYC festival, Panorama) and an imminent new album on Columbia. But some other lyrics in "All My Friends" are far more telling, prophetic even, suggesting Mr. Murphy's decision to break LCD up at the height of its powers might have always been part of his long game:
"You spend the first five years tryina get with the plan, and the next five years tryina be with your friends again."
Mr. Murphy, founder of dance-punk label DFA Records and still the fleshy incarnation of early-2000s Brooklyn chic, assembled his friends to become LCD and started releasing early singles on his label in 2002. But in 2005, when LCD's self-titled LP was released and the buzz started spreading beyond New York, the prophecy was already in place.
Playstation sponsored that first national LCD tour. Touring later on 2007's sophomore LP Sound of Silver, Mr. Murphy's traveling analog electro party played bigger venues, and the late Microsoft Zune sponsored their shows. By the time third album This is Happening dropped in 2010, no sponsors were needed to fit the bill and lug all those old, expensive modular synths across the country. LCD's ascension was steady, but at the height of that status, at the top of their game, they called it quits in grand fashion—with a cluster of three-hour farewell shows at Madison Square Garden in 2011, dubbed "The Long Goodbye."
James Murphy and all his friends in LCD weren't capitalizing on some scene; they were its willing harbingers.
That stretch between LPs and dissolution was actually six years, but stay with me, because nearly five years to the day last week, James Murphy and co. are back. Could this have been a nod to Ziggy Stardust, another realization of Mr. Murphy's Bowie fascination that so lovingly surfaced in the steely-eyed Thin White Duke Era cocaine-soul moments on Sound of Silver? Maybe. I harbor no conspiratory thoughts but do think that he planned it all, outlining it in those lyrics to "All My Friends," a deliberate decision to let that moment of wonder around LCD's high-water mark stay frozen in time. Thus, all he had to do was let it melt.
The Observer attended the second of LCD's two reunion shows on Monday night at Webster Hall, a crowded, sweaty and jubilant affair, packed well-past capacity with locals who could afford to make the show with such short notice on the Monday night after Easter.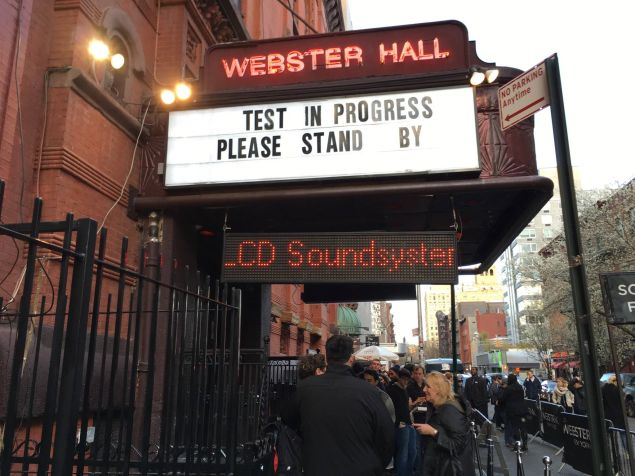 The line before doors opened was packed with a hyper-literate crowd, rife with conversations around what made LCD stand out from the glut of 2000s dance-punk, what constitutes a true reunion, along with the business and politics of ticket-scalping (these shows rivaled the musical Hamilton in Stubhub, third-party vendor gouging). One of the bouncers jokingly asked me if my socks were untied before explaining his repeated pilfering of Webster Hall's supply room. He takes the oranges, lemons and limes from storage, brings them home, and makes a delicious boozy limeade.
A sense of community, of social equality and mutual admiration for a visceral experience brought everyone together before the music even started. And that's the first thing those unfamiliar with or throwing shade at LCD need to understand. What makes this group stand out from the other dance-punk acts of their time is the extent to which DFA records was crucial in legitimizing that sonic movement.
Founded in 2001, DFA's first 12-inch single, The Rapture's "House of Jealous Lovers" is a disco-punk classic of the era. Like The Rapture, LCD would take the dead genre of disco and resurrect it with a cowbell into something edgy, angular and refreshingly free of bourgeois novelty: Nancy Whang's keys, synths and samples reflect a composer's hands and mind; Pat Mahoney's speedy, closely miked drumming communicates a galloping urgency that takes control over a groove in a way click-tracks never could; and guitarist Al Doyle's jittery syncopated guitar chords bring to your ears the urgent, angular post-punk of Wire and Gang of Four. He would later join British electro act Hot Chip in 2004, fortifying the smoothness of their synthesizers with a welcome helping of riffs.
So James Murphy and all his friends in LCD weren't capitalizing on some scene; they were its willing harbingers. As such, the angry Brooklyn Vegan commenters and hipster pariahs who cried "cash grab!" when Mr. Murphy announced the reunion are missing out on something great. In an era when EDM and laptops take over a vast percentage of the live-music ecosystem, we ought to welcome someone who puts together seven friends and lugs all this heavy, analog gear on the road. Because, as the Easter reunion show poster suggests, LCD really do have the mettle to "roll back the rock."
No surprise then that Monday night was righteous, despite Mr. Murphy reporting that he was coming down with a cold (he drank tea between songs). We got all the hits and a couple of songs he didn't play on Sunday, including a refreshingly ambient, largely improvised rendition of "Sound of Silver," where Mr. Murphy's Bowie affectation was matched by the dudes on those big, modular synths underscoring Mr. Mahoney's groove with waves of tone.
The early single "Losing My Edge" was updated with a ton of new lyrics, even more meta and self-referential than the first go around, packed with New York references like being there to hear the first synth notes of Suicide and a distinctly James Murphy-esque quip about turning black kids onto Daft Punk at CBGB.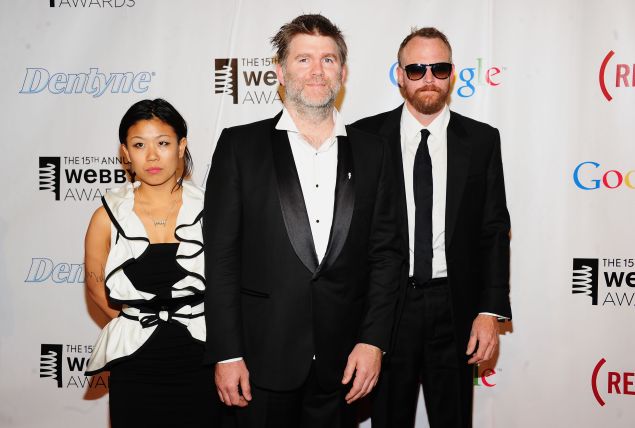 Still, the most resonant moments happened when Mr. Murphy challenged us, as an audience, to be present with each other, stop filming and just fucking dance.
After explaining how constant cameras and audience members who don't know how to turn off their flash create a barrier between us and them, a straggler still filmed Mr. Murphy with their flash on at the beginning of "New York, I Love You But You're Bringing Me Down." "There's a button on the top of your screen that says flash, you just click it to turn it off!" he deadpanned, before starting a song that underscored his precise frustrations with the death of live intimacy that was manifesting before him.
That's James Murphy for you. In a room full of adoring fans, he still embraces the dual roles of forefather and godfather, a role "Losing My Edge" wryly satirizes.
Mr. Murphy's bringing the 50,000-watt Despacio system he helped developed to this year's inaugural Panorama festival, seeking to cure the shit fidelity of hearing your favorite acts blasted over a PA system on a giant field. So between this labor of love, the time he takes to interact with his fans, and his getting the bookish, the punks and the weirdos to all dance together in sweaty commune, remember that James Murphy cares about us, and let's hold off on calling it a cash grab.
"You will normalize, don't it make you feel alive?" asks Ms. Whang on "Get Innocuous." Not only does it make us feel alive, but we get the vibe it's what brought LCD Soundystem back to life, too.