NEWARK – Senate President Steve Sweeney (D-3) continued his dogged courtship of Essex County on Friday, hauling himself up onto a stage on Broad Street and projecting St. Patrick's Day goodwill amid Northern stanchions of Irish American power, among them Assemblyman Tom Gibin (D-34) (below, left) and former Governor James McGreevey.
Giblin's family goes deep into the last century on the organizing end of the Newark St. Patrick's Day Parade.
"You go back to the beginning, don't you, Tom?" Sweeney wondered aloud.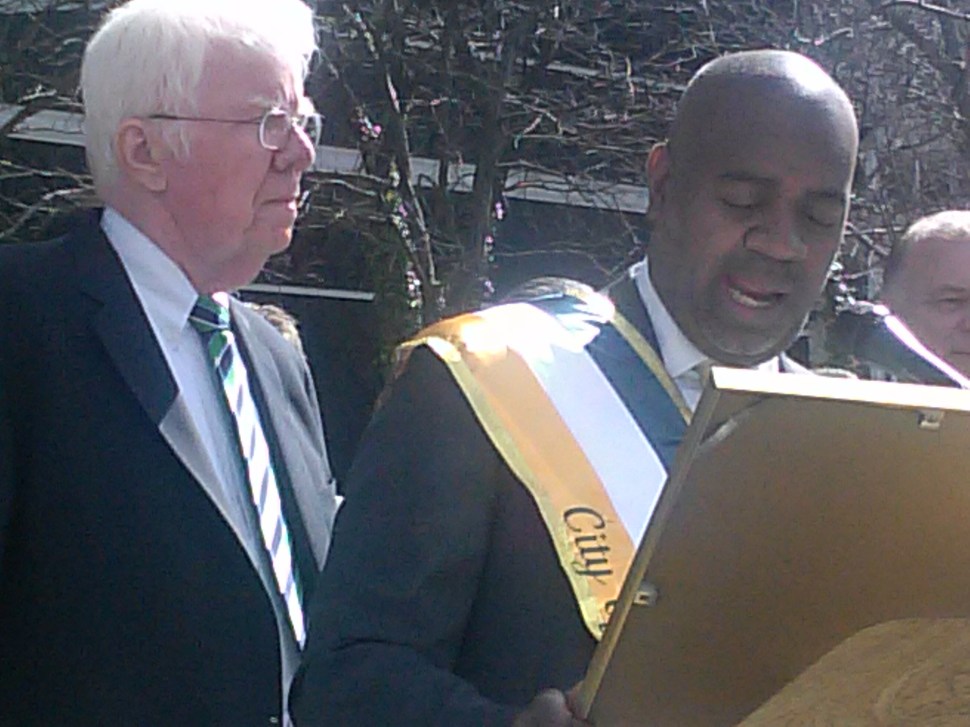 Giblin bristled.
"Not the beginning, no," said the implacable assemblyman.
Standing nearby and cracking up was Newark Mayor Ras Baraka, an unmitigated fan of Jersey City Mayor Steven Fulop, who like Sweeney is also pawing at a 2017 guv run.
Later, in McGovern's, the senate president from South Jersey ran into Essex County Freeholder Brendan Gill, a consultant with the fledgling gubernatorial campaign of one of Sweeney's rivals, former U.S. Ambassador to Germany Phil Murphy.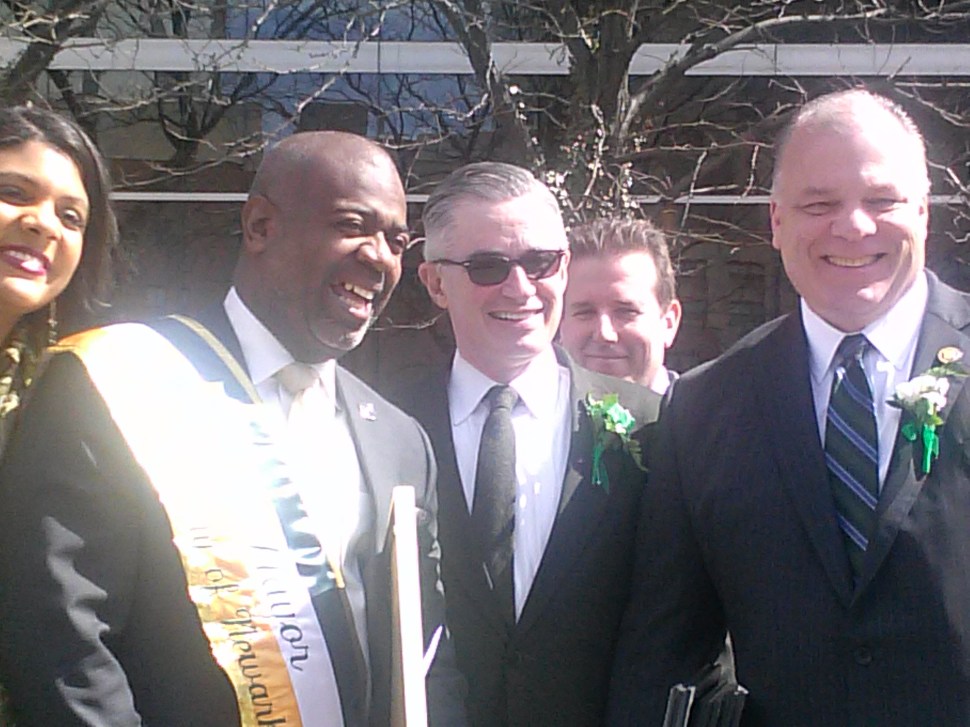 Sweeney jokingly pointed out Gov. Chris Christie's praise of him at a press conference two weeks ago, acknowledging the advertising ammo for Gill in a Democratic Primary: something along the lines of Christie likes Sweeney, so Democrats shouldn't trust him.
Given the senate president's championing of public pensions and benefits overhauls, Gill and company may feel they have more than just that video to try to brand Sweeney as the Christie 2.0 candidate.
But Sweeney, relentlessly working his connections up north, particularly in recent days with appearances in Paterson with state Senator Nellie Pou (D-35) and in Newark with state Senator M. Teresa Ruiz (D-29) continues to have a powerful county ally in Essex County Executive Joe DiVincenzo.