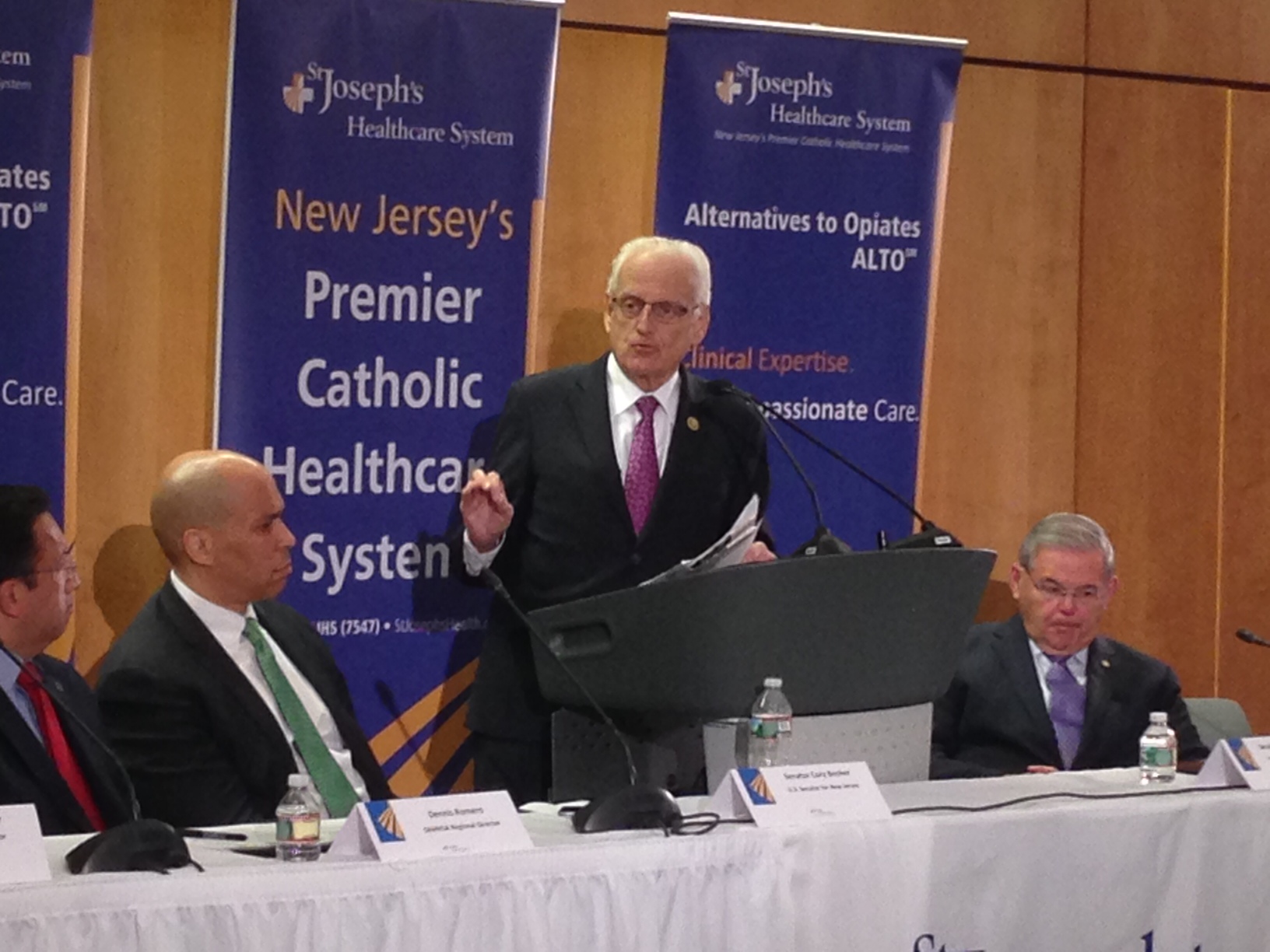 PATERSON – U.S. Senators Bob Menenedez and Cory Booker and Congressman Bill Pascrell hosted a summit at Paterson's St. Joseph's Hospital to address New Jersey's and the nation's growing issue with opiate addiction. The officials say that the growing issue is due, in part, to over-prescription of such drugs by medical professionals. According to the elected officials, because opioids often lead to heroin addiction, alternative steps need to be taken in order to "curb the scourge" that drugs have had on communities nationwide.
"Nearly two million Americans are suffering from addiction to prescription opioids," Menendez said. "There is hardly a community that has not been touched." According to the Senator, while he hopes that the Comprehensive Addiction and Recovery Act (CARA) can be passed in the House as it was in the Senate to begin tackling such issues, more must be done.
According to Menendez, the U.S. needs to move away from "a disease-based system to a prevention-based system." He said that, instead of tackling the issue after addiction has already occurred, significant care should be taken beforehand to make sure no such addiction is fostered.
Along with Booker and Pascrell, Menendez lauded St. Joe's ALTO (Alternatives to Opiates) Program, a multidisciplinary system that is the first in the nation of its kind. ALTO is an emergency department based initiative that looks for alternative ways to treat acute pain including physical therapy, pain management and psychiatry before resorting to addictive opiates.
In addition to applauding the host hospital for their initiative to curb opioid addiction, Congressman Pascrell also applauded the initiative for the impact it could have on law enforcement. According to Pascrell, drug abuse has put a "tremendous burden" on law enforcement because they are tasked with dealing with addicted individuals. Pascrell argued that if prevention were more central to the drug discussion, money could be saved by law enforcement and resources could be better managed.
Booker agreed.
"This is the fiscally-conservative thing to do because it saves so much money," Booker said. "We need a lot more courage to say that the way we have been going about this is so wrong. People now are starting to wake up and realize that we can't use the same tools."
After the press conference on the opioid issue, the federal officials held a closed roundtable discussion with the likes of Senator Ray Lesniak, Senator Nellie Pou, Assemblyman Benjie Wimberly, and many in the healthcare industry and from healthcare agencies throughout the state. According to Pascrell, the only ones missing were representatives from the pharmaceutical industry.
"They are shoving drugs down our throats," Pascrell said. "I am a great defender of the pharmaceutical community… but they need to understand they are part of the problem we are trying to correct."
According to the American Society of Addiction Medicine, 1.9 million Americans faced addiction to prescription painkillers in 2014. Over 500 thousand more suffered from heroin addiction.