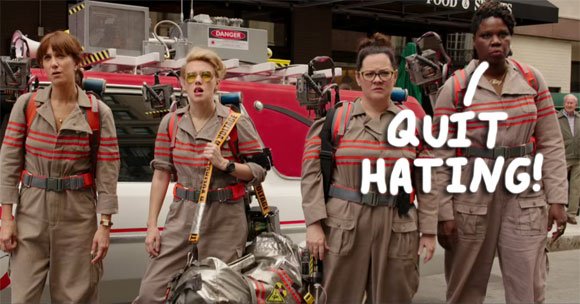 The trailer for the upcoming remake of Ghostbusters was a hot topic on Twitter yesterday. While most people loved it, one criticism of the trailer was that the three white Ghostbusters (Kristen Wiig, Melissa McCarthy and Kate McKinnon) are all scientists, while the black Ghostbuster (Saturday Night Live cast member Leslie Jones) is an MTA employee with "street smarts." Many people thought Ms. Jones' character was made out to be a dumb stereotype.
Last night, Ms. Jones responded to these fears and criticisms on Twitter.  She started by quoting from a letter she got from an actual MTA employee, who said "I was happy to see my job, something which provides me with plenty of jokes, a great perspective on society and a bird's eye view of horrible shit that I witness every day, on screen."
The letter continued, "I'm not a miserable, neck-rolling stereotype in civil service. I love my job and I enjoy engaging people with information infused with humor." (You can read the full letter on Ms. Jones' Twitter page.)
After telling this anonymous employee "I'm proud of you," Ms. Jones directly responded to online critics of her performance:
This is not the first time Ms. Jones has engaged with her followers—last Thanksgiving she live tweeted Breaking Bad and made the holiday even better for the Twittersphere.