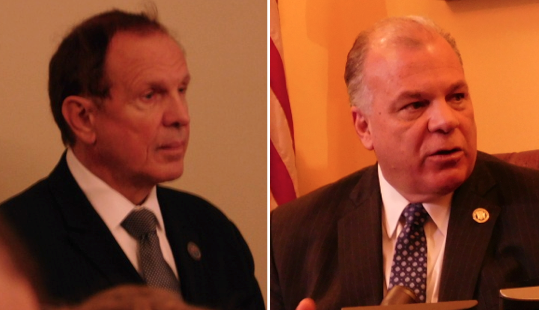 Two Democratic gubernatorial hopefuls, Senate President Steve Sweeney (D-3) and state Senator Ray Lesniak (D-20), are at odds over the recent controversy surrounding Kean University, a public institution that falls within Lesniak's district.
On Friday, Sweeney and state Senator Sandra Cunningham (D-31) called for Kean to hire a new investigator to tackle the inquiry into allegations of "structural racism" that have been waged against Kean University President Dawood Farahi and the university. Currently, the investigation is being led by Linda Lewis, a member of Kean's Board of Trustees. According to the Kean website, Lewis "conducted investigations under the authority of Title VI of the Civil Rights Act of 1964, Title IX of the Education Amendments of 1972, Section 504 of the Rehabilitation Act of 1973, Age Discrimination Act of 1975, Americans with Disabilities Act and the Vocation Rehabilitation Act."
According to a report made by NJ.com, Lesniak disagrees with Sweeney's call for a new investigator. He said: "Why would Sen. Sweeney's choice be any more qualified? The facts will speak for themselves and anybody will have the opportunity to review and comment on the results … Kean University is doing the right thing. There are people who are trying to turn it into a political hot potato and that's troubling."
Lewis is a guidance counselor in Elizabeth. In November, Lesniak and Elizabeth Mayor Chris Bollwage's allies won election, flipping the power of the Elizabeth school board from those backed by Rafael Fajardo to Lesniak/Bollwage. Now, there are six school-board members who are aligned with Bollwage and Lesniak.
The Kean University issue has been ongoing since last year when fraudulent Twitter threats targeting minority students on campus where issued. Shortly thereafter, a coalition of black ministers led by Rev. Ron Slaughter called for Farahi to resign due to claims he perpetuated "structural racism" on campus. Later, the coalition shifted their focus to Lesniak, blasting him for his support of Farahi and protesting outside his office on Martin Luther King Day.
Sweeney's call for a new investigator is not the first time the South Jersey-based legislator has gotten involved with the issue. He called a meeting in November where he discussed the issue with Lesniak, Slaughter and Kean officials. Though Sweeney suggested an external investigation, the school later announced that Lewis would be conducting the only investigation into the matter.
Like Lesniak, a number of Union County legislators have issued their support for Farahi.