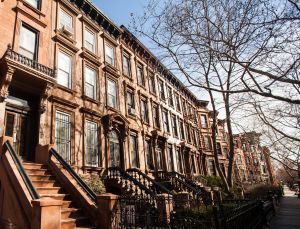 One hundred twenty-five years ago, architect Frederick B. Langston set out to build himself a townhouse in Bedford, Brooklyn. Langston was more than familiar with the landscape of the neighborhood—in fact, he had helped create it. He and his occasional partner, architect Magnus Dahlander, already designed a slew of eclectic townhouses in the area on spec for the upper-middle-class buyers who, in the late 19th century, were arriving in droves. Langston had become known for his large, five-story homes decked out with lavish interiors, and his own at 187 Hancock Street—right down the block from a row of four properties he recently finished in 1890—was to be even more impressive.
He topped the five-story brownstone with an ornamental mansard roof—decorated with fleur-de-lis, cartouches and stone pennons—rising a floor above the surrounding properties. The interior boasted 12 decorative fireplaces with cast-iron covers decorated with images of Cleopatra and Greek gods, surrounded by marble mantels and porcelain tile work. Intricate wood carvings made from white oak, sycamore, maple and ash framed every window and entryway; plaster designs decorated the ceilings. A narrow wood-framed door on the fourth floor led out onto a balcony, offering a view up toward the roofline.
Despite the careful craftsmanship, Langston never moved in. The reason is unknown, but the first buyer is not: Welcome Smith Jarvis, a Wall Street lawyer who was part of Bed-Stuy's first property rush. Fast forward to the 1940s, when the 5,400-square-foot single-family-home was broken up and used for single-room occupancy. In the '90s, it belonged to a family who used different floors to house various relatives.
Over the course of its first century the property gradually fell into disrepair, with interior details masked by layers of wallpaper, paint and varnish. But on New Year's Eve of last year, another architect moved in to 187 Hancock after an exhaustive, four-year home search in which he attended, in his estimation, 300 open houses.
"We just fell in love," said Dutch Osborne, who lives in the home with his wife and young daughter. Mr. Osborne believed that behind the layers of wallpaper and paint, he could get the townhouse somewhere near Langston's original, extravagant design. He didn't expect the renovation that followed, which is still underway and does not yet have a completion date. It took Mr. Osborne a full year just to disassemble the seemingly endless woodwork and remove the paint and varnish, and he's had to deal with parts of the building collapsing. He referred to the process as "painstaking," "a train wreck" and "a nightmare."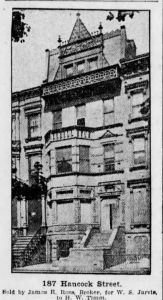 But then there's the original mural he uncovered in the foyer after peeling back the wallpaper. Or the careful carvings out of wood that would be nearly impossible to source today. He knows there's something special about the house and the neighborhood it's in. "I was checking out period rooms at The Met with my wife, and I wanted to see what they had in the American Wing," Mr. Osborne said. "I looked at this stuff on display and thought, 'I've seen nicer stuff in Bed-Stuy.' "
The incredible preservation of both the interior and exterior of Bed-Stuy townhouses is a story that's more than a century in the making. It began as the foundation for the Brooklyn Bridge was constructed in 1870, according to Morgan Munsey, a Bed-Stuy resident, Halstead broker and local historian who gives walking tours of the neighborhood. The area, then called Bedford, became a testing ground for developers who anticipated a wave of new commuters and built test rowhouses they marketed to moneyed New  Yorkers. After the bridge opened in 1883, architects started designing larger, more intricate townhouses for wealthier clients. It was typical for developers to build rows of spec homes, with buyers snapping them up mid-way through construction with enough time to personalize the interior details. And it wasn't uncommon for architects to design townhouses for themselves here. Besides the Hancock Street townhouse Langston built, one of the most prolific Brooklyn architects, Montrose Morris, designed his own mansion, also on Hancock Street, to help market himself. (It was struck by lightning and burned down in the 1970s.) Amzi Hill, another prolific architect, had both his office and home in the area.
This development rush coincided with other factors that resulted in some of Brooklyn's best residential architecture. For one, it was the height of the aesthetic movement in New York City, a period that emphasized art in the production of furniture, metalwork, stained glass and architecture. European immigrants, craftspeople who were expert wood and stone cutters, were also arriving on American shores and looking for work. Homebuyers picked mantelpieces, parquet floor designs, stained glass and woodwork straight from catalogues—such interior details were the norm, not the exception. And the interior and exterior architecture was meant to reflect a new, wealthy neighborhood, one that would overshadow the Federal-era row houses built for dockworkers in Brooklyn Heights and Cobble Hill. "This area was known as Brooklyn's uptown," said Mr. Munsey. As more wealthy people moved in, the more impressive the architecture became. "There was a lot of power in this neighborhood in the 1880s," he added.
Bedford was fully developed by the 1890s and development to the east, in Stuyvesant Heights, continued until 1910. Bedford was seen as the enclave for "WASPy homeowners, old money," said Mr. Munsey. As for Stuyvesant Heights, "It was for the nouveau riche…immigrants who had done well for themselves." The name Bedford-Stuyvesant didn't show up in newspapers until the 1920s—utility companies had started hyphenating the neighborhoods, according to Mr. Munsey.
And then the Great Depression hit. Many of the original homeowners could not upkeep their townhouses, and properties were passed down to African-Americans arriving from Harlem. Hard years followed for what became known as "do or die" Bed-Stuy. The government redlined the area in the 1940s, making it nearly impossible for African-American residents to secure a mortgage. In the 1950s and '60s, Robert Moses tore down homes to build public housing projects. By the '70s, the entire city was struggling from disinvestment, poverty and crime. Although many of the townhouses were chopped up into SROs, "There wasn't really the money to do modern renovations," said Mr. Munsey.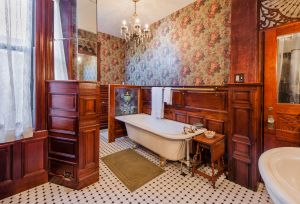 The lack of money meant, in many cases, time-capsule-like preservation. Today, the neighborhood boasts the highest concentration of Victorian properties in New York City with interiors decked out with astonishing historic details: the requisite woodwork plus Tiffany stained glass, dumbwaiters, cast-iron wood-burning stoves and even intact speaking tubes with brass mouthpieces, which were tubes built inside walls so homeowners could call to their servants from the parlor floor to the ground-floor kitchen.
The neighborhood, too, has fostered a community of like-minded preservationists. Many homeowners simply knew the value of these interiors, said Mr. Munsey, despite the city's disinvestment. Others came to restore what had fallen into disrepair. Claudia Moran purchased the freestanding John C. Kelley mansion—designed by Montrose Morris in 1887—in 1990 when the interior was in shambles; she spent the following years restoring all 15 rooms back to its single-family splendor. (It is now on the market for $6 million.) Reno Dakota, who moved into an 1895 townhouse in East Bed-Stuy with his partner in 2005, transitioned from a job as a props stylist to restoring their townhouse full-time. His painstaking restoration has been paired with Victorian furnishings and decor; the house was used to film interior shots for the period drama The Knick.
Daniel Thompson, another Victoriana collector, removed layers of paint on the doors of his Hancock Street townhouse to reveal American black walnut burl, a creamy, rich woodwork that is no longer in production. His home, outfitted with period decor and a taxidermied peacock, still has the same Gilbert lock system as it did in 1881. The hardware is made of rose bronze, intended to resemble gold instead of brass, which Mr. Thompson had professionally polished and lacquered.
'The row houses all stand shoulder to shoulder…they support each other. That's what this community is like, too.'—Bed-Stuy townhouse owner/restorer Daniel Thompson
"I look at this as a restoration project, not a renovation," said Mr. Thompson, who added that Bed-Stuy neighbors exchange old-house tips, contractors and plaster specialists. "We're all trying to help each other out…we're old-house nuts," said Mr. Munsey, sitting in Thompson's "gentleman's parlor." The fire was on, and felt especially cozy framed by a chocolate marble mantle decorated with the original, gilded carvings. "The row houses all stand shoulder to shoulder…they support each other," added Mr. Thompson. "That's what this community is like, too."  
As Brooklyn has exploded in popularity, gentrifiers are flocking to Bed-Stuy for the historic architecture and lower prices than other brownstone neighborhoods like Park Slope. The rush has caused prices to rise here, too. A brownstone at 330 MacDonough Street, asking $2.2 million, was claimed for over asking price after one showing, Mr. Munsey said. And the John C. Kelley mansion, at $6 million, marks the highest ask ever for the neighborhood. While rising prices threaten Bed-Stuy's reputation as an affordable, African-American stronghold, properties with well-kept, historic interiors still justify multi-million-dollar price tags: "To build a townhouse [replicating the historic details] from the ground up would cost $5 million today," said Mr. Munsey.
The influx of cash, however, has also threatened historic properties. Bed-Stuy residents have responded to incoming developers by pushing for more landmarking in the neighborhood—a third historic district was established this December—but landmarking only protects exteriors, not interiors. Even when Mr. Munsey is selling townhouses for top dollar, he does his best to convince buyers to save as many details as they can. When new owners suggest sacrificing historic details to modernize brownstones, he quickly offers the name of a neighbor who was able to modernize and preserve at the same time. ("I've got to take you to their house," he'll say.) Then there are the hack jobs. "The flippers are coming through here like lawnmowers," said Mr. Dakota, speaking of developers who buy townhouses, often in foreclosure, quickly gut the historic details and sell a white box interior at a markup. "I see old-house details in the dumpster all the time," he noted.
Felicia Jamieson, a friend of Mr. Dakota's and fellow Bed-Stuy home restorer started scouring dumpsters to save discarded historic details from gut renovations. "It's happening too much…and all my old-house friends shriek in horror," she said. Historically in Bed-Stuy, townhouses were altered in non-invasive ways: walls were put up, parquet floors were covered by carpeting, woodwork was painted. But now, developers are demolishing interiors and adding hulking rooftop additions. Ms. Jamieson, whose cellar is filled with discarded millwork, doorknobs and tiles, salvaged a townhouse's original sink with its marble counter and will install it in her own townhouse. She recently started an Old House Brain Trust "to connect with like-minded people, learn from each other…and sympathize with this ridiculous sickness we have."
In another 100 years, Bed-Stuy will be a new neighborhood, with new homeowners, but hopefully these very same homes. "We're only the stewards of these homes for the time we live in them," said Mr. Munsey. "It's so rare to live in a Victorian property in the United States—you just feel honored." In Mr. Thompson's gentleman's parlor, looking at a particularly lovely display of wooden fretwork, Mr. Munsey sighed and added, "If only this wood could talk."