Any serious yoga practitioner will sing its praises, probably while in downward dog. They'll tell you it's made them more mindful and increased their flexibility, while going through their sun salutations. Those who aren't sold on the practice will reflect on a class or two where they either fell asleep or felt they were spending an hour stretching. People have disparate views on yoga; which makes it even more controversial that children are suddenly joining their own studios, accompanying their parents or practicing at school. 
Lyons Den Power Yoga, an ultra-trendy hot vinyasa studio in TriBeCa, recently launched "Power Cubs," meant to "provide your children with the tools to lay the foundation for a happy, healthy life." The studio will accept children as young as 30 months if the parents believe they are ready; otherwise, classes are broken into 3-5 years and 6-9 years. Classes run on Monday and Wednesday and drop ins are $40.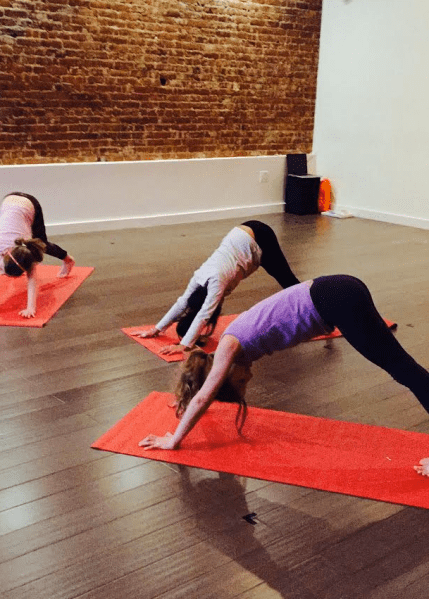 Trista Krone, a Power Cubs instructor, told Observer, "With parental support, children as young as two have joined and followed along with the 3-5 class." Some parents are Lyons Den students and some practice at other studios. Ms. Krone instructs the Power Cubs program because she often heard practitioners say they wished they found yoga sooner. "At Power Cubs, we cultivate a child's awareness of thoughts, emotions, body sensations, the surrounding environment, and kindness to others with animated poses, stretching, games, stories, songs and breathing exercises," Ms. Krone elaborated. 
Some local schools have gotten in on the mindfulness action. Sheila Zachman's children attend public school in Park Slope, and both of them do yoga there. "My son has yoga every week during his class's 'Movement' period, and my daughter has a once a week session as well," she said. She's supportive and enthusiastic about their practice. "My daughter spent a month doing downward dogs whenever the mood struck her and my son gets excited to show us the poses he learned that day."
Yoga has become an activity the family can do together, unlike, say, the dodgeball or kickball of physical education in the past. "I'm not a dedicated yogi, but I do take classes when I can and it has been fun for us to do poses together," Ms. Zachman told Observer. She particularly appreciates its lack of aggression. "They are learning to be in touch with how their bodies move and are being exposed to an athletic activity that is not competitive." For kids who were never athletic and always dreaded P.E. class, yoga could offer a way for them to embrace wellness at a young age and realize they're not terrible at all physical activities.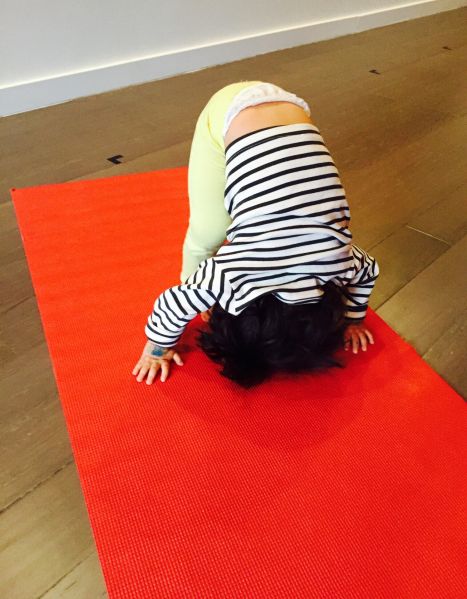 Hara Estroff Marano, editor at large at Psychology Today and author of Nation of Wimps: The High Cost of Invasive Parenting believes children doing yoga isn't beneficial, especially when kids replace free play with structured activity. In a piece called "Why Kids Don't Need Yoga," she wrote, "Yoga is a solitary exercise, not something kids need more of. Ms. Marano explained, "Kids don't need to learn how to shut out the world, they need to learn how effectively engage in it."
While there are some yoga complaints, other classes for kids are far more advanced and force children to work out like tiny adults. There's Crossfit for kids (yes, children doing burpees), and there are even specialty gyms. Most recently, pole dancing for kids made waves in Miami. (Google "pole dancing kids" at your own risk.)
Some studies warn that focusing children's attention on wellness can be negative, since they should be playing instead of measuring their movements; but with yoga, kids are focused more on coordination than on calories. Yes, it might be ridiculous to take your child to a boutique fitness studio, but is it any stranger than signing them up for gymnastics or ballet? New York (and Brooklyn's) overscheduled children have packed itineraries, and if yoga allows them to unwind without competition, it makes sense for schools, and parents, to add it to the long list of after school activities.