"Everything is in really grand proportions—it's 4,600 square feet," Nest Seekers broker Linda Ho declared.
Indeed, the immense great room of the fourth-floor loft felt almost daunting from the Observer's position in the foyer. The sleek lines of the full-floor co-op at 17 West 17th Street, listed for $6.44 million, were made all the more pronounced by the rather minimalist décor.
To wit: The kitchen was nearly unidentifiable as such, due to a refrigerator camouflaged within the wood paneling and an induction cooktop discreetly located in the marble island.
"This is a gas fireplace," clarified Ms. Ho, who shares the listing with Ryan Serhant, when we spied a glass-encased marble structure dividing the living and dining areas. "It's not really for warmth," she conceded. "It's visual."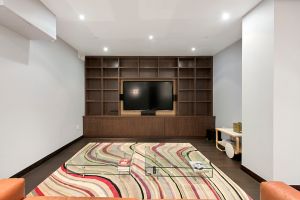 A sliding glass door opened to a media room, with a leather couch and glass coffee table. "It's a great room to hide out and watch movies," Ms. Ho opined, the empty bookshelves and stark white walls underscoring that one could not accurately refer to it as a library.
"Flatiron is not going to have a lot of views," Ms. Ho warned us as we reached the first bedroom with en-suite bath. Fortunately, cream silk curtains mostly covered the lack of cityscape, and sea foam-colored walls worked to temper the somewhat austere aesthetic elsewhere in the unit.
If a potential buyer wants an additional bedroom, Ms. Ho assured us that the office, with a full bath done in pale green tile just across the hall, could be used as such.
The master suite boasted a cavernous marble bath with extra-large soaking tub and glass-enclosed walk-in shower, but we were most intrigued by a tall, wooden object with olive green trim leaning in one corner of the minimalist bedroom.
"I think this is an oar," Ms. Ho theorized, examining the piece. "It's something from a ship," she said more confidently, before opening the door to the walk-in closet.
"It's all custom," she informed us. "It feels like you're in an Armani store!"