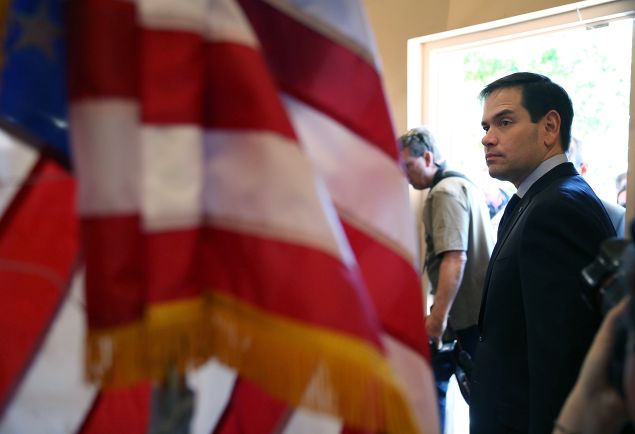 PALM BEACH, Fla.—Following a devastating loss in his home state of Florida tonight, Sen. Marco Rubio announced he was dropping out of the presidential race.
Mr. Rubio, once viewed as a rising star in the Republican Party and a top contender for the nomination, never could deliver on his promise. He managed wins in Minnesota, Puerto Rico, Washington, D.C. and nowhere else, becoming the latest casualty of Donald Trump's juggernaut campaign. Mr. Trump, a billionaire real estate developer, crushed Mr. Rubio in Florida, and constantly belittled the first-term senator, calling him "little Marco" and mocking the way he sweated.
Mr. Rubio's decision was not surprising. He trailed Mr. Trump in every Florida poll and showed signs of collapse over the last few weeks, failing to net delegates in Michigan and Mississippi. His appeal was supposed to be broad, but ended up narrow, drawing in higher-income Republicans living in otherwise Democratic areas. He was a second choice for many, but rarely a first, and could not resonate with the furious base of the party like Mr. Trump or even his Senate rival, Ted Cruz of Texas, who repeatedly bested him across the country.
Barring a Richard Nixon-like resurrection, Mr. Rubio's political career is probably over. His rise, like his fall, was rapid, and neither was entirely unforeseen. He was a 26-year-old local office holder in West Miami who became, in his 30's, the speaker of the Florida House. In 2010, he shocked the political establishment, riding the Tea Party wave to defeat Charlie Christ, the governor, and win a seat in the Senate.
His eyes were always trained on 2016 and probably wandered too far from home. His legislative accomplishments were scant and some Florida Republicans never grew to embrace the young man in a hurry. Gov. Rick Scott didn't endorse him. Jeb Bush, the former governor and sometime mentor of young Rubio, passed on an endorsement after he dropped out of the presidential campaign last month.
Mr. Rubio, the son of a bartender and maid, is Latino, charismatic and quite conservative, the kind of candidate the Republican Party hoped to unleash on the Democrats this year. He is bilingual, and once labored on an immigration reform bill before it became clear Republican voters were not interested in catering to undocumented immigrants. He may have been too pre-programmed, as many of his critics said, and too much of a consultant's candidate, but his real failure was his inability to fit the mood of the electorate.
Mr. Trump's nativist appeals and bomb-throwing rhetoric won the day over Mr. Rubio's optimism and his total embrace of conservative orthodoxy. Voters cared less and less about how well a candidate scored with the Club for Growth, and more about what they could to do keep immigrants out at all costs. Mr. Trump alternated between defending Planned Parenthood and entitlement programs while trying to explain why it didn't matter that white supremacists found his campaign appealing.
Mr. Rubio emerged from the pages of the GOP playbook, and this has been a year to rewrite the whole thing. Or just burn it up.
Disclosure: Donald Trump is the father-in-law of Jared Kushner, the publisher of Observer Media.