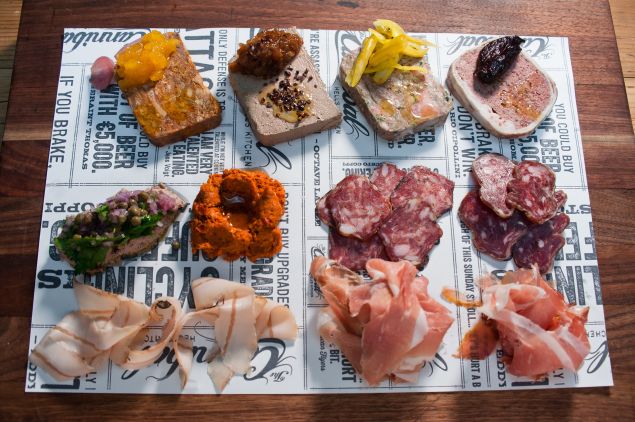 Running a market-driven restaurant is even more rewarding when you have your own market.
Michael Cimarusti is the chef behind Providence, a seafood-focused fine-dining destination that L.A.'s most prominent food critic ranks above any other restaurant. Mr. Cimarusti also operates Connie & Ted's, his glitzy but pleasantly casual West Hollywood version of a New England clam shack/raw bar. He is committed to properly sourced ingredients purchased from small-scale Dock to Dish fisherman.
This Wednesday, Mr. Cimarusti will open Cape Seafood and Provisions on Fairfax Avenue. The sustainable-seafood store will showcase whole fish from around the world, oysters from both coasts, Japanese uni, live crabs and lobsters, caviar and a tank full of gorgeous Santa Barbara spot prawns. This is a market, not a restaurant. So beyond some sauces, stock, broths, smoked fish and grab-and-go items like lobster rolls, chowder and bisque, making dinner is up to you. But as Mr. Cimarusti reminded us at a preview event last week, all you really need when you have such fresh, perfect ingredients is a shucking knife or some salt and fire.
And for those who miss the Lindy & Grundy butcher shop that previously occupied this space, Mr. Cimarusti will also sell Olympia Provisions charcuterie and a sharply curated selection of steaks from West Coast Prime Meats. Surf and turf, anyone?
There should be some serious turf soon at The Cannibal, the L.A. outpost of the New York nose-to-tail meatery that plans to open in Culver City in April. A 96-ounce dry-aged steak (yes, six pounds!), General Tso's pig's head, lamb tartare, bone-marrow brûlée and whole-animal feasts are just some of the madness chef Francis Derby has in mind. But this isn't just a restaurant. There will also be a butcher shop with housemade sausages and charcuterie.
The Cannibal is part of the glassy, modern Platform mixed-used development. This is where New York pasta ace Michael White and San Francisco bakery Craftsman & Wolves were supposed to open. Those projects haven't come to fruition, but Platform's tenants include a collection of East Coast/West Coast all-stars like outposts of Brooklyn's Van Leeuwen Artisan Ice Cream and San Francisco taco slinger Loqui. Also opening soon in the complex is Sweetgreen, the dominant salad chain that launched in Georgetown in 2007 and just relocated its headquarters to Platform.
Sweetgreen, of course, is known for sourcing local produce in all of its cities, and founders Nicolas Jammet, Jonathan Neman and Nathaniel Ru make frequent visits to the bountiful Santa Monica Farmers Market and farms throughout California. Platform really is a microcosm for what's happening in the L.A. food scene. It's almost like the city is saying: Everybody hurry up and move here already, all the ingredients for success are here.