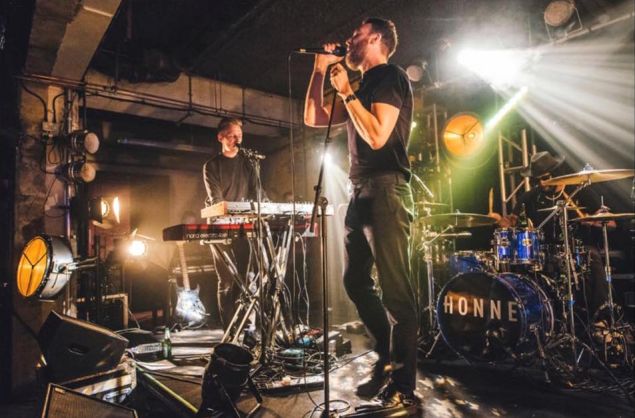 A year ago, electronic-soul duo, Honne, burst onto the music scene in great thanks to the power of SoundCloud, where their fiery, sweet-sounding singles have amassed over 9 million streams. The London-based musicians, who bring their electronic prowess alongside a well-stacked live backing band, have released four EPs and are presently working on their debut album, due out this summer.
Some time in between their back-to-back, seven-set showcase at South By South West, I sat down with Andy Clutterbuck and James Hatcher, the dyad behind Honne, to talk about their first time in Austin, refining their futuristic soul sound and how they're handling rising fame in the U.S.
[soundcloud url="https://api.soundcloud.com/tracks/246670616″ params="color=ff5500&auto_play=false&hide_related=false&show_comments=true&show_user=true&show_reposts=false" width="100%" height="166″ iframe="true" /]
It's a busy time for you guys at SXSW. Are you exhausted?
Andy: By the end of the day you get in to bed and conk out. We've only been here two days. They're long, and the heat makes it all the more intense.
James: Tired but excited. The bigger shows we've played, we can't really go out and talk to anyone, but shows like this are really nice because we get off-stage and then walk into the audience and chat with whoever. 
I saw you guys at the Wild Honey Pie showcase yesterday.
Andy: It's always a bit unusual for us because we typically play at night, and our music has a nighttime vibe to it.
James: It's strange when we play in the day!
Andy: We've been doing a U.S. tour around SXSW, so it's been really nice to see some cities that we haven't been to—and most of them we've never been to before. We visited New York once last year, but now we're going all around and next up we're off to San Francisco and L.A.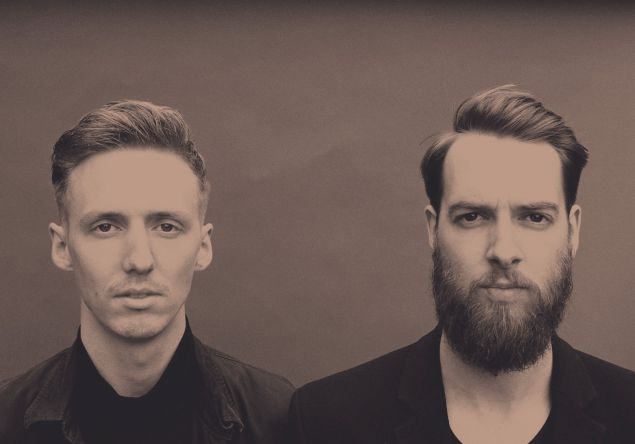 How's it feel to have gained such a buzz in the U.S. over the past 12 months?
James: Well, it's seems fast, but when you're in it you can't really see any outside perspective, so for us things our happening gradually on a day-by-day basis.
Andy: Yeah, you get the odd bit of good news here or there that something is happening, but from the outside world, I guess people are just seeing our name pop up all over the place. It's crazy that we can come to the U.S. and play a string of sold out gigs. It's amazing!
Also, it's awesome that you guys haven't even played that many U.S. shows, but you've garnered a huge U.S. fan base.
Andy: It's all just the power of the Internet. SoundCloud really helped us get our start with people just sharing and sharing.
Tell me a bit about your backstory. I know you both taught music. It seems rare to hear about music teachers becoming successful musicians, but it makes a lot of sense.
Andy: Yeah, totally. We weren't proper music teachers, though. James taught guitar to students and I worked in schools as a music technician and taught kids how to make music with computers on the side. It was really nice to be doing a job that involved music in some way, shape, or form, rather than working in an office or anything like that.
James: The main reason was that it was really well paid for a short amount of time and then we could go home and write music. And all of our friends in London are apart of this big community of musicians, some of who have now taken our jobs!
[soundcloud url="https://api.soundcloud.com/playlists/188172552″ params="color=ff5500&auto_play=false&hide_related=false&show_comments=true&show_user=true&show_reposts=false" width="100%" height="450″ iframe="true" /]
So your nocturnal sound literally developed because that was the only time you guys had to play.
Andy: When we started working in the schools, we'd do a days work, come back, and write music until the early hours of the morning. I think that did shape the music we were writing and how it all turned out. And now since we've stopped working day jobs, and we're doing this full-time, it's shaping the way our music sounds right now. "Gone Are The Days" has more of a summer feel to it, more upbeat. And our next single is going to be a little more upbeat as well.
You've established a super old-school soul vibe hand in hand with tracks that have digital production finesse. Was nailing that "Honne" sound a lot of trial and error?
James: Yes. Before Honne even came about as a project or concept, we spent a long time writing loads of songs, and it was finding our feet and trying to find something special. I think "Warm on a Cold Night" was a turning point and we thought he had something really great and realized we want to sound like that all the time, so then we just started writing more songs in that vein. 
Your band name is derived from a Japanese word, "Honne," which translates to "true feelings." What's your connection with Japanese culture?
Andy: I've always been fascinated with Japanese culture, and a few years ago I went on holiday there for a couple weeks and then my girlfriend moved there for work, so I a spent a bit of time with her and fell more in love with it. In terms of how we found the name, we stumbled upon it and looked into the meaning and thought it was perfect, considering what we were talking about.
[soundcloud url="https://api.soundcloud.com/playlists/140742160″ params="color=ff5500&auto_play=false&hide_related=false&show_comments=true&show_user=true&show_reposts=false" width="100%" height="450″ iframe="true" /]
Tons and tons of feelings. Have you both always been comfortable being so vulnerable?
James: Well, I think I am like that, all the time. But Andy's not.
Andy: Even though I write the lyrics, I generally don't speak out too much about my emotions. I only speak out that way when I write songs.
How has being on the road affected your own relationships?
Andy: I think it's easier for us than it is for our girlfriends because we're constantly doing stuff and they're at home.
Waiting for a text.
Andy: Exactly.
What's in store for you guys the rest of the year?
Andy: It's shaping up to be a very busy year—but the main thing is our first album, which will be coming out in the summer, around mid-July. But also, before that we've got another single coming up in the next couple of weeks, which is our first collaborative single with another artist from the U.K. And then we'll be touring this summer in the U.S. and U.K.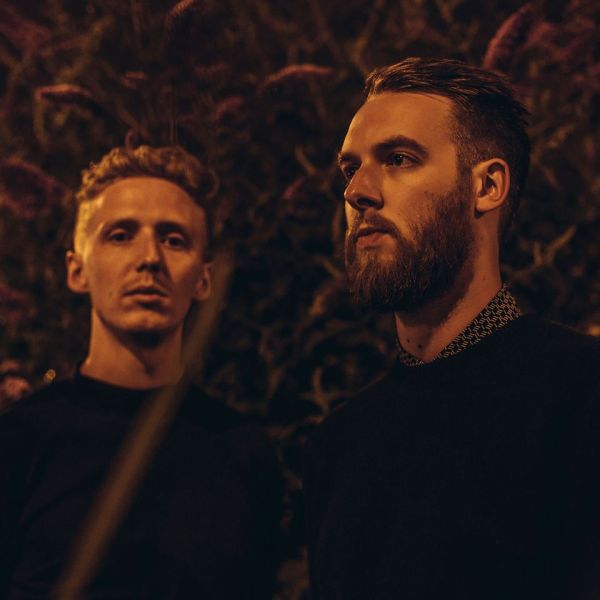 Are all the tracks finished?
Andy: We're in the very final stages.
James: But it's a weird situation. It's our first album, so there's always pressure there. And everyone has different opinions of what the best tracks are, and it has to work as a whole piece of music. Also, there are some songs that I think to myself, "Well maybe we should keep them for the second album."
Well, is the goal for the album to tell a complete story or do you want each track to represent a singular feeling?
Andy: Well that's what we haven't really worked out yet. We're slowly getting there.
James: The difficult part is that there are some songs that we've written recently that we want to be on the album, but it's hard to know whether we're just in love with them because they've been recently written or if they're actually good. It's hard to stay objective about that side of things.
In the beginning you were working just the two of you, do you still feel you have full creative control?
Andy: Ultimately it is our say, and when it comes down to it James and I just need to be decisive and declare, "this is our album."
James: Every flight I just sit there with my iPad and think, "Oh, these should definitely be on it," and then I switch. I've got about eight different albums going on right now.