While you may not know her by name alone, follow the trail of #KaylaItsines on social media and you'll soon understand this 'Instafamous' trainer is another class of fitness royalty. Apart from her almost five million followers, Ms. Itsines' Instagram may look similar to the throngs of other #fitfam we've seen: impeccably-arranged acai bowls, "laugh out loud" memes about #legday soreness and more well-lit snaps of sculpted abs than most of us could hope for in a lifetime. But what sets her apart?
Turns out, quite a lot. Ms. Itsines' claim to fame (other than that six pack) is her "Bikini Body Guide" (#BBG)—a high-intensity, 28-minute workout guide. What started as a 12-week PDF pushing people to squat, burpee and lunge into their strongest selves is now available for purchase via Ms. Itsines' app, Sweat with Kayla. With legions of fans and followers worldwide, her empire extends far beyond her hometown of Adelaide, Australia and the community of devoted disciples continues to grow rapidly. In a brief break from her global tour, the Observer asked the modern-day motivational maven a series of our most burning questions.
Tell us a little about the transition between training clients in Adelaide, to creating the BBG program, touring for #thekaylamovement and eventually amassing 4.6 million devoted followers on Instagram. It all happened relatively quickly for me. I initially started my Instagram to keep a record of my inspirational client transformations. Then I started receiving requests from women all around the world asking me how my clients and I were achieving the results we were. It was then that my partner, Tobi, and I decided to put my workout routines into an eBook, which we called the Bikini Body Training Guide (BBG). The fitness movement wasn't really planned or something I personally ever anticipated. It was created by the BBG girls from all around the world that were achieving amazing results and wanted to share these and support others along their journey. I spent so much time talking to these girls online, I wanted to turn it into a reality! This is when we decided to do my first World Bootcamp Tour in 2015, so I could meet and train these women in real life. But also so they could meet, motivate and inspire each other.
My mission from the beginning has been to uncover these misconceptions and provide women with the tools to feel happy, healthy and confident in a maintainable way.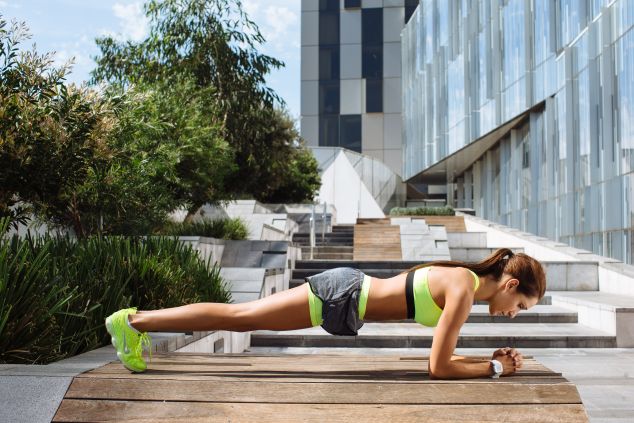 What does your Bootcamp Tour entail? With my Australian Bootcamp Tour and World Bootcamp Tour, I had the opportunity to train over 20,000 girls from all over the world last year! In 2016, I hope to bring the BBG community together on an even bigger scale to help them encourage and motivate each other. I want women to focus on how they FEEL rather than how they look and to workout as a team. Together we can and will achieve amazing things!
You've inspired so many "non-athletes" to give exercise another shot. What is your advice to newbies or people starting out on their healthy eating journey?
 When starting a new healthy eating or fitness regime, I recommend trying to steer clear of the "all or nothing" attitude. Change takes time, so make sure that you find something that works for you and stick to it! Remember everyone is different, so what works for one person may not work for you. Find something YOU enjoy, something that motivates you to get fit and healthy. I also encourage you to take regular progress photos, as nothing is more motivating than your own personal progress!
Tell us all about your new app! My app, Sweat with Kayla, has been designed to simplify the health and fitness experience for women globally. It's the home of the BBG workouts and includes personalized weekly meal plans, automated shopping lists, educational content and SO much more. It also includes timers, accountability and an amazing progress tracking feature with the ability for women to share their incredible transformations straight to social media. This App is available to women worldwide. It's a tool they can use daily that can help them on their health and fitness journey—a personal trainer in their pocket!
What is the biggest misconception about weight loss and getting fit?  There are a lot of misconceptions in the weight loss industry that have lead women to make unintentional mistakes on their journey to a healthier and happier lifestyle. Many people are under the illusion that you have to train twice a day, seven days a week and weigh all of your food to achieve results. Generally, women will find it hard to maintain this lifestyle. My mission from the beginning has been to uncover these misconceptions and provide women with the tools to feel happy, healthy and confident in a maintainable way long term.
On the topic of nutrition, what does a typical day of meals look like for you?  I eat a variety of foods, which is what I love about eating healthy. There really is so much to choose from! I choose to eat the foods I do because they work for me and MY body. So I encourage others to listen to your own body and fuel it with foods that make you feel good.
Breakfast: Two slices of toast, poached eggs, spinach and some tomatoes. If I have time, I might add avocado.
Snack: Fruit (mango is my favorite) or tuna and rice.
Lunch: One of my favourite salads that is really easy to make and so delicious. It includes tuna, mint, basil, cucumber, peppers, and cherry tomatoes. I make sure I incorporate carbohydrates into my meals so for this particular salad, I'll add either brown rice, croutons or quinoa.
Snack: Blueberries and Greek yogurt
.
Dinner: Seafood seasoned with pepper and oregano, mashed sweet potato and a green salad.
I'm loving green tea at the moment so I might have one of these during the day too!
Okay, a more serious question. Social media is a powerful tool in our generation for connection and creativity. Your BBG community is a prime example! However, there has been recent backlash: both against online bullying and also questioning the authenticity factor and "fakeness" of platforms like Instagram. What is your opinion on this and how has your use of Instagram changed since the start of your career?  I have and I will always be myself on social media. I don't believe having followers makes anyone a celebrity or better than anyone else. I don't let the number of followers I have determine who I am, my morals or the way that I behave. I am a big advocate for being honest and open on social media. It's a topic that I mention often in my posts. It's so important to do what makes YOU happy in life, be an advocate for what you truly believe in and be authentic. Stick to your morals and just be you! Do that, and social media can become an amazing place for you to connect with likeminded people in a positive way.
My social feed isn't only about me and my life, it's about the amazing transformations and results from real women all around the world. The reason I do this is because I want to show all women that they are beautiful, strong and confident. On social media, we typically see the best parts of someone's day and that is okay. I have days where I sit on my bed in my pajamas with no make up, my hair in a bun, drinking hot tea. I'm just like you, and everyone else is too. I want all women to wake up feeling good about themselves, feeling beautiful, feeling empowered and unstoppable. In 2016, I hope more women not only feel empowered, but also want to empower others. This is what I love about our amazing BBG community. These women encourage, uplift and support each other daily.
What keeps you motivated to exercise and eat clean, even when you don't feel like it?
 I think it has to do with how regular exercise and a healthy diet makes me feel. My body honestly thrives off it. It positively affects my mood, my sleep and my self-esteem. The BBG girls also motivate me. Their amazing transformations from all over the globe inspire me to work towards being a better version of myself each and every day.
What is the first thing you do in the morning?  Check my phone – bad habit!
What can we find in your gym bag?  I always take my foam roller everywhere. Also, deodorant, headphones (I can't workout without music!), a jump rope and non-spill drink bottle.
Favorite indulgence? I love Tiramisu, but I'm lactose intolerant so I can't have it too often!
Name the very last workout you did! Yesterday I did a legs session from my Sweat with Kayla App!
Messy or a neat freak? Definitely a neat freak
Guilty pleasure? Again, it would be Tiramisu!
Last but not least, what in your life (event, person, place, idea) was a game changer?  When I stepped out on stage at my first New York City Bootcamp. The amount of women who were there not just for me, but each other. It's a feeling I will honestly never forget.