On a frigid February afternoon, Kenneth Feinberg, one of the singular figures in American legal history, pondered the concept of fate. "Lighting can strike. I mean, I don't think I plan more than two weeks ahead, I'll tell you that," said Mr. Feinberg, munching on salted nuts in the bar of the Carlyle Hotel. "I was much more a believer that I can chart my own destiny, basically have control over the future. It doesn't work that way. You think you can, but life has a way of throwing curveballs."
Mr. Feinberg would know.
Since the 1980s, but especially since September 11, 2001, there has been only one attorney in America called upon, again and again, to administer compensation for victims and survivors of the nation's most spectacular disasters. Think of a calamity during the last decade and a half, and the droopy-faced, balding and bespectacled 70-year-old with a Boston brogue right out of The Departed has been on the job: 9/11, Virginia Tech, the BP oil spill, Sandy Hook, Aurora, the Boston Marathon bombing.
The Democratic attorney, a former chief of staff to Ted Kennedy, specializes in what is dryly called mediation or alternative dispute resolution. In practice, this often means he must decide exactly how much money aggrieved people will receive from the private company, institution or government that could, in the traditional trial system, be found responsible for their suffering. "In certain very limited types of mass disasters, there's gotta be a better way than one-by-one courts," Mr. Feinberg insisted. "There's gotta be more aggregate of justice. These programs…do that. And they're very successful."
To his admirers, Mr. Feinberg is a little like the titan Atlas holding up the planet.
To his detractors, he is high-handed and patrician, a press-savvy enabler for flush corporations to dodge costly lawsuits.
Either way, he operates in a niche with no rivals.
"If he were a painter or an artist, he would be the Picasso of the legal field," gushed Jack Weinstein, a federal judge who appointed Mr. Feinberg to his first major mediation case in the 1980s. "How's that for a quote?"
Most recently, Volkswagen tapped Mr. Feinberg to administer an independent claims program for the owners of nearly 600,000 diesel vehicles that spewed up to 40 times the legally allowable emissions. Officials at VW admitted to the deception, adding a hurdle for Mr. Feinberg, who hopes to convince the plaintiffs' lawyers to avoid going to trial. Lawyers representing VW owners have already expressed skepticism over the company's retention of Mr. Feinberg, who could ultimately help the carmaker avoid the sort of class-action lawsuits that could cripple the company. (Victims entering the claims program wouldn't be able to sue.)
Considering Mr. Feinberg had to decide how much victims' families received after the 9/11 attacks or whom, of the thousands of livelihoods ruined, deserved compensation after the BP oil spill, an emissions scandal is a walk in the park—at least emotionally.
More work is undoubtedly on the way. Mr. Feinberg expects calls about the lead-poisoned water in Flint, Mich. Policy-makers in California have already asked his advice about compensating relatives of the dead in the San Bernardino shooting. Ditto the Charleston and Fort Hood mass murders.
"It's certainly a triumph of branding. There's no doubt about that," said George Conk, a law professor at Fordham University and an expert on torts law. "He's a dominant presence."
***
Kenneth Roy Feinberg was born on October 23, 1945, and grew up in Brockton, Mass. Like many baby boomers in New England, he was enthralled by the young John F. Kennedy and followed the president's exhortation to "ask not what your country can do for you, ask what you can do for your country."
Following his graduation from NYU Law School in 1970, Mr. Feinberg joined the U.S. Attorney's Office in Manhattan. Soon after, he snagged a job with Ted Kennedy and rose to become the liberal lion's chief of staff. There, he befriended the future Supreme Court Justice Stephen Breyer, then a fellow ambitious aide, and worked on a decades-long effort to rewrite the entire federal criminal code. "He listens. He's very practical," said Justice Breyer. "He wants to achieve the practical result—always." Lawmakers would continue working on the reforms after Mr. Feinberg decamped to a "conventional" and lucrative D.C. law firm to focus on regulatory work and legislation.
"Purely by accident," in Mr. Feinberg's own words, he was chosen in 1984 to help mediate a class-action lawsuit brought by 250,000 Vietnam War veterans against Dow Chemical Company and six other manufacturers of Agent Orange, a poisonous defoliant the U.S. military used during the war. Mr. Weinstein, the federal judge who selected Mr. Feinberg, had known him because they clerked for the same federal judge, 30 years apart.
"I said," Mr. Feinberg recalled, sipping water, "'Judge, I've never…even taken a course in law school in mediation.' He said, 'It doesn't matter. You're the guy I want, you're smart, you're creative, you'll do a good job.' "
Mr. Weinstein, 94, remembered similar circumstances, picking Mr. Feinberg because he had a reputation as a competent lawyer and was someone he personally knew. The era of the class-action lawsuit had only been ushered in a decade earlier, with the advent of modern product liability law. After John Minor Wisdom, the legendary Louisiana appellate court judge, issued the majority opinion in a 1973 case that held a manufacturer of insulation materials liable for failing to warn workers about the danger of asbestos, the door opened for what legal scholars call mass tort cases—the kind Mr. Feinberg would eventually master.
"In my wildest dreams, I never would've thought I'd end up designing and administering these huge claims programs and mediating disputes," Mr. Feinberg said.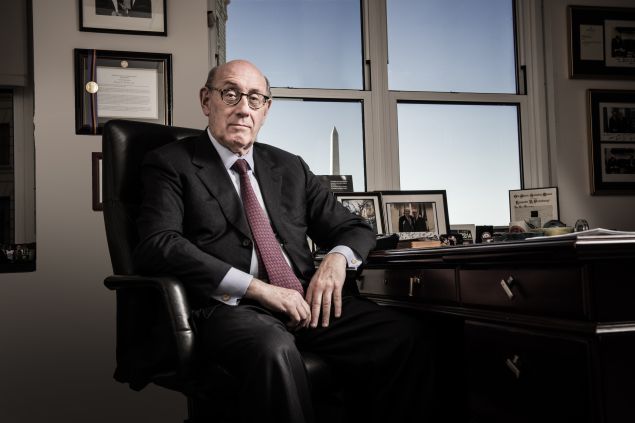 Though the Agent Orange case had dragged on for more than eight years, Mr. Feinberg reached a $180 million settlement between the manufacturers and its victims in just six weeks. It was well-paid work for the young attorney: he netted $800,000, according to Time magazine.
For all the plaudits he earned, some furious families felt Judge Weinstein and Mr. Feinberg had betrayed them. In a 1985 People magazine story, one wife of an afflicted veteran complained that her 14-year-old wheelchair-bound daughter suffered birth defects due to Agent Orange, and the settlement left her out.
Mr. Feinberg's mediation and arbitration practice subsequently boomed. He successfully oversaw a $2.4 billion settlement for injuries caused by a faulty birth control device, Dalkon Shield, in the late 1980s. While the Agent Orange and Dalkon Shield cases were generally regarded as coups for Mr. Feinberg, he failed to reach a comprehensive settlement on a then-record number of lawsuits brought against an asbestos manufacturer, Eagle-Picher Industries Inc. The company was forced to file for bankruptcy. (Another mediator, according to Mr. Feinberg, reached a settlement after he tried to do so "too early" in the process.)
But 9/11 cemented Mr. Feinberg's reputation as the "master of disasters." Following the attacks, many relatives of the victims wanted to hold several entities accountable—including but not limited to the airline industry, the federal government and the Port Authority, the operators of the World Trade Center—for failing to prevent the airplane hijacking and the collapse of the towers.
There was a fear that mass lawsuits could eviscerate the airlines and further damage an already shaky economy. Attorney General John Ashcroft, a Republican, asked Mr. Feinberg to oversee an $11 billion pot of taxpayer money to compensate the 9/11 families. The Department of Justice granted Mr. Feinberg "sweeping" powers, in the words of The New York Times that year, to help draft the fund's rules and procedures, oversee its operations and personally sign off on all the money handed out to claimants. Anyone seeking money had to waive their right to sue.
This is where Mr. Feinberg, who took the demanding job pro bono, has admitted he erred. It was galling enough for the families that they had to give up taking anyone to court for what at least one 9/11 activist who lost a family member in the World Trade Center, Sally Regenhard, would call "blood money." More upsetting was that all victims were not equal. Compensation varied based on the earning power of the dead. The spouse and two kids of an investment banker who worked at Cantor Fitzgerald would receive far more than the mother of a busboy at Windows on the World.
Mr. Feinberg, as special master, was bound by certain directives. For a family to receive the tax-free money, they had to waive their right to sue or appeal. The airline industry would be safe. He then devised a simple formula: determine the economic loss suffered as a result of the premature death, add on an estimate based on pain and suffering, and subtract from that number any collateral source of income, such as life insurance. The value of a life ranged from about $250,000 to $7 million.
The worst part, for all parties involved, were the one-on-one meetings. Relatives of victims detailed their incomparable losses to Mr. Feinberg, who then strained to place a dollar amount on suffering.
"The stories you heard when you're alone with a family are so chilling and so debilitating, it's the toughest part of the job," he said.
Mr. Feinberg recalled one woman, the wife of a dead fireman, who came to him and demanded $2 million in 30 days. He said at the time that given the bureaucracy, that was all but impossible. He asked why she needed the money so quickly.
"'I'll tell you why, Mr. Feinberg. I have terminal cancer. I have 10 weeks to live. My husband was gonna take care of our two children. Now they're gonna be orphans,' " the woman said, according to Mr. Feinberg. "'I have got to get this money while I have my faculties and set up a trust and make sure they're provided for.' "
Mr. Feinberg managed to get the money to her when she wanted it. "Eight weeks later she died. I have hundreds of stories like that," he said. His expression remained fixed.
He also learned to say no.
A survivor had escaped the collapsing World Trade Center without serious injury. But she was haunted and unable to stop shaking. "I'll remember that horror the rest of my life," she told him.
"'You're ineligible,' " Mr. Feinberg recounted telling the claimant. "'Congress said there has to be a physical injury. You're suffering terrible mental trauma. I'm sorry, I can't help you.'"
"Sometimes the law, a statute, the rules require you say [no] and I explain to people as empathetically as I can these programs have to be very, very principled," he explained. "You've got to tell people this is the way it is and sometimes it requires some tough love."
While Mr. Feinberg is often praised for his blend of intellect and humanity—he met with hundreds of traumatized people after 9/11—others remember him as imperious and detached.
"It was a horrible and disgusting process," said Ms. Regenhard, who lost her son, 28-year-old firefighter Christian Regenhard, in the attacks and later co-founded the Skyscraper Safety Campaign, a nonprofit. "There were parents, wives and husbands who couldn't even get out of bed. Their whole life fell down and they couldn't go down to one of these law firms and pitch their child's life to this guy who couldn't wait to get out and go to the opera." (Mr. Feinberg is an opera buff.)
Ms. Regenhard, who still resents she wasn't able to bring a lawsuit, followed Mr. Feinberg from borough to borough as he made his pitch for families to join the program and collect their money. "He would make the same pitch all the time. The average payout is $2.5 million. I'd ask: 'Is that really what a New York City firefighter is gonna get?' "
Mr. Feinberg said he wished it could have been done differently. Equal money for everyone. A better manner.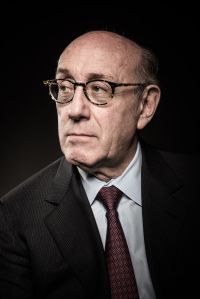 "I regret early on, in cases like Agent Orange and 9/11, I regret presenting myself in a more lawyer-like way rather than in a more empathetic, sensitive way," he said. "It took me a while to evolve into that more sensitive person, listening rather than talking."
"I don't think my legal background is particularly valuable," he added. "Better I have a background as a priest or a rabbi or a psychiatrist…There is nothing you can say that can alleviate their pain."
***
Before 9/11, there were rarely compensation funds set up for the victims of mass tragedies. Victims of the 1993 World Trade Center bombing or 1995 Oklahoma City bombing did not have access to a pot of government money. Afterwards, more public and private entities, seeing how the 9/11 fund functioned, tried it for themselves—and called on Mr. Feinberg to do the hard, but not always thankless, work. His high-profile handling of the 9/11 fund boosted business.
Mr. Feinberg's reverence for government—it's "not a dirty word"—compels him to say yes to authorities that need him. ("Don't forget," he said, "I grew up as a teenager when a fair-haired son of Massachusetts was President.") "If you're asked by the president…or a governor or a mayor, 'Ken, we need your help after a tragedy.' What are you gonna say? I'm busy?"
Deval Patrick, the governor of Massachusetts during the Boston Marathon bombing, called Mr. Feinberg "amazing" for administering a $61 million fund pro-bono for the victims and disbursing the money in about two months. The two men are chummy from running into each other on Martha's Vineyard.
"The one clear point he made is, he kept saying this: this money is not going to make anyone whole," Mr. Patrick, now managing director at Bain Capital, said. "A family who has lost someone, an individual who Lost a limb, they can't be made whole by money. It's a gesture."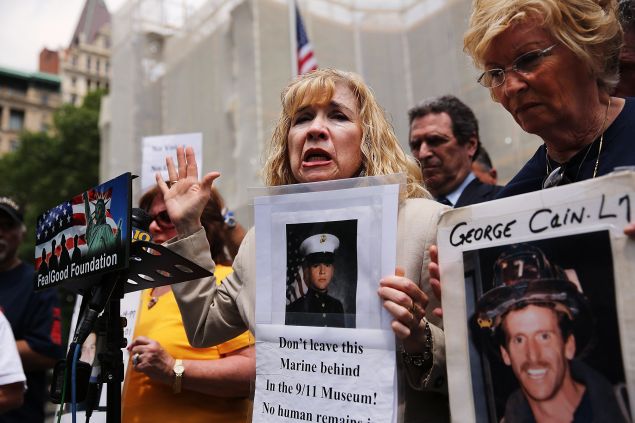 Mr. Feinberg professed that his work doesn't require a great amount of intellectual firepower, since he routinely follows rules set out for him. He claimed, in the Agent Orange case that first made his reputation, Judge Weinstein simply forced both sides to reach a decision in eight weeks or there'd be a trial. He complied. "I kept going and kept the light on all night working with the parties," he said, citing "optimism, doggedness and flexibility" as the three traits an effective mediator must possess.
Others who have worked with Mr. Feinberg praised him for his legal acumen and work ethic, but were shy on specifics, as if his unique status was beyond explanation, like trying to explain why a chess grandmaster can always be five moves ahead of his opponent.
His real innovation may have been realizing that if you want a Resolution, you have to make sure everyone participates in a claims program. This means "you've got to offer just about everybody something, including people who have weak claims," said Mr. Conk, the Fordham University professor. "You can't pay fraudulent claims, but you can pay weak claims."
"Certainty," Mr. Feinberg explained, is key. "You tell somebody, 'If you come into this program of Feinberg's, here is what you're gonna get. This is the amount. Not maybe. Here it is! Do you want it? If you go to court, you may—you may—get paid, you may not win. Here it is.' "
He had another piece of paradoxical advice, considering the way he's built his reputation and career: it's better to not create these programs at all.
"Don't do it. You're singling out people; government is singling out people for very special treatment. And if you're gonna do it, give everybody the same amount of money."
He has a not-so-subtle ego, though he knows how to play humble. "I think that I'm called on not because what I do is rocket science. It isn't. You could do what I do. I get called on because the last one worked. There's a certain credibility that comes with success. The next time I get one of these and fail, I'm put out to pasture."
***
There is some resistance to Mr. Feinberg's practice. Even admirers, like David Logan, the former dean at Roger Williams School of Law, warn of the "privatization of justice" that such mediation represents.
"Our tradition has been to have civil disputes in an adversarial system, overseen by an impartial judge with important roles for a lay jury," Mr. Logan wrote by email. "Ken Feinberg tosses all of that out the window and we are supposed to conclude that it's simply better to trust him to do it all. Add to that the fact that Ken Feinberg is selected and paid by deep pocket, deeply self-interested defendants."
Norman Siegel, the prominent civil rights attorney, represented families of 9/11 victims, including Ms. Regenhard, who wanted to hold people accountable. Compensation is important, but dollar amounts alone don't always equate to justice, he argued.
"There is the real possibility that wrongdoers through the Feinberg alternative process can pay their way out. And for people like me, it's troubling," he said.
Mr. Feinberg said he judges success by how many people will opt into his claims programs versus those who won't. But, as Mr. Siegel pointed out, someone under extreme emotional or financial duress may feel pressure to take the quicker and easier Feinberg solution over a drawn-out trial, even if a judge and jury may ultimately bring more accountability—or a potentially higher payout.
The 2010 BP oil spill in the Gulf of Mexico crystallized what Mr. Logan also called a "problematic system": a powerful corporation trying to buy away its legal woes. BP hired Mr. Feinberg to manage a $20 billion compensation fund that, remarkably, was not overseen by either BP or the federal government. The money was placed in an escrow account for Mr. Feinberg to administer, investing him with a remarkable amount of power, even by his standards.
Mr. Feinberg came under fire for failing to initially disclose his arrangement with BP. Eventually, he disclosed that his firm, Feinberg Rozen LLP., received a whopping fee of $850,000 a month. Still, he would present himself as an independent arbiter to claimants until judge ordered him to stop doing so, since BP was paying him. He complied, and the program hummed on.
Like the Bush administration, the Obama White House has not been shy about relying on Mr. Feinberg to clean up big messes. He was the "pay czar"—or "zaaahh," in his New England lilt—tasked with deciding how to lash the compensation of the highest-paid executives at seven firms, including Citigroup, Bank of America, American International Group, Inc. that received the largest chunks of bailout money following the 2008 economic collapse. He is currently working with the Treasury Department to review a plan to cut severely underfunded pensions for Teamsters retirees nationwide. On left-wing websites, the old Kennedy Democrat has been derided as a corporate shill, a sell-out screwing working-class people.
(The World Socialist Web Site put it this way: "The anti-working-class credentials of Feinberg have been established in a series of well-publicized cases, where the law professor has saved the government and U.S. corporations billions of dollars by offering miserly payouts to victims of their criminality.")
Yet can someone, considering the pressure and grief associated with this line of work, sometimes enjoy it?
"Enjoy? I enjoy it like going to the dentist," he said, not smiling. "I'm fulfilled by it and I'll say I'm satisfied by my efforts. But enjoyment is not a word I would use to describe what I do."
A version of this story appeared on the cover of the March 14 edition of the New York Observer