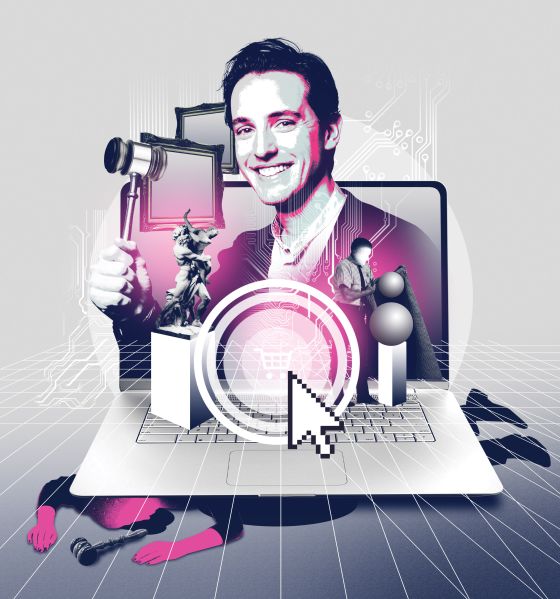 Alexander Gilkes was undoubtedly prepared for the Observer. Sporting a cozy cardigan and a cheerful disposition while brandishing a notebook, pen and the prerequisite iPhone, he remained astute throughout our hour-long conversation. The art auctioneer, accompanied by his pet pooch Thatcher, rarely talks to press, so he came prepared for questions about his royal employees and friends, and that time he gave a vineyard tour to Jay Z in North Western France many years and careers ago. Given his pedigree and job history, Mr. Gilkes—pronounced "Jilkez"—is a study in opulence, but also discretion. When speaking to anyone, he reveals just enough with immaculate timing. For instance, during our chat, he let it gently slip that he had a meeting the day before with the House of Chanel, at the place in the ether where fashion meets art, no doubt. It is a space Mr. Gilkes knows well.
"There is a heavy leaning to try and extract information from me, and I always have to clamp down," he said with a bashful smile and a light smack of his hands acting as the clamp. "When Eug was working here, there were many more questions." "Eug" is his nickname for Princess Eugenie of York who served as an associate at his company, Paddle8, for two years before moving back to London. She is just one of his several substantial ties to royalty, though they seem to play little or no visible part in his business. 
We met in a stark conference room at the Cooper Square headquarters of Paddle8, the thriving online art sale platform started by the 36-year-old Mr. Gilkes and his two pals, Aditya Julka and Osman Khan, as a direct response to the overly curated, heavily policed by galleries art sales scene. Their aim was simply to sell art to people who wanted it, regardless of whether such buyers were collectors or met any predetermined art-world standards at all.
As a child growing up in London, Mr. Gilkes had to balance parent expectations with his interest in art. "They wanted me to do something more stable, perhaps predictable, but staring at a Reuters or Bloomberg terminal all day long would have bored me to tears," he said. "So I tried to keep my parents satisfied by doing my UBS, Warburg and Lazard internships, but the ones far more acutely aligned with my interests were working on the set of Eyes Wide Shut with Stanley Kubrick or spending time with Mario Testino. Ultimately I've ended up in this balance—the commercial with the creative."
He first had a natural inclination toward the art world in grade school where, he admitted he wasn't much value on the playing field. "I was a rather tubby youngster, which was a complete surprise to my family," he said with a laugh. Today, he could be described as lanky. "I was on a top rugby team, and I realized they just wanted a bit of weight up front." This left him to excel in other areas, and he swiftly became a fledgling collector, perusing flea markets on weekends and visiting exhibitions like Charles Saatchi's "Sensation." The 1997 gallery show is often credited for the arrival of Damien Hirst, who debuted his infamous shark in formaldehyde. Mr. Hirst  participated as an investor in a recent $34 million round of funding.
'Had Aditya, Osman and I tried to get this off the starting blocks in London, I know it would have been met with resistance. For every idea there's always an equal measure of doubt. There's always a tendency to look at the reasons or the problems for why something like this
cannot happen.'
"I spent lots of time on drama, music and art. At Eton [school] I started to develop an interest in the creation of art," he said. "But career-wise I was guided by empathy for people, movements and trends." These movements were most evident in his work at Louis Vuitton Moet Hennessy.  There, he earned a spot as one of the youngest executives in the history of the company as international communications manager for Krug Champagne. He recalled both of Louis Vuitton's artist collaborations with Takashi Murakami and Richard Prince, which debuted in 2003 and 2008 respectively, under the purview of Marc Jacobs as creative director. Both product lines were commercial juggernauts. "It seemed that fine art was coming into the shop window, and there was this new aperture before us," he said. "These were the early signs that something was about to fundamentally shift in the art world."
Mr. Gilkes sought greener pastures with the help of Simon de Pury, the collector and auctioneer who was modernizing a system that had not seen any significant changes in roughly 300 years. To Mr. Gilkes, he was, and still is, "a real market maker" who predicted the tidal wave of Contemporary art. "I went in to sell an idea of featuring him in an ad campaign for Krug Champagne," he reminisced of his first meeting with Mr. de Pury. "He actually sold me the idea of coming on board, and being his understudy as an auctioneer and running marketing for Phillips. So, I joined the company and became really interested in the collecting economy. I spent two years learning about the business in a true baptism by fire."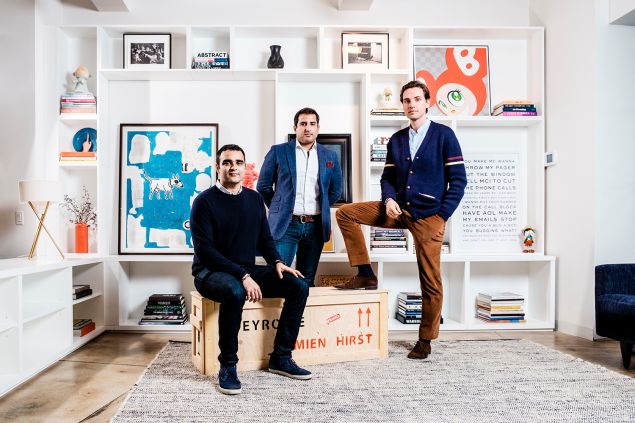 During these pivotal days, he witnessed the inefficiencies of the brick-and-mortar auction house infrastructure. "It was very clear that this emerging generation of collectors craved 24/7 access, and everything in one place," he said. "Yet sales supposedly geared toward a younger, more democratic collector were taking place at some strange time on a Tuesday afternoon, which didn't capture the global demand. We're all working at 4 o'clock on a Tuesday. I was also witnessing the business infrastructure: incredible costs of biblical catalogs to sell [small] $5,000 lots, and the cost of installations and exhibitions." These seemingly necessary facets of the auction world did not make economic sense, and with that, Mr. Gilkes decided to do it better.
"I felt there was a real opportunity to create a middle-market auction platform that was solely online, and fit where eBay fails to deliver taste and trust, and where Sotheby's, Christies and Phillips were less interested and incapable of servicing economically," Mr. Gilkes laid out.
He and his two co-founders converged serendipitously. After Mr. Julka sold off his biotech startup, he, like any well-heeled young entrepreneur, was in the market for Modern, affordable art to trick out his apartment. However, he didn't know what to buy, or exactly who to buy it from. He sought out the help of his longtime friend, Mr. Khan, who just happened to know Mr. Gilkes through a chance meeting while out on the town. In trying to fulfill Mr. Julka's search for the best art at the right price, the trio found there was a huge, unhelpful, unfriendly void filled with stuffy galleries and finicky art dealers in the market. Enter Paddle8, which seeks to weed through the morass of available art, and offer a particular breed of works that sit between $1,000 and $100,000 through online auctions broadcast to over 500,000 users. Most auctions last just two weeks, and the company takes an 8 percent commission as opposed to the industry standard of 20 to 25 percent. Instead of dusty, million-dollar investment purchases intended for one's estate, the purchases made on Paddle8 skew more toward fun, viscerally appealing items from brand-name artists—exactly what Mr. Julka was looking for. 
Together, the three gents have a symbiotic relationship. Mr. Khan's responsibilities focus on day-to-day operations, while Mr. Julka oversees strategy, looking mostly at potential M&A opportunities. Mr. Gilkes is the most visible of the three. He and his wife, fashion designer Misha Nonoo, are unfailingly social. The two were married in a lavish ceremony in Venice in 2012 attended by 300 guests with last names like Rockefeller and Mellon. The fact that the two are social fixtures certainly helps the business, but does not shape it. "My role is very squarely on biz dev, sales culture and brand guidance," Mr. Gilkes said. "So, with business development in mind, there is a certain degree of having to be out there and meeting people. I try as best as possible to balance that. If you spend your life out in the field, the team and the family suffers back here." He gesticulated with his thumb, pointing over his right shoulder at the sizable office space seen through the conference room's transparent wall. Thatcher, sitting at his feet, started to experience a bout of hiccups. "You alright, girl?" he asked, peeking under the table. 
'It was very clear that this emerging generation of collectors craved 24/7 access, and everything in one place,' he said. 'Yet sales supposedly geared toward a younger, more democratic collector were taking place at some strange time on a Tuesday afternoon, which didn't capture the global demand. We're all working at 4 o'clock on a Tuesday.'
To Mr. Gilkes, there was no better place than New York to begin breaking the worn out mold of art sales. Apart from the fact that many tech talents and venture capitalists reside in New York, he saw it as a place where budding concepts are swiftly realized. "There is this incredible kinetic pace of connection here," he said of Manhattan's social scene. "It offers enablement, where ideas can rapidly come to fruition. Had Aditya, Osman and I tried to get this off the starting blocks in London, I know it would have been met with resistance. For every idea there's always an equal measure of doubt. There's always a tendency to look at the reasons or the problems for why something like this cannot happen."
Furthermore, the Briton feels there is an additional, innately American perspective of entrepreneurship that he considers to be much more motivational to his business and his co-workers. "In Europe, there is a lower instance of startups because there's a permanent fear of failure," he said. "Everyone fears failure because it is this permanent black mark against your name, whereas in the U.S., failure seems to be par for the course. No one idolizes anyone more than the person who has failed, and gets back up on their feet and tries again. That's a uniquely American sentiment."
A week later, Mr. Gilkes and I crossed paths again, this time at The Monkey Bar, to celebrate the launch of Lynn Wyatt's Paddle8 auction to benefit the Rothko Chapel. The billionaire heiress had rounded up a selection of one-of-a-kind goods from her own couture-filled closet, as well as from her longtime confidantes including Elton John, who provided a pair of his Versace sunglasses, and director Wes Anderson, who donated a piece of Prada luggage used in The Darjeeling Limited. Actress Tilda Swinton also participated by offering to tell a bedtime story via video chat on the auction winner's birthday.
Charity auctions like these, which operate silently on iPads and are backed by cultural pioneers such as Tory Burch, Grace Coddington, or Ms. Wyatt, are the bread and butter of Paddle8. "We launched the platform with benefit auctions," Mr. Gilkes said. "Whether you're offering the benefit auction for LACMA or MOCA or Bono's (RED) or BAM, servicing these groups is a fantastic way to build trust, visibility, and, at the end of the day, a great way to build a collector base."
Today, thanks to the near-requisite use of Paddle8 at most charity galas and cocktail parties, this base has widened in every direction. "The opportunity is to get to your Cincinnati dermatologist," Mr. Gilkes said. "This is a platform where many of our users have great taste, with high levels of curiosity, who are sitting in places where they are not well serviced by galleries and auction houses. We have some really big bidders in the Caribbean, in fairly remote parts of the Middle East, certainly in Asia, and anywhere else where there really isn't an abundance of offerings in the brick-and-mortar infrastructure."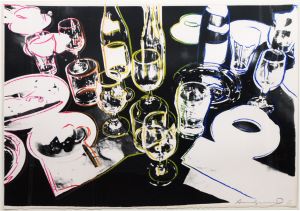 These individuals range from young collectors who visit the website to quickly seek out KAWS toys, to Japanese Bearbricks and 1960s Italian light fixtures for under $5,000. The more seasoned collectors come for the Contemporary sales where Jeff Koons and Andy Warhol works are commonly on offer. There are also private sales, which never become visible online, but are overseen by Paddle8. "It grew really, really quickly in the last year, because of this new culture of stealth wealth," Mr. Gilkes said of his offline sales, which are brokered between a single buyer and seller. "People want to do things in a very discreet manner, and they don't want anyone to know what they're listing or buying." To date, the company's most notable sale occurred in November 2015, when a lone copy of the Wu-Tang Clan's final album, Once Upon A Time in Shaolin, was snapped up for a rumored $2 million by the fiercely capitalistic pharmaceutical executive Martin Shkreli. 
Together, these different types of sales have formed a unified attack on the outdated world of art auctions. Mr. Gilkes and his colleagues have appropriated the tech company and minimalist zeitgeist and applied it to an ailing industry by throwing out the extreme excess of the process. In a sense, they have stripped down and democratized luxury art auctions, paring back to the original idea—selling a curated selection of high-value goods in a short amount of time.
The proof of Paddle8's success can easily be seen through dollars and cents, attracting interest on a rolling basis. "Some of the bigger brick-and-mortar houses are likely to make offers or take interest in the business," Mr. Gilkes loosely speculated. "There's always the possibility to go public too. But at the moment we are at an early stage in our trajectory with enough funding behind us to really think about how we can continue to grow this, without an exit in mind."