There's a King Lear-like quality to the aging Democratic Party bosses, who look across the mead hall and can't help but discern  (vaguely) the crouching tiger/hidden dragon designs in their younger brethren, whose counties are kingdoms and whose ambitions bump up against one another now in the lead up to the 2017 gubernatorial contest.
Such considerations accelerated with the news today that Essex County Executive Joe DiVIncenzo wants into the gubernatorial bullring with the others: Senate President Steve Sweeney (D-3), Jersey City Mayor Steven Fulop, U.S. Ambassador to Germany Phil Murphy, state Senator Ray Lesniak (D-20) and Assemblyman John Wisniewski (D-19).
Almost everyone agreres that it's fluid right now a year and change ahead of the Democratic Primary for governor.
"Anyone who tells you that he knows what's happening right now is an idiot," one insider declared to PolitickerNJ this afternoon, before launching into his own dogmatic diatribe about how things are going to play out statewide next year.
This much is true: with Sweeney angling for the governorship, caucus colleagues of his are quietly but no less aggressively entertaining conversations about the senate presidency. In this game of county lines, support for Sweeney in key places (or Fulop, for that matter) appears tethered to that penultimate prize called the senate throne.
Here is a preliminary look at the internecine dynamics under the gleaming hood of public civility.
Sweeney (pictured above with Monmouth Democratic Chairman Vin Gopal) has South Jersey on lock down. That's Cape May, Atlantic, Gloucester, Camden, Cumberland and Burlington.
Fulop starts with Hudson. Some insiders (most of them affiliated in some way with Sweeney) quibble with the characterization of Hudson on lock down for Fulop, pointing to the mercurial state Senator Broian P. Stack (D-33) in North Hudson, who has a solid relationship with Sweeney, and state Senator Nick Sacco (D-32), who showed a willingness to deal make with South Jersey in the past, to advance his Secaucus acolyte, Assemblyman Vincent Prieto (D-32) to the speakership with a deal cut in 2013. Then there's state Senator Sandy Cunningham (D-31), who appears ready to sign onto the Sweeney cause, although she's adamant in public about her unflinching neutrality.
Other critical counties appear even less settled. and in the context of examining the big ones we must begin to consider their respective capacities at being able to yield the next senate president.
The play exists from Sweeney (and South Jersey Democratic Party power pooh-bah George Norcross III) to keep Prieto in the speaker's chair with some variation on the following: "Vinny – and Nick – you guys can stay there at speaker, and you probably should owing to our ability to hook Sandy – and maybe Brian. All you gotta do is pony up Hudson and shut down Fulop."
Presumably Fulop has a counterargument for Prieto, and it runs something along the lines of getting U.S. Rep. Albio Sires (D-8) to retire (this would his last term) so that Prieto can become the congressman. "You can sit on the speaker's chair for another two years, Vinny, or go to Congress!"
In any event, those two forces (and roles) are pulling at Prieto, with the Fulop forces confident that they can close the deal (in exchange for the line in Hudson, because Prieto, as it turns out, is also the Hudson County Democratic Organization chairman) by giving Vinny and Albio Model, for it was Sires himself who made the transition from speaker to congress, and now it's Prieto's turn.
There are other counties that are in play, and tied to legislative leadership.
Let's start with Bergen. Now every time Bergen County Democratic Committee Chairman Lou Stellato sees Norcross he apparently tells him, "You and I are going to decide this together, George," but it's hard to picture Stellato working hard to sell Norcross' preferred candidate, Sweeney, up north.
"I can't sell him up here," one North Jersey operative bemoaned, referencing Sweeney and what he cites as an instantly identifiable (and non-transferable) South Jersey brand.
"It's like it was with Rob Andrews [the former 1st District congressman]," the source said. "He would give these speeches and they were good – if the audience was from South Jersey. But he'd start talking about his father the trumpet player up north to a roomful of blank looks.
"I don't want to do that again," the source said.
Apparently state Senator Paul Sarlo (D-36) and Senate Majority Leader Loretta Weinberg (D-37) would both do it. They like Sweeney, and even went to Stellato recently, sources said, and made a pitch for him.
But Stellato doesn't see it.
Sources say that while he hasn't made up his mind and it's still early, yada, yada, he;s more inclined to back Fulop, in part – but not only – to spite Norcross, who didn't help produce Stellato's crowning achievement as chairman: the 2014 election of Jim Tedesco as county executive.
Sarlo has long craved the senate presidency. Bergen is so important in a Democratic Primary that it seems logical to believe that if Sarlo could leverage support for Sweeney in Bergen, he should be rewarded with the senate presidency. Certainly, that's a compelling argument to make to Stellato. "Lou, think about your legacy. You could be the chairman who inks a deal to bring the senate presidency to Bergen County."
But Stellato and Sarlo have never been overly cozy, and Stellato appears reluctant to give the reins of his county to an overt Norcross ally like Sarlo.
"He wants to be a big shot," a South Jerseyan recently told PolitickerNJ in reference to Stellato, a bit irritated at the Bergen boss's presumptuousness at playing the part of larger than life political figure.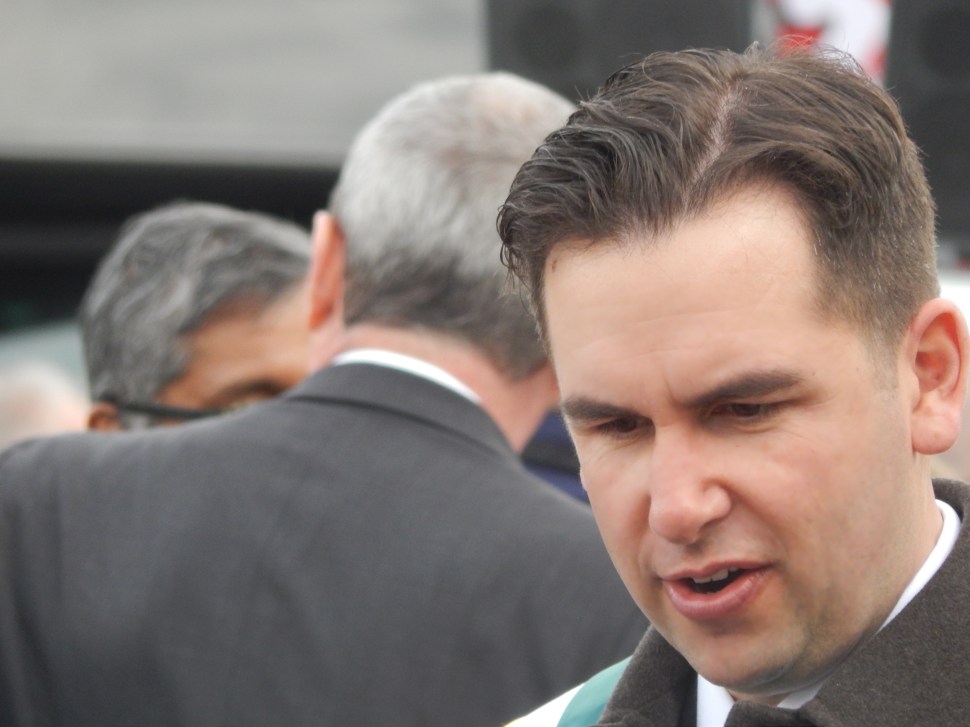 Fulop (pictured above) again, presumably has a counter-offensive: Assemblyman Gary Schaer (D-36) – Sarlo's running mate – as speaker. That accomplishes the double impact of rewarding both Passaic (because technically Schaer's from Passaic) and Bergen, because Steallato loves Schaer. Remember, the assemblyman put himself in political harm's way when he backed then-U.S. Rep. Steve Rothman of Bergen over Passaic County's U.S. Rep. Bill Pascrell in 2012.
Stellato doesn't forget details like that.
Then there's the unsettled territory of Union and Middlesex counties. They were once one county, so it's easy to lump them together.
Lesniak's running for governor so presumably he'll get the line in his home county of Union.
Similarly, Wisniewski's running for governor so presumably he'll get the line in his home county of MIddlesex.
But there's a lot of play in that word presumably when one talks to insiders, and again that's because the gubernatorial contest is tied to the budding backroom drama around senate president.
So let's say Stellato goes with Fulop in Bergen.
In the event that Sarlo doesn't decide to run off the line in exchange for the senate presidency if Sweeney were to win statewide, that opens the opportunity for Sweeney to scour Union and Middlesex for senatye prez timber in exchange for line support.
Senator Nick Scutari (D-22) of Linden apparently can see himself as senate president.
He and Sarlo have had something of a friendly rivalry for committee chairmanships over the years. Scutari is at that stage of his career where those good soldier drills now require some kind of political payoff, and what better than the throne of the upper house?
The most cynical observers say Lesniak's running for governor to keep his county frozen until the right deal can be had, and the most obvious one would be to exchange the county line for a Scutari senate presidency.
Bergen doesn't want to play ball?
Okay, so South Jersey makes Union play ball.
But others say it won't happen, because Lesniak really is running for governor this time. It's real. He's not bottling up the county. He aims to run statewide and he aims to win.
All right, so if that's true – and even if they can't squeeze a leadership position of consequence out of the county, Fulop forces will presumably have a worker bee in Sheriff Joe Cryan – then the conversation turns to Middlesex.
"Wiz can't even get the line in his own county," is the steady unforgiving insider drumbeat concerning the gubernatorial aspirations of Wisniewski, whose stewardship of the Bridgegate investigation into Christie someone makes him persona non grata now in his own party. Actually, it's more complex than that, but not really, Bottom line, is anyone who thinks that good government maneuvers will translate into political strength in New Jersey, don't know New Jersey.
So if Wiz can't nail down Middlesex, look to the players occupying opposing sides of a longtime low-grade civil war: state Senator Bob Smith (D-14) on one side (Piscataway) and state Senator Joe Vitale (D-19) (Woodbridge) on the other.
As a jump ball county, Sweeney and Norcross can offer the senate presidency to Smith in exchange for county support, only to see Fulop offer the same prize to Vitale to keep the place in a state of siege – or vvice versa. Based on what we're seeing now, it's more likely that Smith would be the one best positioned to succeed Sweeney based on seniority.
But again, it's volatile.
Then there's Essex, that county with the most number of performing Democratic Party Primary voters.
"He just froze the county so he can keep it in line," groaned a veteran insider, when informed of DiVincenzo's flirtation with his own gubernatorial run.
"No, of course, he's not running," the source insisted. "He's just trying to exert discipline until a deal can be hatched."
But two other establishment sources insist Joe D is real, and would relish the chance to be a consensus candidate.
In any event, his prize pupil, state Senator M. Teresa Ruiz (D-29) appears poised to be the beneficiary of a play for power to Sweeney or Fulop. If Essex goes to Sweeney – payback presumably would have to come in the form of the senate presidency for Ruiz.
Fulop could try to strike a deal with Assemblyman John McKeon (D-27) as speaker in the event that the math required for victory requires a fully cobbled together resistance movement consisting in part of Newark Mayor Ras Baraka and his allies, and outweighs what Bergen could pull in exchange for Schaer.
But it's still early.
Some of this could happen this way.
Or none of it.