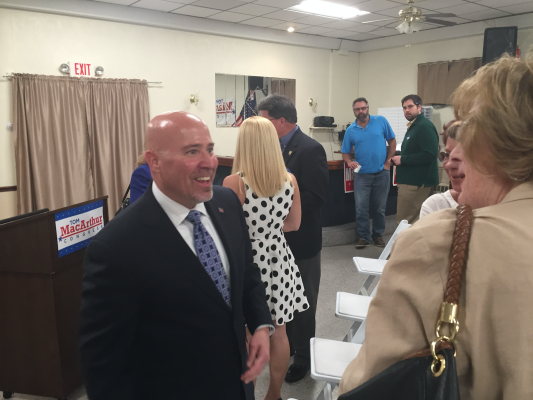 PEMBERTON — U.S. Representative Tom MacArthur kicked off his reelection campaign Thursday in New Jersey's third congressional district, where he said he has still not decided on an endorsement in a presidential that has many Republican incumbents concerned for their seats as Trump gets nearer and nearer to the nomination. 
"I focus on the things I can control," MacArthur said of Trump's lead and the unforeseeable down-ballot effect for House Republicans. "I have no idea who will be at the top of the ticket. My job is to make sure that the voters of Burlington and Ocean County know what I stand for and the things that I'll fight for."
Though he stopped short of criticizing Trump directly, MacArhur said he has been disappointed with the tenor of the Republican campaigns.
"I would encourage all of the candidates to keep the tone civil, remember that we're all Republicans and more importantly that we're all Americans. And I think we should be lifting up our nation, not preying on fear. I will say that much."
MacArthur came down hard on the President Obama's foreign policy record in his remarks to the crowd, calling his administration's reluctance to intervene in ISIS-controlled territories "feckless and meandering." After his speech, MacArthur said that he would like to see the U.S. use a firmer hand across the globe and criticized Obama for his recent trip to Cuba.
"The president a week ago doing the tango in South America, doing the wave with a Cuban dictator," MacArthur answered when asked what he would like to see change about diplomacy. "I'm part of a group in Congress trying to figure out the financial mess that Puerto Rico is, one of our own territories. And they're trying to give a free pass to Communist dictators in Cuba. It's misguided.
"The Iranians launching missiles to call for the wiping of Israel off the map, that chant 'Death to America' and this president gives them $150 billion of economic relief and turns a blind eye every time they violate their treaty obligations."
"He's emboldened China in the South China Sea, he's emboldened Russia to take Crimea and go into Eastern Ukraine. And the list goes on and on. This president's foreign policy is an absolute disaster, and I see it through the military lens because our military is an extension of our politics."
As of this week, MacArthur is heading into the 2016 race without a sure Democratic opponent as the district's two county Democratic organizations hash out a nominee. Hurricane Sandy activist Jim Keady won handily over his rival Frederick John Lavergne of Delanco in Ocean County's nominating convention, but the Burlington County Democrats offered Lavergne their endorsement earlier this month.