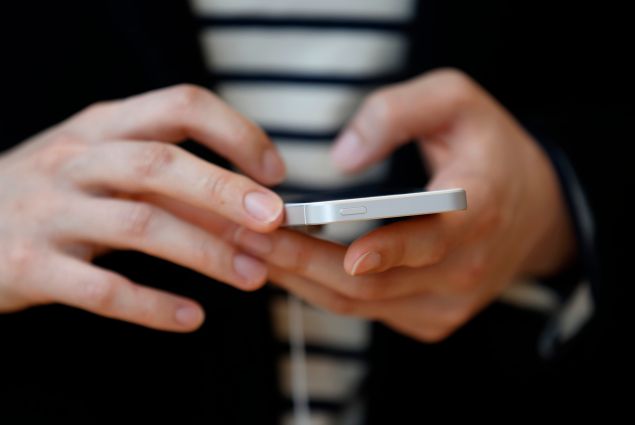 One of Steve Jobs's great achievements, and keys to Apple's success, is that he managed to make personal technology exhilarating. But not even he would have been able to whip up much excitement for the new iPhone SE and 9.7-inch iPad Pro that arrive in stores today.
Don't get me wrong, these are excellent devices—the best of their respective breeds, in fact. But thrilling, compelling must-haves drawing blocks-long lines? Well, let's just say Apple has updated some old friends that will meet many consumers' needs—and leave it at that.
After spending time with both, I'd say the iPhone SE deserves the warmer welcome. It comes at a price—starting at $399 for a model with 16 gigabytes of storage—that makes it the most affordable iPhone ever, with only a few compromises to its technology.
Around my house, we had a simple system for years: Every time a new iPhone came out, I'd get it, and give my wife my previous one. But the process broke with last year's launch of the iPhone 6s; she rejected my iPhone 6, with its 4.7-inch screen, as being too big for her pocket. Instead, she stuck with her 4-inch iPhone 5s, which was released back in 2013. (Needless to say, the 6 Plus and 6s Plus, with their ginormous 5.5-inch displays, would have been completely out of the question.)
No doubt many other users felt the same way. But 2013 was a long time ago in technology terms, and the 5s lacks many of the features you'd expect today—a great camera, for instance, and support for mobile payments.
Enter the iPhone SE. It has the same dimensions, and is essentially the same weight, as the 5s. It has the same sized screen, with the same 1136×640 resolution, and the same 1.2 megapixel front-facing camera for FaceTime calling and selfies. It has the same all-day-and-then-some battery life, looks the same, and feels the same.
At least until you turn it on and start using it. Then it's better—a lot better.
For one thing, it's much faster as you scroll through photos, launch apps and download web content—the result of the more modern chips it uses and a doubling of internal memory. Maybe because there's less real estate to push the pixels around, it felt as fast or even faster than my 6s, the way a little sports car feels faster than a big sedan even when they're going the same speed.
The SE also features an awesomely good 12-megapixel rear camera capable of taking what Apple calls Live Photos—which capture the images and sound from just before and after the shutter snap, turning your still snapshot into a mini-movie—and shoots 4K video. And it includes the chip, called NFC, that enables Apple Pay.
A few things found on the larger iPhones are missing from the SE, mostly because the components needed to enable them wouldn't fit in the case. For instance, the SE lacks the 3D Touch feature that lets you preview an e-mail by pressing and holding on the inbox. It also lacks a 32-gigabyte version, meaning your only choice besides the base $399 model is one with 64 gigabytes for $499.
Still, with the cheapest 6s starting at $649, the SE is an attractive choice not just for the small of hand, but for the budget-minded as well.
For doing the kind of work you want a laptop for, about the best that can be said for the keyboard is that it's better than typing on glass.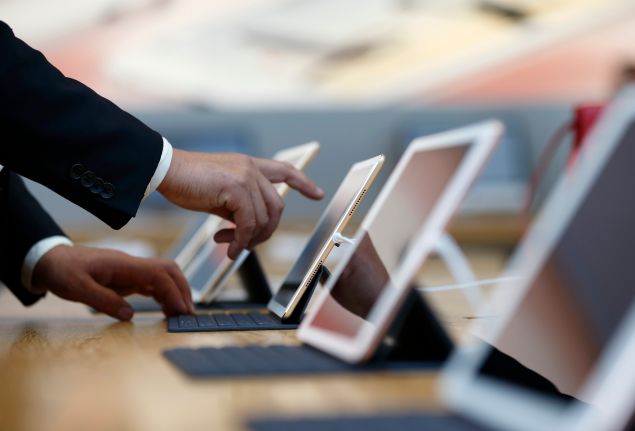 The new 9.7-inch iPad Pro, meanwhile, is a successor to the iPad Air 2 that aspires to be something more.
Last year, Apple introduced a 12.9-inch iPad and pitched it in part at creative professionals and enterprise users. The new iPad stays with the "pro" orientation but packs it into a device the same size and weight as the Air 2, which was introduced in 2014.
I've got no problem with the new model viewed strictly as a tablet. Yes, the price of the cheapest one is now $599, up from the Air 2's $499. But it has twice the storage (starting at 32 gigabytes), twice the internal memory and vastly better cameras, both front (5 megapixels vs. 1.2) and rear (12 megapixels vs. 8). There are now four speakers (the downside being you'll need a new case with two more cutouts to accommodate them) and a screen that detects and automatically adjusts the colors for ambient lighting.
The Pro also wants to be thought of as a lightweight substitute for a laptop, and its upgraded internals make it a whiz at running two apps simultaneously side by side. But the new $149 Smart Keyboard case has already made my list of Least Favorite Apple Products Ever.
It's cramped, the keys are low and require a great deal of precision, you'll need an additional case if you want to protect the rear of the iPad, and if you invest in the $99 Apple Pencil—which works well with the Pro—there's no place to stow it.
Since there's no trackpad or dedicated function keys, you'll find yourself constantly moving your hands from keyboard to screen, and some things I simply never could figure out a good way to accomplish—overruling the spellchecker in Apple's Pages program when it made a capitalization error, for instance.
For note-taking or sketching out ideas with the Pencil, the new Pro is just fine. But for doing the kind of work you want a laptop for—writing memos, crunching spreadsheets and the like—about the best that can be said for the keyboard is that it's better than typing on glass.
Both the new iPad Pro and iPhone SE are clear improvements over their predecessors. But that's setting the bar pretty low, and there's little here to quicken the pulse.
Rich Jaroslovsky is an Observer technology columnist and vice president of SmartNews Inc. Reach him at richj@observer.com or on Twitter @RichJaro.