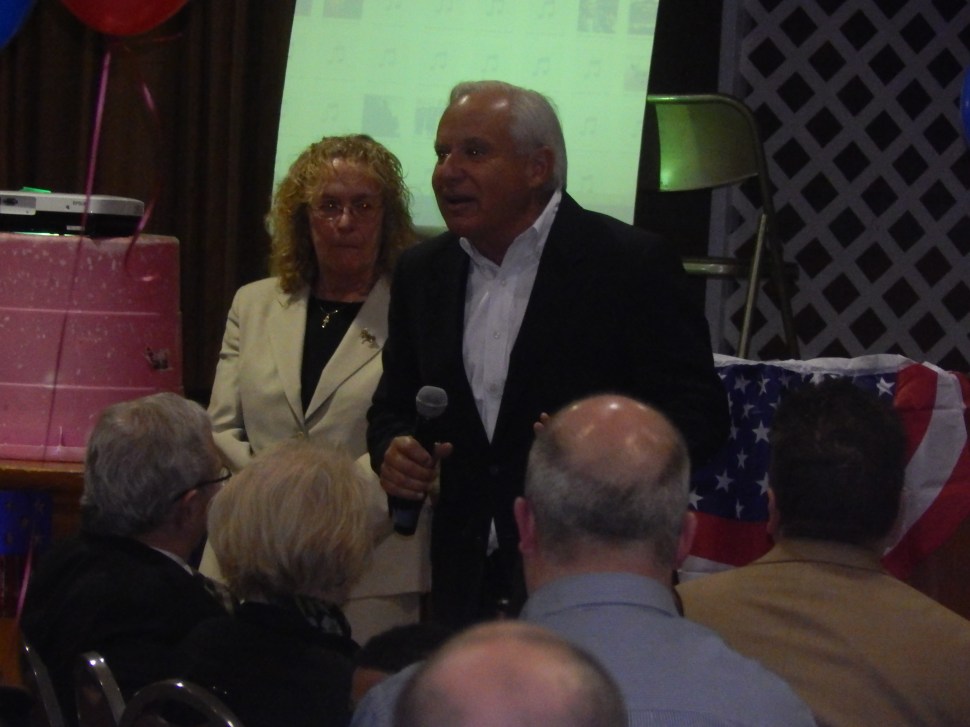 MANVILLE – The digital age has ushered in the burial of a great many things including, arguably, literacy, but for former U.S. Senator Bob Torricelli tonight the occasion of the Somerset County Democratic Convention provided a platform to indulge that most elusive of modern social graces: the well-placed allusion to Shakespeare.
"My favorite Roman was Marc Antony," announced Torricelli, acknowledged by insiders to be in the mix for a U.S. Senate seat in the event one becomes available.
Then The Torch proceeded to paraphrase the "Friends, Romans, Countrymen" speech from Julius Caesar.
"We've come not to bury Bernie Sanders, but to praise him," Torricelli said, a nod to the upstart presidential candidate from Vermont who terrified the Hillary Clinton Campaign in Iowa, then beat her in New Hampshire, then mostly lost key contests but hung around into late March, long enough to lap up three states just this past weekend.
The reference had newsflash viability, given the typical New Jersey politician's aversion to cultural and intellectual pursuits for fear of losing a regular guy bar stool edge.
"For a second I thought he was going to talk about the salsa singer," cracked Al Alvarez, noting soulful contemporary Mark Anthony, as The Torch galloped for the door with an entourage.
People in the crowd commented on the senator's remarks, praising him for passion at the microphone, although at least one astute observer pondered the weirdness of an indictment-sidelined U.S. Senator Bob Menendez (D-NJ) replaced in a national election year by the similarly arguably politically hampered self-appointed – but no less avid – Hillary Clinton backer Torricelli.
"When I was chairman of the Democratic Senatorial Campaign Committee, we won eight seats in one year," boasted the ex-senator.
Irritated by the insider game, a few impassioned Sanders people had attempted to commandeer the convention, staged in the old VFW Hall here, an insurgency promptly quashed by Party Chair Peg Schaffer, whose organization supports Clinton for president. Vice Chair Zenon Christodoulou nominated Clinton.
The organization also nominated Chris Ferrone for the 7th Congressional seat currently occupied by U.S. Rep. Leonard Lance, setting up a Clinton ticket v. Sanders ticket Democratic Primary. Ferrone – on the line here with Clinton – will vie with Sanders insurgent Peter Jacob, who has the support of the Hunterdon County Democratic Party.
Although beset in the federal race with a primary, longtime impassioned Clinton backer Schaffer likes the Democrats' 2016 general election chances, conceivably, controversial billionaire real estate tycoon at the top of the opposition ticket. She's not alone in her assessment of Trump as a Central Jersey GOP liability. Somerset's most powerful Republican, state Senator Kip Bateman (R-16) – and his running mate Assemblyman Jack Ciattarelli (R-16) – this week formerly endorsed a last ditch pre-national convention effort to block Trump by both adding their names to a fundraising event next month for Ohio Governor John Kasich.
But a countywide win has eluded Schaffer in this longtime leafy Republican stronghold.
This year, incumbent Republican Sheriff Frank Provenzano and Freeholder Pat Walsh face reelection, and Democrats on Wednesday night nominated Franklin Twp. Police Lieutenant Darrin Russo and Bridgewater Doctor Maria Rodriguez respectively in an attempt to oust them with some top of the ticket aid from what they hope will be a toxic Trump. Sounding very much like a Democrat, Rodriguez vowed to run an energized campaign, promising hope for the poor, the elderly, the disadvantaged, minorities, and gays. "We as Democrats leave no one behind," she said.
In the last two presidential contests (2008 and 2012), Somerset Democrats came within a few thousand votes each time countywide, a marked difference from the 10,000-vote edges in non-presidential years. But however overwrought Republicans are at present with the Trump situation unresolved, they also note that Clinton is not Barack Obama, who twice won Somerset. That said, former Governor Christie Todd Whitman, a former Somerset County freeholder, said she would support Clinton sooner than lend her support to Trump.
Somerset Democrats also enthusiastically welcomed to their ranks the presence of veteran operative Jon Evans, the organization's new executive director.