When the Carroll Gardens "contemporary American cuisine" hot-spot Take Root went on hiatus last year fans feared it wouldn't return. But owners Elise Kornack and Anna Hieronimus reopened the doors to their new and improved restaurant, and are now explaining the break.
To dig deeper into foodie world, there are two types of people in New York right now: those who have eaten at Take Root, and those who are trying to eat there. A reservation is one of the hardest to get in town, which might have something to do with the fact that there are just three seatings a week, once a night on Thursday, Friday and Saturday. There are only 12 seats. There are only two employees.
Those two employees are the owners. Ms. Kornack is the chef and her wife, Ms. Hieronimus, is front of house, as well as in charge of wine. They didn't set out to become the latest craze. They just wanted to make good food for people on their own terms, and the cult following came on its own, along with glowing reviews in The New York Times, a Michelin star and magazine covers.

'We consciously chose to wait for the right time to do this—we felt we had a loyal following and they would support Take Root through its evolution.'
Seasoned critics and casual foodies alike rush to feast on all 12 courses of Ms. Kornack and Ms. Hieronimus' version of "contemporary American cuisine" as they describe it. Ms. Hieronimus pointed out that their menu has been called "vegetable-forward" before, when in reality over half the dishes contain meat.
"We've been sourcing our meat from Fleischer's in Brooklyn for the past three years and it's become a very important relationship," Ms. Kornack told the Observer. "The quality of the product is so high. Recently, we've been getting whole ducks, and it's something we're excited about."
Ms. Hieronimus highlighted a kohlrabi salad as something she's especially enthusiastic about at the moment.
"It's served with a raw peanut sauce, which is rich and creamy, and super umami and Sicilian olives, which add just the right amount of brininess."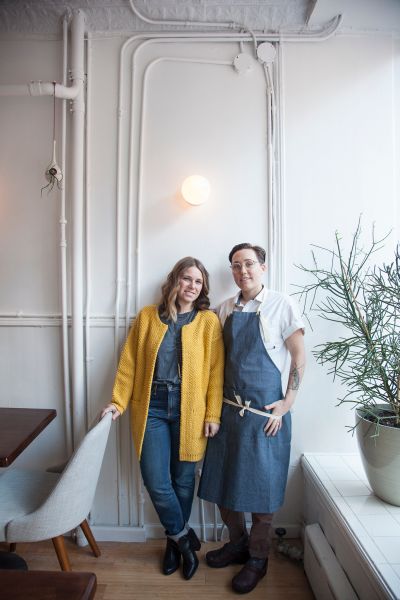 The pair's inventiveness with seasonal, locally sourced ingredients is what put them so prominently on the map. How, then, could it be possible that Take Root almost closed? When Ms. Kornack and Ms. Hieronimus shut their doors in August 2015, they were clear that the hiatus was to make renovations to the space. But rumors circulated that the restaurant might not return, and the pair admitted in an interview with New York magazine's Grub Street that they did think about permanently closing. We're in a time when consistently filled seats and happy critics don't always translate to a long run—just look at Los Angeles hotspot Alma, buried under the debt of a lawsuit. For Ms. Kornack and Ms. Hieronimus, the decision was whether to close in order to leave New York all together.
Thankfully, Take Root is back and, arguably, better than ever. Ms. Hieronimus and Ms. Kornack are excited about the interior updates they've made to improve the atmosphere and make service easier.
"Comfort is key to us. It's an essential part of any dining experience," Ms. Hieronimus said. "The renovations elevated the comfort level of the restaurant for our guests. And since the space is more functional for us…it's made our work environment more efficient and enjoyable."
Increased comfort and efficiency are great, but one wonders if Ms. Hieronimus and Ms. Kornack were concerned about shutting their operation down in the middle of such a frenzy of praise. New York diners are fickle. They're certainly never lacking in options.
"We weren't worried [closing and reopening] would be like starting from square one, because we didn't feel like we were," explained Ms. Hieronimus. "We consciously chose to wait for the right time to do this—we felt we had a loyal following and they would support Take Root through its evolution."
Take Root's journey has never been overly calculated. It's fresh food made with love that even the most discerning diners have tracked down, loved and raved about.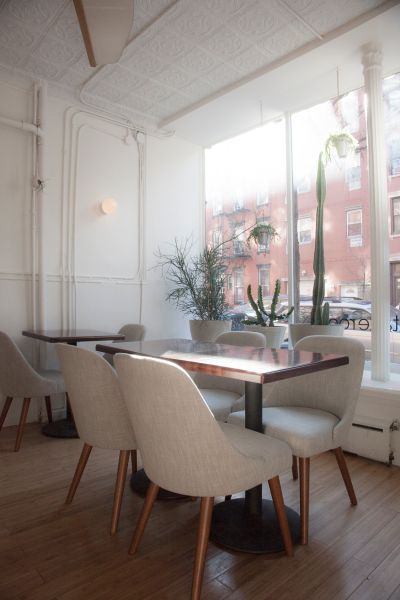 "When we moved to Brooklyn, we knew we wanted to go into a joint venture; we just weren't sure how it would manifest," Ms. Hieronimus said. "We had a big backyard and spent much of our time gardening. It became apparent that we wanted to find a way to feature what we were growing so we began having friends over for dinner."
Ms. Hieronimus and Ms. Kornack's dinner parties grew into a supper club, and then the pair decided they needed to secure a space to host seatings legally. They wanted to maintain the homey vibe of their backyard, and so it was Take Root's off-the-beaten-path location on a residential block that appealed to them.
The couple designed the space, the menu, the schedule and the staff (or the decision to not hire any) to fit their wishes for the restaurant and their own lifestyle needs. Ms. Kornack is a veteran of the restaurant industry, having cooked at The Spotted Pig and Aquavit. She sought a different experience with Take Root, one that's given her more room for creativity and control.
Of the crowds now coming in, Ms. Hieronimus said she and Ms. Kornack have noticed diners falling into one of three categories: the enthusiasts, the observers and the self-proclaimed critics.
"The enthusiasts are excited to be having this different kind of dining experience, they are fully engaged and want to ask questions about ingredients, sourcing and why we do what we do, and that's exhilarating for us. Observers tend to take it all in, quietly enjoying themselves with their dining companion and picking up on all of the intricacies around them. The self-proclaimed critics are there mostly to critique the meal and to make sure we deserve the accolades we've received."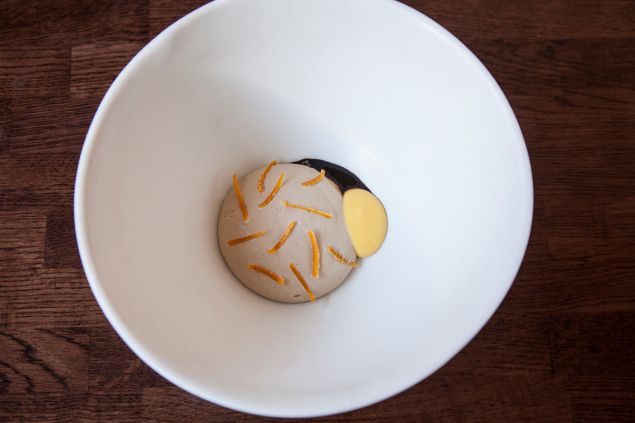 Whichever category you may find yourself falling under, the seasonal menu at Take Root is one that begs either simple enjoyment, curious discussion, or both. Since the restaurant's opening, writers have waxed poetic about dishes like butternut squash with beef sweetbread and lobster, and sunchokes with chestnut purée and shaved truffles. Every detail of sourcing and planning is carefully and lovingly conceived by Ms. Kornack.
"It's all about riding that line between comfort and intrigue," the chef said. "When I conceptualize a menu, that's always on my mind."
When asked about the future, the couple is laid-back.
"In the past, when it comes to our business, we have allowed things to happen organically, so there's some hope that whatever is next will somehow find us," added Ms. Kornack. "Whatever happens, we hope people remember we did something different by starting Take Root. And it worked. We hope it serves as a reminder to people that it is possible."